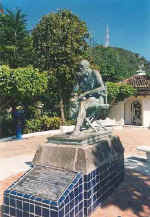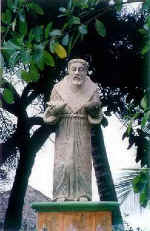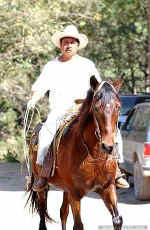 statue of John Huston; statue of Saint Francis in San Pancho, Nayarit; vallarta horseback riding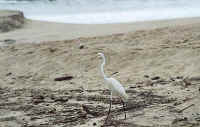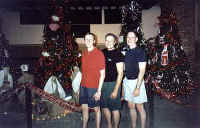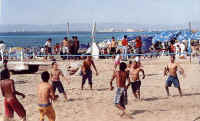 wildlife in San Pancho, Nayarit; David and friends at Christmas; volleyball on a Puerto Vallarta beach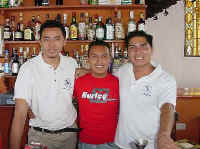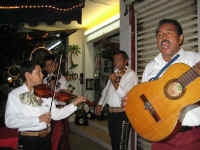 Blue Chairs rooftop bar staff; Puerto Vallarta attractions mariachi music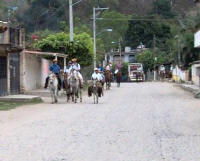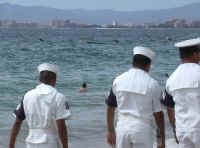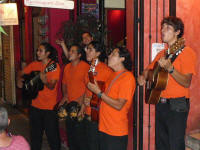 street scene on the outskirts of town; ...in the Navy; live music Los Bambinos singing at Apaches gay bar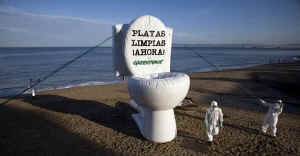 Clean beaches now! - 2007 Greenpeace protest on Los Muertos beach against
contamination in Puerto Vallarta beaches and Banderas Bay (photo thanks to Greenpeace)
--------------------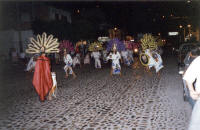 Combining traditional Aztec and Christian motifs, young warriors dance in the streets
commemorating the miraculous apparition of Our Lady of Guadalupe
to the Indian peasant Juan Diego on December 12, 1531.
The annual festivals go from December 1-12 each year,
the most public and extended religious holiday in Mexico.
The gay community usually participates on Dec 1st, World AIDS Awareness Day.
Next five photos from the
Our Lady of Guadalupe Celebration, December 1-12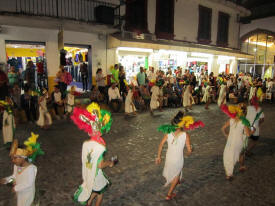 ------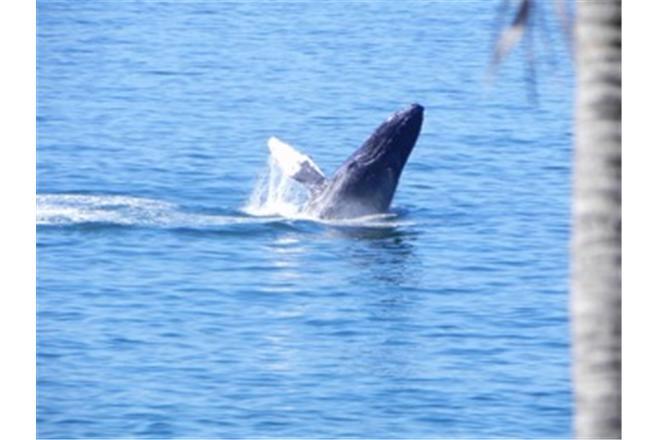 whale watching (tour info and photos) close to shore from Conchas Chinas villa AZC-3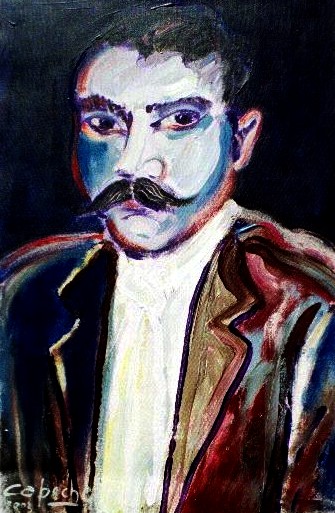 Mexico revolutionary leader Emiliano Zapata by Oscar Capeche
(thanks to my friends at Puerto Vallarta art gallery Dante)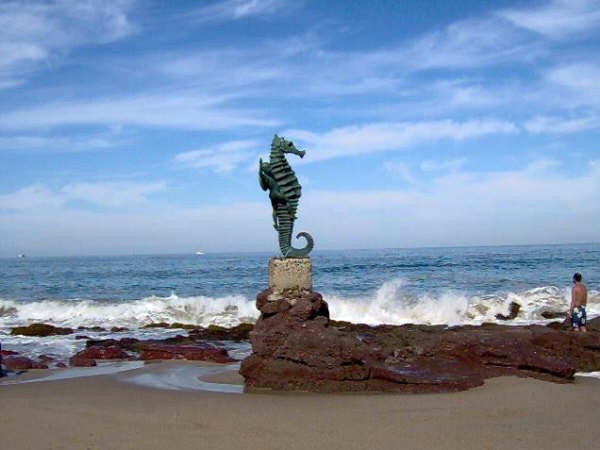 Los Muertos beach Puerto Vallarta seahorse, the town's symbol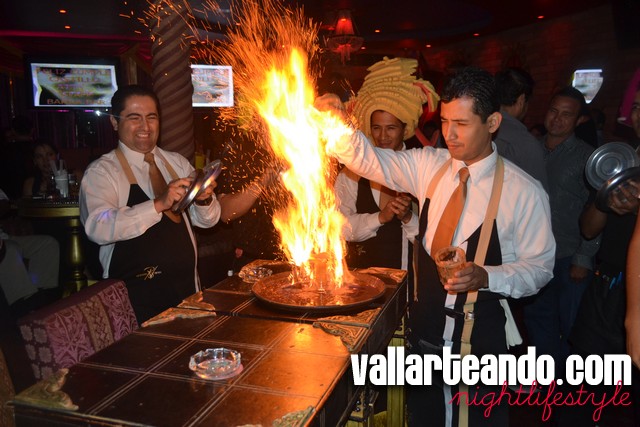 Celebrating at the old Barra Bar in the Peninsula Plaza, once a
popular Vallarta night spot in the northern Hotel Zone. Image thanks to Vallarteando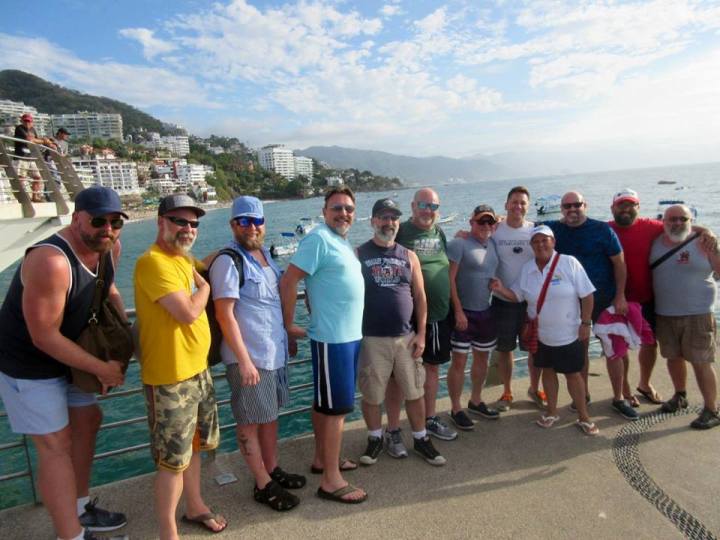 Waiting to board Diana's gay cruise on the new Los Muertos Pier with Diana Decoste, Martin Kerr,
Dennis Vos, Eric Williams, Malcolm Riggle, David Lehnus, Chuck Tuttle and Phil Corrigan.
Thanks to Noel Casale for the group photo, March 2016.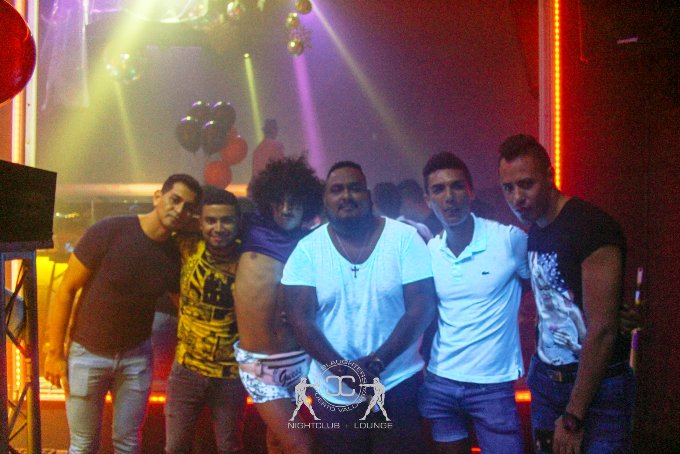 At the seventh Anniversary party for CC Slaughters club, one of Vallarta's top gay night spots
Celebrating on December 9, 2018.
In this exciting area you'll also find bars Kooky Karaoke, La Cantina Margarita, La Noche, Paco's Ranch and Mr. Flamingo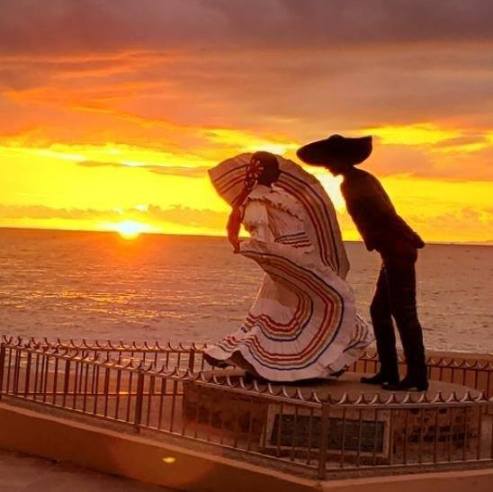 Another Valllarta sunset, and in the background the statue to the Folkloric Xiutla Dancers by local sculptor Jim Demetro,
Photo thanks to Roberto's cafe at Guerrero street #123 on the New Malecon extension,
a good spot to relax and people watch at night and on the weekends.
-------

Three photos below by Benoit taken from the hillside above Puerto Vallarta's principal beach, Los Muertos
showing us some great views to the south, due east, and then north around Banderas Bay,
the 7th largest natural bay in the world.
The third photo looking to the north shows much of the Hotel zone, the Marina, and then northern stretches of
the Bay to the towns of Nuevo Vallarta, Bucerias, La Cruz, and to the Punta de Mita area in the far distance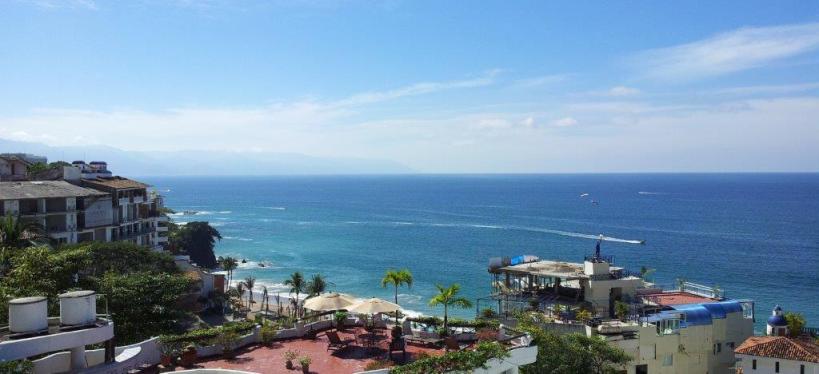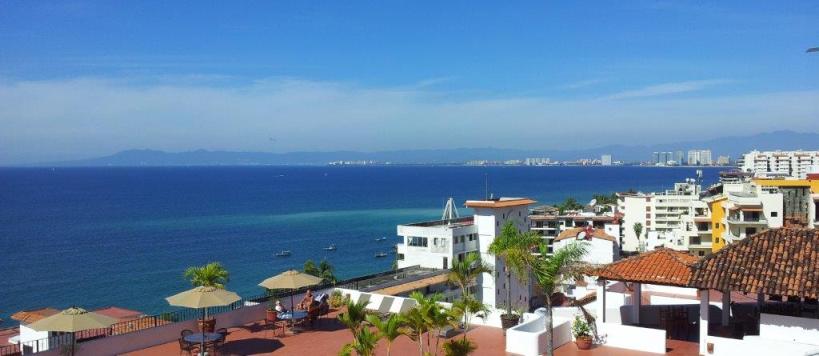 photos I
puerto vallarta pics II
photos III
puerto vallarta pics IV
photographs V
more images VI

A bird in hand is worth more than a hundred in flight. - Mexican proverb