Credit Cards/PAYPAL accepted - commission surcharge of 3.5% will apply
(for international transactions, that is, if you are from outside the US,
the commission surcharge is 4.5%)
When you click on the PAY NOW button above it will take you
to the PayPal secure payment page. Fill in the rental amount due plus 3.5%
(or 4.5% if from Canada or overseas)
And click on
UPDATE TOTALS and then click on CONTINUE on the lower left side of the page.
If you are going to pay by PayPal please log in using the Pay Now link above.

Privacy Policy - No information submitted to Discovery Vallarta or which I receive
will be sold, reused in lists, or be used for any purpose other than to make
and complete a reservation or to address a concern.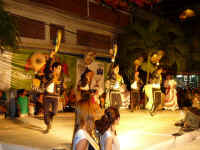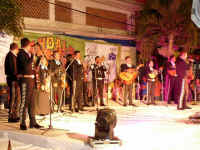 Xiutla folkloric dancers (l.) and Mariachi musicians (r.)
performing at the 30th anniversary of Puerto Vallarta restaurant and bar Andale