Gay Puerto Vallarta Guide - Useful Travel Tourist Information
On this Puerto Vallarta Tourism Info page:
Airport & Airport pickup | Buses - transportation | Consulates | Drugs | Important phone numbers | Money | Passport & Visa
Puerto Vallarta Safety | Taxis | Timeshare | Puerto Vallarta Forums | Water, food, health | Yearly Weather
Rentals & Lodging
Gay Vallarta Condos
- Condominiums LP
- Playa Bonita condos
- Vacation rentals ED
- Molino de Agua
Puerto Vallarta Villas

Gay Puerto Vallarta
Art Galleries
Botanical Gardens
Cafes
Calendar of Events
Community Groups
Contact Info
Fun - Excursions
Gay Bars
Gay Beach
Gay Beach photos 2
Gay Cruises & Tours
Gay Links, etc
Gay Puerto Vallarta
Law and Custom
Lesbian Vallarta
Malecon downtown
Map
More Gay Bar photos
More Gay Beach pics
More Malecon pics
Pics Art & Culture
Quick Gay Travel tips
Restaurants
Services
Shopping
Straight Bars Clubs
Tourist Info
Vallarta Annual events
Vallarta Beaches
Vallarta Photos
Vallarta Sunset

Passport and Tourist Visa
On the plane, you will be issued a tourist card, FM-T, which is stamped by officials as you pass through customs inside the airport terminal. The airline will then collect the tourist card when you leave Mexico. An actual visa is not required unless you are staying in Mexico for over 180 days. Avoid carrying the tourist card or your passport with you while in town, but keep them in a secure place in your room or in the hotel. If your passport is lost or stolen, a copy of the tourist visa can help the consulate to process your replacement documents. It's probably a good idea to have a complete photocopy of your passport and your other important identification documents with you while traveling.

For U.S. citizens, proof of citizenship and photo identification are required for entry into Mexico. A U.S. passport is the simplest way, but other citizenship documents such as a certified copy of a U.S. birth certificate, a naturalization certificate or a certificate of citizenship are also acceptable. You should be prepared to present one of these documents as proof of citizenship along with some type of photo identification.

Canadian citizens will need to travel with their passport, or else with a Canadian birth certificate and a picture ID such as a drivers license. Other foreigners, if in doubt about the entry requirements, should check with a local Mexican embassy or consulate. For with the most recent United States State Department Consular Information Sheet for Mexico

Airport/Airport Transportation
The Puerto Vallarta Gustavo Diaz Ordaz airport is located approximately six (6) miles north of downtown. Near each airport exit is a set of taxi booths where you should purchase your tickets for transportation into town. It is recommended that you take a taxi which brings you directly to your lodging.

The arrival area of the Puerto Vallarta airport has made some changes which can be confusing to the first time visitor. When you depart Customs with your luggage you will walk through an enclosed area - the people in this long hallway are salespeople for the many time-share resorts in the city - just smile, say no thanks, and keep walking. These folks will often promise anything from a free taxi ride or tour to actual cash (we locals call this area the 'shark tank'). All of this is part of promotion to buy a time-share condo and the sales presentation would take away several hours of your precious vacation time. Keep walking through the automatic double glass doors straight towards the airport doors which go outside and near these Exits are the taxi booths.

You should pay for your taxi directly at one of these specified taxi booths and not to any individual taxi driver - you have been advised! The vans from the airport carry up to eight persons and often make multiple stops, so it's best to take a taxi, unless your entire group rents a van. Vans and taxis will quite often now know the locations of the Puerto Vallarta gay hotels, bed and breakfasts and of PV's many condos and villas (not to mention the numerous Vallarta gay clubs & bars), but it's still a pretty good idea to have the address of your accommodations and a phone number handy with you. Also, taxi prices around town are fixed and set by zone; be sure to ask before you get in.

Travel Tip: Discovery Vallarta and Diana DeCoste of Diana's Gay Tours now recommend a preferred VIP transportation service for clients when arriving in Pto. Vallarta. A gay-friendly VIP Representative will be waiting by the luggage claim and will also meet you again once you pass customs to escort you to your driver. The price is $56.00 USD per car for 1-2 people and then $78.00 per car for four (4) people (depending on luggage). A van for up to five (5) is available for larger groups for $110 USD. Payment made directly to the driver. Please visit Diana's Puerto Vallarta VIP Transportation Service for complete details on this service.

Puerto Vallarta Tourist Office - The Board supplies free maps, brochures and travel information. There are two offices, the main Puerto Vallarta Tourist Bureau is downtown at the old City Hall (Presidencia Municipal) on Juarez street near the downtown Guadalupe cathedral, open Mon-Sat, 8am-8pm and Sun, Noon-6pm, Tel: 222-0242 and other at the Secretary of Tourism at 1712 Avenida Medina Ascencio, on the 3rd Floor Mon-Fri, 9am-5pm. Contact them at Tel: (52-322) 224-2939 or Fax: (52-322) 224-0915.
Consulates
The consular officials and their assistants can provide you with valuable travel information or assistance in case of an emergency, accident or death. You might want to visit the U.S. State Department's extensive Tips for Traveling Abroad and the even more useful State Department Consular Information Sheet for Mexico. And here for the most recent U. S. State Department travel alert for Mexico (February 2012).

United States
Kelly Trainor, Consular Agent
Paradise Village Plaza
Paseo de los Cocoteros #1,
Second floor, Locale #4 Interior #17
Nuevo Vallarta, Nayarit
Tel: 222-0069 or 223-0074 Fax: 223-0074
Mon-Fri: 8:30am-12:30pm
after hours Emergency: 01-333-268-2145
Embassy in Guadalajara: 01-333-268-2100
Canada
Lyne Benoit, Consular Agent
Obelisco Building, Local 100
1951 Blvd. Francisco Medina Ascencio
in the Las Glorias Hotel Zone
Tel: 293-0098 or 293-0099 Fax: 222-3517
Mon-Fri: 9am-3pm
Emergency phone: 01-800-706-2900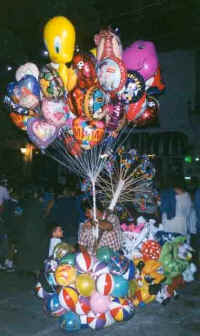 Puerto Vallarta Safety & Tourism - Is Puerto Vallarta safe for tourists? Puerto Vallarta, Mexico is a relatively safe city, especially in the tourist areas such as the North Side-Marina hotel district areas, Downtown, and the wonderful South Side-Romantic Zone where most Puerto Vallarta gay bars and clubs, fine restaurants, and gay hotel-lodging are located. I would advise using the same security and safety precautions you would use in traveling as a tourist to any new city or foreign country: keep valuables and your passport in a hotel safe or stashed away in your condo or gay hotel room; don't wear expensive watches and jewelry; carry around only a fairly reasonable amount of cash, perhaps in a money belt; avoid making ATM withdrawals late at night; don't flaunt or display substantial amounts of cash or valuables - be modest; and exercise caution in any unfamiliar part of town. In a word: Stay alert when out and about. Travel tip: Be extra aware of your possessions (particularly your camera, wallet and cell phone etc.) at the Puerto Vallarta gay beach and bars, particularly if and when you invite someone back to your place. You've been advised.
The city puts considerable resources into keeping Puerto Vallarta safe, secure, well lit and clean for tourism. I've walked in many different parts of Puerto Vallarta at various times of the day and night over these 19+ years and largely felt safe. I don't think that tourist safety is a major negative issue in the town. Here's an interesting and reasonable perspective entitled Personal Safety in Puerto Vallarta by Linda Ellerbee. And it would never occur to me to ever use the adjective 'dangerous' as a word to describe Vallarta. Furthermore, the US State Department in its advisories about Mexico says, "There is no evidence that U.S. tourists have been targeted by criminal elements due to their citizenship."
How safe is it to travel to Puerto Vallarta? Thomas Dale & Associates, a global investigative and security firm, released in May 2011 a study commissioned by the Puerto Vallarta Tourism Board which concluded that Puerto Vallarta "is one of the safest tourist destinations for international and national tourists." Overall the study found that visitors to this popular straight and gay travel destination felt safe and continue to visit Vallarta numerous times through their lives. As I would have expected from my personal experiences living half my adult life in the US and the other half here, the Puerto Vallarta Safety study said that "the number of negative events involving foreigners or non-foreigners is fractional" compared to the large expatriate resident community population size and the approximately 1.5 million American and Canadian visitors who come on holiday every year to Puerto Vallarta. So I believe you can pretty much rest assured that your vacation to Puerto Vallarta, Mexico will be relaxing, enjoyable and safe.
Puerto Vallarta Forums and Message Boards
There are several large Puerto Vallarta forums and message boards that I know of: there are local forums at Puerto Vallarta Mexico Bulletin Board Message Board, the All Vallarta Message Board for Puerto Vallarta, Mexico Forums and another at the Puerto Vallarta Scene Forum which can be quite lively, and of course the large Puerto Vallarta Travel Forum on the heavily commercialized Trip Advisor. In addition to the above forums there is also the interesting Vallarta Blog - Puerto Vallarta Travel Guide well written by Douglas Cullen, who used to be one of the owners of the Coffee Cup Cafe, with good info and plenty of fine photos.
Spanish
Spanish is the official language, but don't worry, English is widely spoken in Puerto Vallarta. If you do know some Spanish, so much the better! People in town will appreciate your efforts and it will make establishing friendships that much easier. If you'd like to learn some basic Spanish vocabulary about dining, directions and numbers before your visit to Mexico, you can visit the Travlang web site Foreign Languages for Travelers. Note: If you do want to learn some Spanish while you are here, you can get in touch with Leonardo Tejeda, who teaches beginners to advanced students. Contact him at leomar@usa.net or Tel: 223-4784 or 044-322-294-2565 or with Melchor's Spanish school, contact Senor Melchor Cortes, from USA cellular: 011-52-322-118-0822 or local Tel: 224-8917
Water
The water leaving the purification facilities of Puerto Vallarta has been certified for well over 10 years as among the best in all of Latin America. However, the city's piping is sometimes rather old, so it's best not to drink the tap water. Purified water is available in all hotels, bars and restaurants, which all use purified ice as well. Because you're in a tropical climate, it's advisable to drink at least 4-5 glasses of purified water a day to help prevent dehydration. Bottled water is sold in most stores. Some Puerto Vallarta condos, hotels and villas have filtration systems, so you might want to check.
Food
Food service quality has greatly improved in town in recent years. You can be pretty confident that the food in Puerto Vallarta restaurants is washed in purified water and/or properly cooked. Follow some simple rules: choose cooked food, eat in restaurants that are popular and watch your alcohol and coffee intake. As an added precaution, you may want to avoid salads and peel all fruits and vegetables or at least wash them well - though I personally don't think that's necessary anymore (it was indeed good advice 15-20+ years ago). As the old saying used to go: boil it, cook it, peel it or forget it. Use the lemons served in restaurants as the juice has antibacterial properties.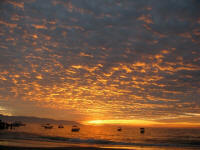 Health
It's possible you may eat or drink something that isn't quite right while on vacation. If you experience diarrhea, there are several ways to treat it. Avoid anything that will further irritate your stomach such as alcohol, sodas or coffee, and drink plenty of purified water to replace lost fluids. Pepto bismol is a time proven relief for diarrhea.
Most pharmacists can recommend the proper medicines, which are generally inexpensive and effective. You don't need a prescription in Mexico for many drugs (except now for antibiotics and of course, controlled/narcotic substances) and a trip to the pharmacy will usually suffice for most traveler's complaints. There are many good doctors in Puerto Vallarta. Discovery Vallarta recommends Dr. Maria Guadalupe (Lupita) Lewgot, Tel. 223-0444 and her office is at the Medasist Hospital located at 358 Manuel Dieguez street on the South Side in Puerto Vallarta. See below or go for further updated travel information on PV hospitals, medical services and other Puerto Vallarta emergency numbers here.




Month

Average
High

Average
Low

Average
Precipitation
(inches)

January

80

62

0.8/0.9

February

80

62

0.2/0.3

March

81

63

<0.1

April

82

65

<0.1

May

85

70

<0.1

June

88

76

5.9/6

July

89

76

10.3/10.4

August

90

76

11.1/11.2

September

90

76

9.4/9.5

October

89

74

3.4/3.5

November

85

69

0.5/0.6

December

81

65

0.6/0.7

Puerto Vallarta Yearly Weather
Puerto Vallarta, Mexico enjoys well over 280-310 days of sunshine per year and basically has two seasons. From November until May is the dry season, when rain is rare, the sky relatively cloudless and the nights mild. The daytime temperature ranges from 78-85 degrees Fahrenheit and can drop down to 55-60 degrees at night during the "high season" winter months of January and Febraury. The temperate sub-tropical climate, comparable to that in Hawaii, is one reason people flock to Vallarta. You may want to bring long pants and a light sweater for the cool winter evenings. Go to the new Puerto Vallarta weather page for more complete info including an updated climate chart, and here for some further gay travel tips and advice.

The rain normally starts right on the money in mid-June and increases in frequency and duration until there are often daily downpours July through September, usually in the late afternoon or at night. The rains continue into October, really tapering off around the middle of the month. It is hot and muggy. The summer daytime temperature is 88-93 degrees every day and 75-78 or warmer at night. There is little underground drainage, so streets become streams during the tropical summer rains, which are quite intense at times. Total rainfall in Puerto Vallarta amounts to a fairly substantial 45-60 inches a year.

Because of the favorable topography of Banderas Bay, which is shaped like a gigantic horseshoe opening to the Pacific Ocean on the west, Puerto Vallarta is generally protected from hurricanes in the late summer and early autumn (early July-mid October) that pass up the coast and either swing out to sea or continue on up toward Baja California. Only once in the last 40+ years or more did Puerto Vallarta suffer serious damages in certain parts of town, in the neighborhood of $100 million, when Hurricane Kenna (go to link for photos and info) passed by on the morning of October 25, 2002.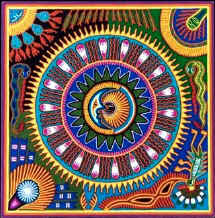 Puerto Vallarta is increasingly popular during the quieter summer months because of cheaper airfares and the word is out about the how gay friendly Puerto Vallarta has become. To check today's weather and the forecast, you may wish to visit the Weather Channel, Wunderground or Yahoo

Traveler's Checks
You many want to carry a supply of American Express or VISA traveler's checks with you to Mexico. They are usually accepted at banks, stores and hotels, though I believe that most Casas de Cambio/Money Exchange places will no longer accept travelers checks (due to more stringent regulations attempting to control money laundering), especially ones from Canada. If you lose or misplace your checks, contact the carrier after referring to the Handy phone numbers section below.

Money and Money Exchange
The currency in Mexico is the peso. The bills come in 20, 50, 100, 200 and 500 peso notes and they are quite colorful, attractive and of different sizes. Coins are in denominations of 5, 10, 20 and 50 centavos and 1, 2, 5 and 10 pesos. 100 centavos equals 1 peso. All items sold in Mexico are priced in pesos. The current international exchange rate is quite variable these days, around 13.0-13.5 pesos per dollar and fluctuates daily. Go here for the Universal Currency Converter and the current rate. For the very best exchange rate use your ATM card at any of the many conveniently located banks or ATMs in town and pay for your purchases with a credit card.

Banks have an exchange window usually open Mon through Fri, 9am-1:30pm where you can buy pesos with dollars or traveler's checks. Many of the Money Exchange or Casa de Cambio places on the streets of Puerto Vallarta offer slightly less for your dollar than the banks but are open into the evening hours until 9-10pm and are quite convenient and widely used. They accept cash but apparently no longer or rarely accept traveler's checks. The stores, bars and restaurants will often exchange money but at a fairly lower rate, so I would advise against doing it that way. Hotels give the least favorable/worst exchange rates. Travel tips: Be sure to count your pesos whenever changing money. Exchange rates are usually clearly posted, but if they are not be certain to ask beforehand.

Post Office
The main Puerto Vallarta Post Office (Servicio Postal Mexicano) is located downtown on 1014 Colombia street between Argentina and Venezuela streets near Hidalgo Park (Parque Hidalgo). A letter or post card to the US or Canada costs approximately 10.50 pesos and may take up to several weeks to arrive as all international mail goes first to Mexico City. If you buy anything bulky or valuable, ask at the store about shipping as they usually ship more direct via FedEx or DHL, though this can be costly. Post Office hours, Mon-Fri, 8am-6pm and Sat, 9am-1pm. Tel: 222-6308.

Taxis
There are somewhere around a 1,000 taxis in the city of Puerto Vallarta. They are a relatively cheap and convenient mode of transportation and getting around town, especially after 11:30pm or so when the buses stop running. Most tourists take taxis as a simple matter of convenience and 'saving time'. Ask the driver how much your trip is before you get in, because some taxi drivers will try to overcharge tourists. Be advised that there are restaurants that will pay taxi drivers a commission for bringing clients. If your driver wants you to try a restaurant other than the one you have selected, it may be self-serving advice. Locals and ex-patriates have found over the years that most drivers are friendly, honest and knowledgeable about the city and know at least a bit of English. Many drivers now know the names and locations of the Puerto Vallarta gay bars, the gay hotels, guesthouses and the Blue Chairs gay beach on Los Muertos, but it's still a good idea to carry your accommodation's name and address along with you. Puerto Vallarta is divided into taxi zones, prices are fixed by the local union, and fares go anywhere from 30-40 pesos within a particular zone up to 80-120 pesos (from the Marina to the South Side-Olas Altas area, for example). Coming in from the airport is the most expensive as it is the federal zone, at around 240 pesos; but the return trip to the airport is about half that at most. Many hotels will post the current taxi fares, so do ask.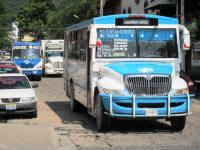 Buses
Puerto Vallarta buses are cheap, costing 6.5 pesos or about 50 US cents to get just about anywhere in the city. The buses are sometimes rather run-down, but you never have to wait long before the next one comes along! Stops are marked by a blue "parada" sign which has a bus outlined on it. You may find yourself being entertained by locals who hop on the bus to do a clown act, play guitar, or perhaps two 12 year old boys singing about their lost loves, all for a few pesos tip (giving you a chance to practice your generosity).
To get to the gay bars from the hotels on the north end of Puerto Vallarta, be sure to take buses marked "Centro" or "Olas Altas". The bus will pass by several of the gay bars such as Anthropology and Paco's Ranch before turning around at Lazaro Cardenas Park on the South Side or heading back through the tunnel. Most buses run regularly from approximately 6am to 11:45pm. To go to Conchas Chinas, Mismaloya, Boca de Tomatlan or any of the South Shore accommodations along the way, buses leave from Basilio Badillo street at Constitucion street on the South Side, 7am-10pm and cost around 7 pesos.
Motor vehicles generally have the right of way in Mexico, not pedestrians. I don't want to sound like your mother, but buses in Puerto Vallarta are noted for traveling at excess velocity, so extra care should be used crossing the streets here.
Buses to locations located north around Banderas Bay such as Nuevo Vallarta, Bucerias, Punta de Mita and Sayulita leave from the ATM terminal which is located at 1410 Brazil street near the sports stadium. These Autostransportes Medina de Puerto Vallarta buses stop across from the Sheraton Hotel, Coppel, and in front of Walmart on their way north out of town.
Inter-city buses leave from the main Puerto Vallarta Bus Terminal or station (known as the Central Caminonera) which is located just north of the Puerto Vallarta airport. Buses leave to Guadalajara about every half hour and to other major cities every hour or two during the day and there are at least 4-5 main carriers. Mexico's long distance bus system is top notch and probably envied by much of the world. Regular services link all major cities day and night. Networks of shorter routes reach almost every corner of the Republic. A bus from Mexico city to Acapulco costs less than the toll charges for a private car. The National Chamber for Passenger and Tourist Buses estimated that the 40,000 buses owned by its members have about 3.5 billion passenger movements each year.
Drugs
Drug offenses are risky business in Mexico. Mexico's drugs laws are sometimes more reactionary and ridiculous than those of the States, though the Southern states and Texas probably take the cake. Under Napoleanic law, you're guilty until proven innocent. If you must, be extremely discrete; if you're caught, you may be deported, have a prison term or have to pay a fine. Police occasionally stop and frisk locals and tourists, checking for drugs. For gay guys this might likely occur at night in the area near the gay bars CC Slaughters and Paco's Ranch. From what I have heard and read, penalties now tend to be rather lax in Puerto Vallarta, a good thing. If you are stopped and feel that you have been mistreated in any way, please call your consulate to report the incident and lodge an official report/protest. Travel warning: Police have been known to extort money if they find something on you, so beware. Get the patrulla/patrol car number on the side if you have a run-in with the cops. My impression though is that with the relatively new nationwide 2009 drug decriminalization laws for small amounts of drugs for personal use, the local police in Puerto Vallarta don't spend much time or energy worrying about small time use.
Siesta Time
Most Mexicans eat their main meal sometime between 1pm-4pm, so some shops and government offices are closed (usually from 2pm-4pm). This is a sensible custom in a tropical country and gives the body and mind a chance to rest during the hottest hours of the day. The stores that observe this custom are open afterwards until around 8pm or 10pm. Puerto Vallarta bars and restaurants stay open during these siesta hours.
Timeshare
The sale of timeshares has unfortunately become a big business in Puerto Vallarta. On nearly all the streets of the city frequented by tourists there are timeshare stations or offices. The salesperson or "OPC" will invite you to a free breakfast and promise gifts or discounts on a cruise, tour or jeep rental in exchange for your time at a "presentation" at the hotel or resort. Salespeople at this "presentation" will sometimes use high pressure or misleading tactics to induce you to buy their product. Unless you are really interested in buying timeshare in Vallarta, it is advisable that you pass these people by and continue on your merry way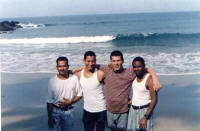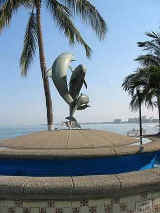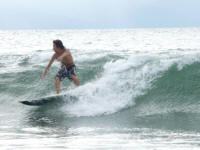 friends in Lo de Marcos; friendship fountain dolphins Puerto Vallarta downtown; Puerto Vallarta surfing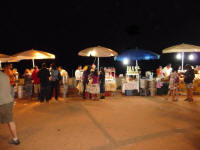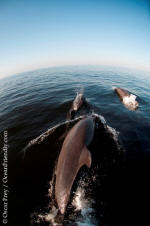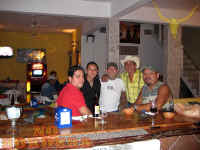 Getting a bite to eat the New Malecon; Puerto Vallarta tourist activities whale watching;
Puerto Vallarta gay bar No Borders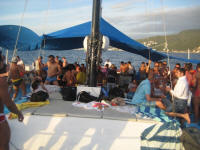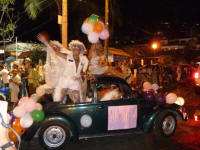 PV tourism and the sunset cruise on Banderas Bay; Puerto Vallarta carnival parade festivities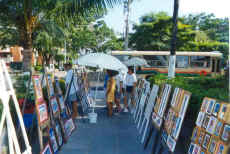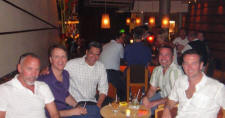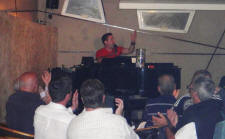 Garbo a gay-friendly martini bar - photos thanks to German & Javier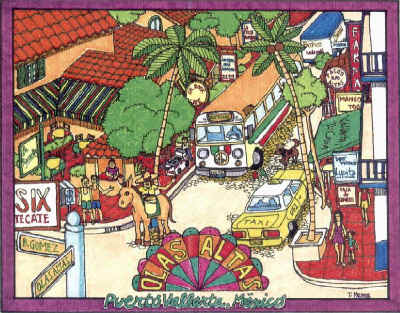 Olas Altas street - art work by Lorenzo "Twig" Menne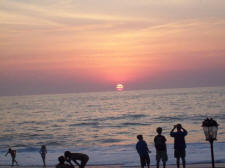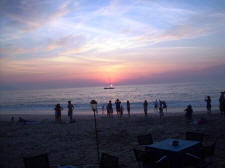 Two photos of the lovely sunsets over Puerto Vallarta & Banderas Bay


Puerto Vallarta Emergency/Important Phone Numbers and Info
(further Puerto Vallarta phone numbers)
Consulates in Puerto Vallarta
American consulate - Tel: 01-333-268-2100
Mon-Fri: 8:30am-12:30pm
Email: conagencypuertov@state.gov
After hours: 01-333-268-2145
Canadian - Tel: 293-0098, 293-0099
After hours: 01-800-706-2900
British Embassy - Mexico City - 5-207-2449

Important Phone Numbers
Police - Tel: 060, 066, 290-0507, 290-0512, 290-0513
Emergency/police/ambulance - Tel: 060, 066
Consumer Affairs (PROFECO) - Tel: 225-0000, 225-0018
Fire Department - Tel: 223-9476, 223-9478, 224-7701
Immigration Main Office- 224-7653 , 224-7970
Immigration Airport - 221-1380
Tourist Information - 222-0242
Secretary of Tourism - 222-0243
Motor Vehicle - 224-8484
SEAPAL (water & sewer) - 223-1516
Electricity (CFE) - 071

Medical - Hospitals and Clinics
Red Cross - Phone: 222-1533
Ameri-Med - 226-2080
CMQ - 223-1919
Cornerstone - 224-9400, 293-5111
I.M.S.S - 224-3838
Medasist Hospital - 223-0444, 223-0618, 223-0656
Regional Hospital - 224-4000
San Javier - 226-1010


Pharmacy (all open 24 hours)
Farmacia California - 225-0635
Farmacia Guadalajara - 222-0101
CMQ - Tel: 222-2941

Credit Cards
American Express 223-2955 or
toll free 01-800-221-7282, collect 01-801-964-6665
Banamex (VISA, MasterCard) 01-800-706-6600
Carnet (VISA, MasterCard) 01-800-366-3100
Diners Club 01-800-500-3000

Department Stores/Tiendas Departamentales
Coppel - Francisco Medina Asc. - 222-8461
LANS - 867 Juarez street - 226-9100
La Surtidora del Puente - 108 Insurgentes - 222-2029
Woolworth - 880 Juarez - 222-0001



Help with Dialing
Local area code for Vallarta is 322, followed by the 7 digit local number
To call Puerto Vallarta from the US or Canada 011 + 52 + 322 + local number
To call direct to the US or Canada dial 001 + area code + local number
To call direct within Mexico dial 01 + area code + local number
To call International, Operator Assisted, dial 090
To call direct International dial 00 + country code + area code + phone number

Airport Immigration
Telephone: 221-1380

Airline Information
Aerotron - 226-8440
Aeromexico - 224-2777, 01-800-021-4000
Air Canada - 221-1138, 01-800-719-2827
Alaska - 221-1350, 221-1352; in USA: 1-800-252-7522, 1-800-654-5669
America West - 221-1333, 01-800-235-9292
American - 221-1799, 01-800-904-6000, 01-800-362-7000
Canadian Airlines - 221-1212 01-800-900-2000
Continental - 221-1025, 221-1096, 01-800-706-6800
Delta - 01-800-226-0046, 01-800-902-2100
Frontier - 221-1426/221-1435
Interjet - 01-800-322-5050
Mexicana - 01-800-801-2010; 01-800-849-1529; 221-1040
Northwest - 01-800-900-0800
United - 01-800-003-0777
US Airways - 01-800-428-4322


Gay Puerto Vallarta Reservation Service
Discovery Vallarta/Michael J. Mayo - Tel: 222-6918

Taxi
Taxi Sitio 4 - 2232285
Sitio 33 - 223-3033
Sitio 9 - 223-2806, 222-2422


Misc.
Animal Protection Association - 221-0466
Friends of the Animals - 222-0586
Motor Vehicle Dept. - 224-8484
Fire Department - 224-7701


---
top of page | condos PM | malecon photos | 2 bedroom villas | gay tour photos | gay beach pics | Vallarta gay guide
3 bedroom villas | vallarta condos | vallarta image 5 | our lady of guadalupe festival | about Discovery Vallarta
pictures carnaval | molino de agua condos | gay restaurant photos | Email contact