Gay Puerto Vallarta, Mexico Travel & Rental Guide -
Law, Custom & Culture
Rentals & Lodging
Gay Vallarta Condos
- Beach rentals ED
- Condominiums LP
- Beach condos PB
- Molino de Agua
Gay Vallarta Villas
- Three bedrooms
More Vallarta Condos

Gay Travel Guide
Art Galleries
Cafes & internet
Calendar of Events
Community Groups
Contact Info
Fun & Attractions
Gay Bars & Clubs
Gay Beach
Gay Cruises & Tours
Gay Links, etc
Gyms
Lesbian Vallarta
Malecon boardwalk
Malecon pictures
Map
Marina Vallarta
Other Beaches
Quick Gay Travel tips
Restaurants
Services
Shopping & stores
Straight Nightlife
Tourist Info
Vallarta Gay Pride
Vallarta Photos

Law and Culture
Specific laws against homosexual activity between consenting adults in Mexico don't exist. There are no sodomy laws like there were in the United States. The age of consent is 18, so you may wish to check the voter registration ID when inviting someone home. While most states make no mention of homosexuality in their penal code, there are many state and municipal laws penalizing vaguely defined offenses against "morality" and "decency". It is these laws that have been and are still used selectively to harass gay men and transvestites in Mexico.

The Mexican Congress in April 2003 unanimously passed a "Federal Law to Prevent and Eliminate Discrimination" that includes "sexual preferences" as a protected category. The law creates the National Council to Prevent Discrimination, a body with the power to investigate discriminatory acts committed by public officers. Up until then, the only country in Latin America having nation-wide protection against discrimination on the basis of sexual orientation was Ecuador. Wikipedia has general info on gay rights in Mexico. As of 2009, only the northern Mexican state of Coahuila and the capital of Mexico City (under the left-wing PRD) have approved same-sex civil unions.

In August 2010, Mexico's Supreme Court ruled that all 31 states in the country have to recognize the legality of same-sex marriages that are performed in Mexico City. The ruling was 9-2 in favor, and the Supreme Court a week later ruled by the same overwhelming margin that gay adoption must also be allowed. Alimony, inheritance and spousal coverage by the social security system will be recognized. Mexico is now more liberal on gay marriage than any of the other countries in Latin America, and certainly more liberal than the United States

As of January 2016, the state of Jalisco, which includes the resort town of Puerto Vallarta, became the fifth state where gay marriage can be performed, following Chihuahua, Coahuila, Nayarit and Quintana Roo; the capital, Mexico City, also recognizes same-sex marriages.

The population in general is somewhat tolerant of discrete homosexuality, though only a minority would support gay and lesbian rights. Violence against gays has become rarer in recent years due to the work of gay groups in the metropolitan areas and the involvement of sympathetic church and human rights organizations. Figures are still high, as twenty-six gay men were reported murdered in 1999 in Mexico for their sexual orientation (many were transvestites). Of course, most cases of violence or the threat of violence go unreported. But even the right-wing National Action Party (PAN), which opposes homosexuality on Christian religious grounds, has said that gays and lesbians have rights as human beings and should not be subjected to physical violence. Ex-president Vicente Fox, a member of PAN, had committed himself against discrimination based on sexual orientation, but neither his record nor that of his successor, current President Felipe Calderon, has been encouraging.

Even still, the progressive segments of Mexican society and culture have come a long way from the macho culture of only twenty years ago. In the last five to ten years alone there has been a big increase in the number of gay men and lesbian women in Puerto Vallarta and in Guadalajara, the state capital of Jalisco, not to mention large numbers in other major cities such as Acapulco, Monterrey, Tijuana and Mexico City, where gay life is also thriving. The gay-friendly resort areas of Mazatlan and Cancun have growing gay communities as well. The book The Night is Young: Sexuality in Mexico in the Time of AIDS by Hector Carrillo provides a very good account of the societal changes that have occurred in the last two decades among the Mexican urban middle class in relation to views of homosexuality and AIDS.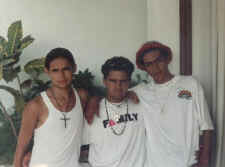 In 1997 Mexico elected a lesbian legislator, Patria Jimenez, to the Chamber of Deputies in the Federal District. During her campaign she emphasized her sexual orientation (unlike so many bourgeois candidates in the U.S. who downplay it or say it doesn't or shouldn't matter). She's a member of the left-wing PRD, Party of the Democratic Revolution, which is pro-gay and pro-lesbian.

As a result of the triumph in Mexico City of the left-wing PRD over a decade ago, the city now has a gay rights law that bans various forms of anti-gay discrimination. The law prohibits provocation or incitement of hate or violence, and likewise bans bias in employment and public accommodations and services, a law certainly more progressive than found in almost any American city. The penalty for violation of the law is one to three years in prison and/or a fine equal to 50 to 200 days' salary and/or 25 to 100 days of community service.

AIDS is among the leading causes of death in the young adult population in Mexico. Reports suggest that the epidemiological pattern of AIDS in Latin America is different from that observed in other parts of the world and Mexico seems to have unique characteristics: 95% of the cases to date among men and 45% among women are due to sexual transmission. Among men with sexually acquired AIDS, 60% were classified as homosexuals, 25% as bisexuals, and 15% were heterosexuals. HIV transmission due to injection drug use is less than 1%. In Mexico there are more than 21,000 AIDS cases, most of which have occurred in men (85%) and in Mexico City (56%). The high prevalence of bisexual behavior among Mexican men has likely had a major impact on the risk of HIV infection among women and children.

For further info on Mexican social attitudes, legal issues and gay organizations, etcetera, see Mexico: Update on the Treatment of Homosexuals (May 2000) by the United States Bureau of Citizenship and Immigration Services. Wikipedia has a very informative page with links on Gay rights in Mexico. The improving but still rather general dismal state of human rights in Mexico is reported on by Human Rights Watch (2005), and in the 2008 Amnesty International report on Mexico. Unfortunately, torture and ill-treatment are rather widespread in Mexico.

You might also want to check out Gay Mexico: A Three-Part Journey, at Global Gayz which tells stories of gay life in three different cities in Mexico: the beach resort of Cancun, Morelia the capital of the state of Michoacan, and Mexico City, a metropolis of some 20 million where the GLBT scene is enormous and diverse. Globalgayz with its very useful news, articles and photos, also has posts for current gay Mexico news and reports for 2000-2003, 2004-2006 and 2007-2008.

There has been a Guadalajara Gay Pride Parade (wikipedia info) for many years. Traditionally taking place on the second Saturday of June each year since 1996 in Guadalajara, the capital of the state of Jalisco and the second largest city-metropolitan area in Mexico. Known as the "Marcha de la diversidad Guadalajara" or the Diversity March or Parade, it traditionally goes from 3pm-8pm. A number of Puerto Vallarta gay businesses and organizations have participated. Several tens of thousands of people attend, watch and celebrate, and the week before the parade is noted for cultural events and the International Gay and Lesbian Film Festival of Guadalajara. Gay life in the city has expanded enormously since the late 1980s.

Corruption in Mexico continues to be a major national problem. In a 2010 international survey on perceived corruption released annually by Transparency International, Mexico again scored lower than in previous years, dropping from 58th (2002) to 64th place (2004) to 70th (2006) to 72nd place in 2008 (tied with Peru, Suriname, China, Bulgaria and Swaziland) to 98 in 2010 (tied with Egypt and Burkina-Faso) and dropping again, alas, to 105th place in 2012, 106 in 2013 and then to 95 in 2015 (tied with Armenia, Mali and Philippines) out of 167 countries and territories that are ranked. A pretty shocking decline in a single decade. To me this is a clear sign, among other factors, that the PAN (the conservative political party in charge of the federal government for 12 years from 2000-2012) and this endless, insane prohibition drug war has corrupted Mexican society - business, politics, media, police and the military - at many levels.

Poverty has also grown, along with corruption, with almost half the population of Mexico living in poverty in 2010 (46.2% or 52 million people), and some 11.7 million Mexicans living in extreme poverty (less than $83 USD per month). The numbers from 2010 have increased and some 51% of Mexicans are now living in poverty in 2013.

For useful information and insight into the Zapatista (EZLN) movement for self-determination in Chiapas and human rights for the indigenous Indian populations of Mexico, visit the Zapatista web site E-Z-L-N or enlace Zapatista - both those are in Spanish.

Tourists in Mexico are protected by federal tourist and consumer protection laws. For tourist info, 24 hours a day, you can call INFOTUR free from any place in the country at 01-800-903-9200. For information about your rights as a consumer and tourist, you can contact PROFECO, the equivalent of a Federal Consumer Protection Agency. If you have any problems with any businesses in town, contact them locally at Plaza Palmar de Aramar #106, Tel: 225-0000 or 225-0018. They speak english. Or call free of charge from anywhere in the country at Tel: 01-800-903-1300.

Here's part of a piece apparently published in 2005 by Profeco, the Consumer Protection Agency in Puerto Vallarta, with a rough free translation from VallartaScene by one of the site administrators:
"Discrimination or abuse of any person who goes to bars or nightclubs can be reported to the Federal Consumer Agency, Profeco, the body that can legally proceed with sanctions against these establishments. The customer of any bar or nightclub has rights which must be respected, and establishments are obligated to offer their services in a respectful manner, with quality and adherence to the law, said the Profeco through a communique.

Consumers have five basic rights set forth in the Federal Law on Consumer Protection (LFPC), in these places.

It stipulates that no establishment has the right to discriminate. The LFPC states in Article 58: "The supplier of goods, products or services may not reject or restrict consumers on the basis of gender, nationality, ethnicity, sexual preference or religion, or any other characteristic."

......In case of receiving a disservice by any establishment, the consumer may request advice or file a charge by calling the Profeco at 01-800-468-8722. In Puerto Vallarta concerned consumers can call telephone #225-0000 or go to the office located at Av. Océano Pacífico # 108-3, Local 106, in the Plaza of Colonia Palmar de Aramara."

Travel note and tip: Mexico is a poorer country that suffers regularly from the scarcity of both goods and services. You may not consider yourself wealthy by North American standards, but your income is substantial compared to average Mexican wages. According to recent reports by the Center of Analysis and Projections for Mexico (CAPEM), median salaries adjusted for inflation have lost 36% of their buying power since 1980 and the minimum wage has lost nearly 70% of its value over the same period. New minimum wage rates take effect every January. The minimum wage varies regionally from approximately 47 to 52 pesos (a bit over four dollars) a day. This wage is paid to about 8 million workers in Mexico's 40-million strong workforce. Wages and income in tourist areas like Puerto Vallarta are generally higher than the national average, so perhaps average income would be around 150-250 pesos per day, about $12-20 US. Imagine trying to support a family or live on this kind of salary. Please keep this in mind if you ask a local out for food or a drink, and when you are tipping for service in the restaurants and to your housekeeper or maid in the hotel, villa or condo. Most people are appreciative of any help or courtesy that you can offer.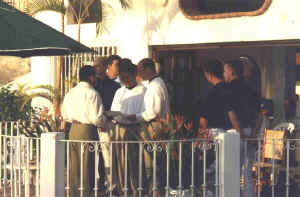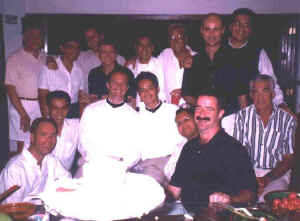 Puerto Vallarta commitment ceremony & celebrations - Chuck and Adolfo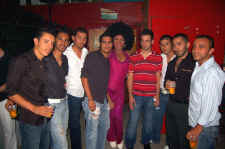 Mr. Gay Puerto Vallarta Mexico 2008
(photo thanks to Juan Pablo Hernandez)
------

Some photos below from the annual Puerto Vallarta Gay Pride
parades and celebrations in May 2013 and 2015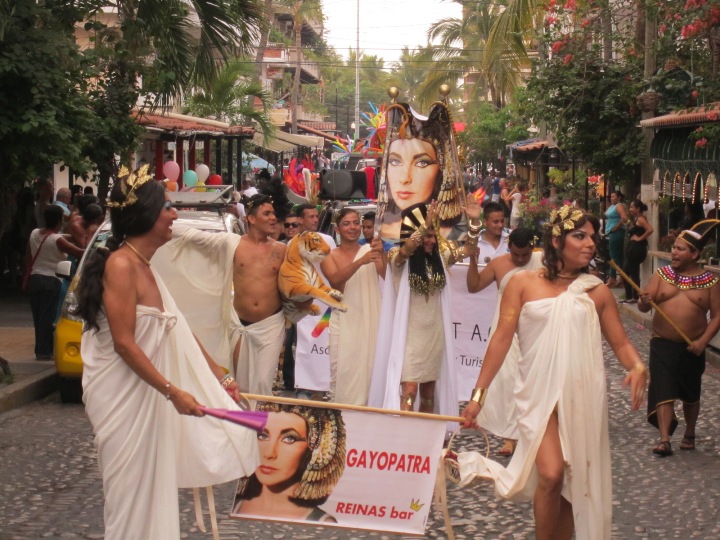 The head of the Puerto Vallarta gay pride parade, as it makes its way up Olas Altas street in May 2015
with Reinas bar and a novel Cleopatra/Gayopatra motif and dress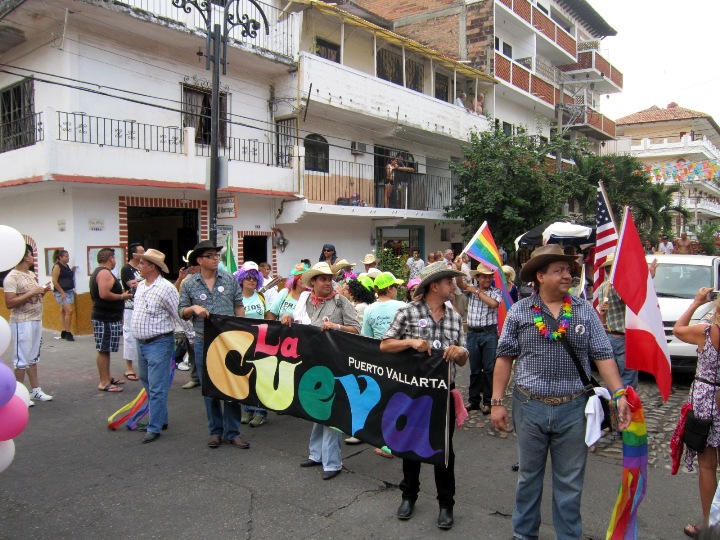 In the middle of Vallarta pride is La Cueva gay bar, as the parada winds its way through Old Town on May 23, 2015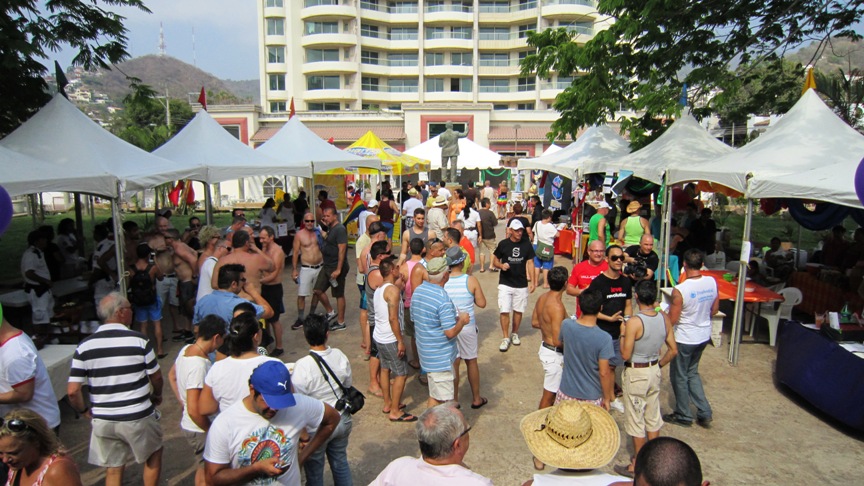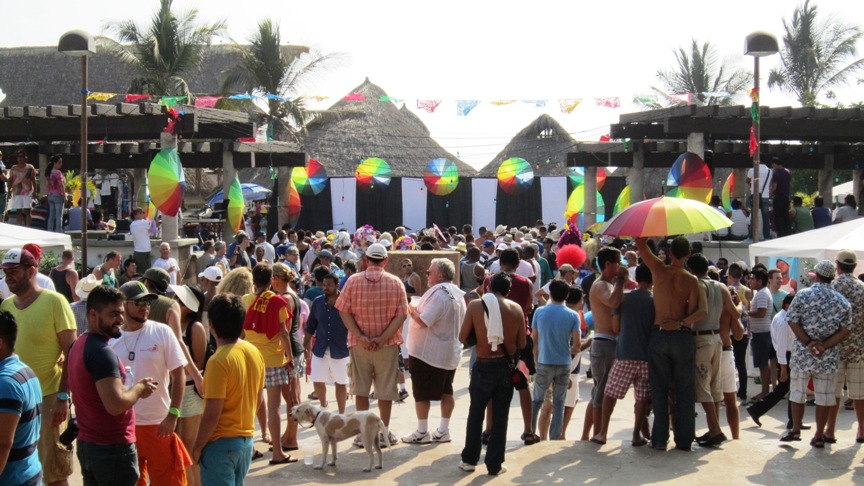 Gay travel and pride in Lazaro Cardenas park in Puerto Vallarta, Mexico after the successful and fun parade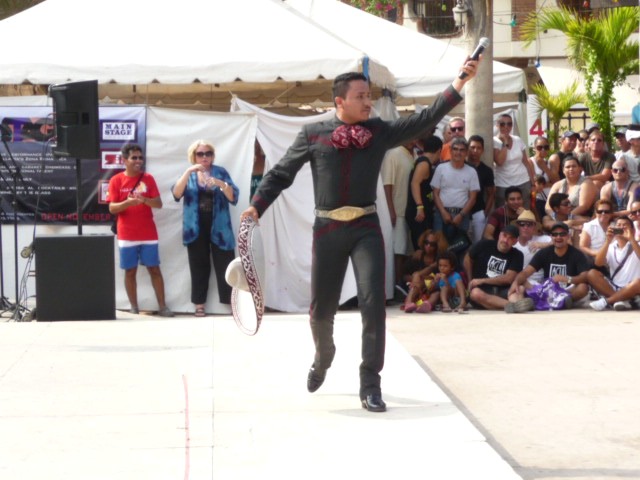 And the Pride celebrations afterwards at the Lazaro Cardenas park in 2013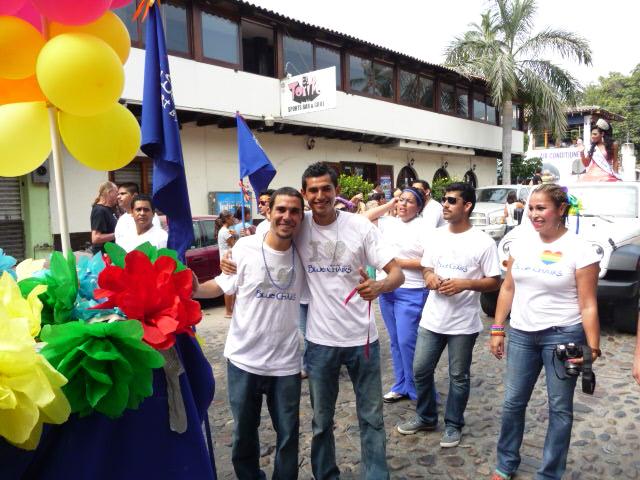 the celebrations as they wind their way down Carranza street on the South Side in 2013 -
some of the staff and waiters from the Blue Chairs gay hotel


"The devil knows more from being old than from just being the devil." - Mexican proverb
---
top of page | one beach street condos | gay bar photos | marina vallarta | important phone numbers | Discovery Vallarta Guide
4 bedroom villas | condominiums PM | annual gay events | vallarta apartments BTM | 5-6 bedroom villas
weather & climate | vallarta gay hotels | 7-11 bedroom villas | Email contact