Puerto Vallarta Restaurants, Gay Dining,
Restaurant Reviews & Menus -
Gay Puerto Vallarta Mexico Travel
On this Vallarta Restaurant page:
116 Pulpito | Archie's Woke | Bravos | Cafe Bohemio | Cafe de Olla | Cafe des Artistes | Daiquiri Dick's | El Arrayan | El Mole de Jovita
Fajita Republic | Joe Jack's Fish Shack | La Langosta Loca | La Palapa | La Piazzetta | Langostinos | OK Jose! | Planeta Vegetariano
Red Cabbage Cafe | Seasons PV | Siam Cocina Thai | The Swedes Bar & Bistro | Tre Piatti | Vitea
Rentals & Lodging
Gay Vallarta Condos
- El Dorado condos
- Condominiums LP
- 3 bedrooms MDA
- One Beach Street
- Playa Bonita condos
- Condominiums PM
Gay Vallarta Villas
- Two bedrooms
- 3 bedroom villas
- Four bedrooms
- 5 & 6 bedrooms
- 7-12 bedroom villas
more Vallarta Condos

Gay Travel Guide
Art & Culture
Botanical Gardens
Cafes - Internet
Charity Groups
Contact Info
Fun & Excursions
Gay Bars
Gay Beach
Gay Cruises & Tours
Gay Links, etc
Gyms - Spas
Important Phone #s
Law & Custom
Lesbian Vallarta
Malecon
Map
More Gay Bar photos
More Gay Beach pics
More Malecon pics
Other Beaches
Photos of Sunset
Quick Gay Travel tips
Services
Shopping & malls
Straight Clubs & Bars
Tourist Info
Vallarta Annual Events
Vallarta Gay Pride
Vallarta Pictures
Weather

Puerto Vallarta has some of the best restaurants in Mexico. There are so many local fine dining venues, with more than four dozen in the South Side/Romantic Zone alone, that it's hard to find a bad meal in the whole town. Restaurant Row on Basilio Badillo street in the heart of Old Town has some twenty or more gay-friendly eateries in seven blocks, from Coco Tropical on Los Muertos beach to the La Fonda and beyond, including those that serve German (Hacienda Alemana), Mexican (Cafe de Olla, El Mole de Jovita, Fajita Republic, Mama Rosa, Margarita Grill and Paco's Tacos), Italian (Boccon di Vino), international cuisine (Di Vino Dante and La Fonda), American (The Pitt and Wing's Army), seafood fare (Joe Jack's, Mr. Pulpo), Mex-Tex (Nacho Daddy), and some of the best breakfasts in town (Fredy's Tucan, Johnny's Diner and Memo's Pancake House). Most of these have extensive menus with a wide and rich variety of delicious dishes to choose from.

The downtown malecon boardwalk area is not only the center of straight nightlife but also has many restaurants, with a number of them serving food and providing some musical entertainment such as La Bodeguita del Medio (Cuban music, salsa), La Chata and El Andariego (both with mariachi), La Dolce Vita (jazz), and rock 'n roll at Paradise Burger. PV as a great gay travel destination has become a major attraction for people who enjoy cuisine and fine dining, winning more gastronomic awards and praise than any place in the country other than Mexico City. Since Puerto Vallarta has some of the best gourmet restaurants in the country, you can be pretty confident that you'll not only have lots of great food while you're here but good service as well. Most of the major hotels also have their own specialty eating places serving their own tasty cuisines. 'Casual but elegant' or 'casually elegant dining' seems to be the phrase in common use these days to describe going out to dinner. For dessert or coffee after a good meal, check out the cafes & bakeries page.

Puerto Vallarta Restaurants
Listed here are all of the gay-owned or managed (**) restaurants that I know of, and a good number of other popular, friendly and fine ones as well. Some of these have live music during the winter months so you may wish to call for further details. Many will accept only cash. All Puerto Vallarta restaurants and cafes use purified ice and water. Please note that it is customary in Mexico for you to have to ask for the bill at the end of your meal. Tipping is the same as in the States, 15-20%, depending on the quality of service. A number of dining spots close for a few weeks or more during the low-season summer months, usually in September or early October.

116 Pulpito Gastro Bar - Old Town - 116 Pulpito street. Tel: 322-113-0004 **
Tapas-style menu. Innovative cuisine with very good papas bravas, salads, coconut shrimp, calamari, thin crust pizza, cheese table. Sit at the bar, in the dining area or on the small sidewalk terrace. As of February 2020, #25 of 1,027 restaurants in town at TripAdvisor. Friendly service. Monday is tapas night. Takes reservations; serves dinner, coffee and drinks. Gastro pub bar, since January 2014. Mon-Sat, 6pm-11pm

Archie's Wok - South Side / Zona Romantica - 130 Francisca Rodríguez. Tel: 322-222-0411
Archie Alpenia was film director John Huston's personal chef for years and now the restaurant Archie's is run by his wife Cindy and their daughter Kyoki and son Sergio. Asian fusion cuisine, combining Chinese, Thai and Filipino food, the place has its own oriental garden in the back. Tranquil atmosphere. Menu includes Filipino egg rolls, cashew chicken, calamari, Singapore style fish, Thai garlic shrimp and a variety of tasty vegetarian dishes. Archie's Wok was always voted best Asian restaurant in Pto. Vallarta year after year. An old favorite since 1986. Mon-Sat, 2pm-10:30pm.
Barcelona Tapas - Downtown - 906 Matamoros at 31 de Octubre. Tel: 322-222-0510
Spanish restaurant and tapas bar with mixed seafood grill, charcoal grilled lamb, duck and vegetarian dishes, paella, gazpacho soup, as well a selection of cold and hot tapas galore. With owner Bill Carballo. Barcelona Tapas showcases panoramic views of Banderas Bay and the town. Sun-Thurs, 5pm-12am; Fri and Sat, 5pm-1am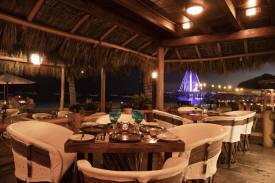 Blue Chairs Beach & Hotel Rooftop Bar and Restaurant - Los Muertos Beach - Calle Malecon y Almendro #4. Tel: 322-222-5040 **
There is the Blue Chairs restaurant on the gay beach itself, and another on the rooftop at the Blue Chairs Resort, the later having a wading pool and lovely views of Banderas Bay from the two open top levels. Menus include Mexican, steaks, chicken dishes, pasta and seafood. Please call for details on entertainment. The Blue Chairs on the beach is open daily, 8am-Sunset. Blue Sunset rooftop bar and restaurant, Daily 3pm-11pm

Boccon di Vino Italian Trattoria - South Side - 317-A Basilio Badillo. Phone: 322-102-8557
Italian restaurant Boccon di Vino comes well recommended from several friends. With a newer larger outdoor dining area in the back and a new wood burning pizza oven. Home-made pasta, seafood, lasagna. Good to excellent reviews. Chef Gaetano Fernandez from Naples. Mon-Sat, 1pm-11pm

Bravos - Old Town/Romantic Zone - 263 Francisco Madero. Tel: 322-222-0339 **
Opened in October 2013, with international food and an extensive wine list, the menu includes shared starters like crispy calamari and grilled Thai chicken skewers, soups and salads, steaks, seafood and chops. The Bravos classic entrees range from braised lamb shank and Italian sausage ravioli to baked cheese cappelletti. Owner Michael Boufford managed the River Cafe, one of Vallarta's most well-known restaurants, for five years and was general manager of a famed Toronto dining spot for 8 years as well, so he knows his stuff. Reasonably priced; gay-owned and friendly with all welcome; events and catering. Visit the website. Tues-Sun, 5pm-10:30pm


Cafe Bohemio - South Side - 127 Rodolfo Gomez. Tel: 322-222-7042, 322-134-2436 **
Classic cocktails and good food at reasonable prices on the outdoor patio area, with friendly service by owners Christopher May and Solomon Rose (photo at right) and the handsome staff. Standard dishes at Cafe Bohemio include chicken pomodoro, shrimp coco mango, cornish game hens, meat loaf, fajitas, grilled fish of the day, or the "Carne Especial" with a choice of chicken, beef or pork, as well as a full line of traditional Mexican favorites. All meals include homemade chips and salsa, and a cup of Sol's delicious daily soup. Quite popular since 2002, expect to have to wait for a table during the winter season. The Cafe Bohemio restaurant staff maintains the place open during summer for lunch and dinner. Mon-Sat, 5pm-11pm

Cafe de Olla - South Side/Romantic Zone - 168 Basilio Badillo. Tel: 322-223-1626
Very good restaurant for Mexican food with reasonable prices and friendly service. The Mexican plate is probably the best in town and the ribs are delicious. Cafe de Olla menu also includes chicken, beef, shrimp and traditional national dishes. Quite popular, so be prepared to stand in line during the winter months. Cafe de Olla has been one of my favorite places to go out to eat for decades. Closed Sept 15-Oct 15 every year. Weds-Mon, 10am-11pm.

Cafe des Artistes - el Centro/Downtown - 740 Guadalupe Sanchez. Tel: 322-222-3228
Cafe des Artistes blends provincial Mexican with classical French cuisine under chef-owner Theirry Blouet. Live piano music, original works of art and lush gardens enhance the tropical romantic effect. Restaurant menu includes stuffed crab, roasted sea bass, marinated salmon and roasted duck. des Artistes is one of most well-known and first-rate Puerto Vallarta restaurants, winner of several awards for cooking and according to a local poll voted the overall favorite in town, as well as for best service, most romantic, and best atmosphere. The Gourmand Magazine 2011 Guide to restaurants and fine dining named Chef Thierry Blouet as one of the ten most influential chefs in the world and the Cafe des Artistes as the best restaurant in all of Mexico. A connoisseur friend of mine says, "Best restaurant in Vallarta. We ate on the high level terrace in Cocina de Autor Thierry Blouet. Very expensive but great and memorable." Full info at cafedesartistes.com Daily, 6pm-11:30pm.

Casa Naranjo - Emiliano Zapata - 263 Naranjo at Lazaro Cardenas. Tel: 322-222-3518
International cuisine with an accent on flavors of oranges. Ranked on TripAdvisor as #23 of 683 Puerto Vallarta restaurants so it gets some pretty good reviews, including by gay food-writer Gary Beck, though some gourmet friends of mine did not enjoy the meal that night. Daily, 5pm-11pm

Coco's Kitchen - South Side / Zona Romantica - 122 Pulpito. Tel: 322-223-0373
Coco took over the old Barrio Sur restaurant years ago and now serves two meals a day. Coco's is especially noted for a good breakfast brunch in Old Town and for its romantic garden setting. Some friends report "the best chile rellenos in Vallarta". Visit their website for more photos and information about catering and events. Daily, 8am-3pm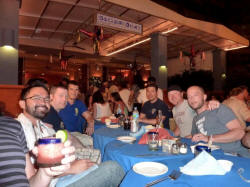 Daiquiri Dick's - South Side / Old Town - 314 Olas Altas. Tel: 322-222-0566
California cuisine blended with traditional Mexican flavors at this fine Puerto Vallarta gourmet restaurant on Los Muertos beach. The Daiquiri Dick menu includes filet of fish "Zarandeado", BBQ spareribs, butter fried prawns and chicken in Oaxacan mole. Highly rated and one of the overall favorite restaurants in town year after year according to local polls, and noted for its fine service. Some of the best food in Puerto Vallarta. Owners Peter and Tari Bowman of Puerto Vallarta's Daiquiri Dick's (photo left) celebrated 40 years in November 2011 and have a cookbook of their recipes out, Sand in Your Shoes. Weds-Mon, 9am-11pm.
Derby City Burgers - South Side - 130 Rodolfo Gomez, interior. Tel: 322-223-3323 **
Hamburgers, salads, and hand cut french fries - reportedly some of the best in town. Outdoor seating; take-out and delivery is available. Gay owned, friendly service and popular, Derby City is now ranked #86 of some 1027 restaurants in the city. I've enjoyed the salads and the burgers there. Vegetarian friendly. Serves lunch, dinner and drinks. Opened Nov 2011. Closed Weds. Thurs-Tues, Noon-10:30pm
Di Vino Dante - Old Town - 269-A Basilio Badillo, 2nd floor upstairs. Tel: 322-223-3734
Wine tapas bar and restaurant. Very good reviews from friends. Di Vino Dante is located above and overlooking the famed Galeria Dante art gallery on Basilio Badillo street. Mon-Sat, 1pm-10pm
D'Z Route 66 Rock N Roll Diner - Marina Vallarta - Paseo de la Marina 3, Locale #6. Tel: 322-209-0760
Diner in the Marina which is open for breakfast, lunch and dinner with milkshakes, chicken fingers, salads, regular and monster burgers, baby back ribs, fresh fish filet of the day, shrimp tacos, fajitas and of course french fries. Based on '60s rock music, style, memories and colors. The D'Z Route 66 is operated by friendly owners Michelle and Armando Jimenez. Breakfast served until 2pm. Daily, 8am-10pm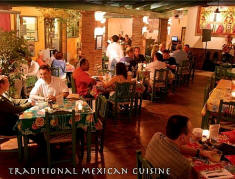 El Arrayan - Downtown/Centro - 344 Allende. Tel: 322-222-7195, 322-178-1723 **
Locally voted "Best Mexican" in Puerto Vallarta for 5 years in a row, El Arrayan restaurant offers old family traditional recipes from different parts of Mexico. The restaurant (photo at left) has a welcoming atmosphere with a courtyard and arrayan tree growing there and plenty of Huichol art on display. Menu includes shrimp pozole, fish filet, ceviche, empanadas, duck "camitas" and "Chiquis" chicken breast. Frommer's Mexico 2007 included El Arrayan in the chapter on the best of Mexico. Live music with "Los Frijoleros" on Sat, 7pm-10pm. Gay-owned and operated by Carmen Porras, with head chef Mariano Valdez. Casual ambiance since November 2003. Weds-Mon, 5:30pm-11pm
El Dorado - Los Muertos Beach/South Side - 102 Pulpito. Tel: 322-223-5568
Seafood, international and Mexican specialties in one of oldest restaurants in Vallarta, since 1961. During the '60s and '70s when this part of Old Town was mostly fields and woodlands, it was one of Elizabeth Taylor and Richard Burton's hangouts for meeting friends and drinking. Nowadays El Dorado is a favorite among locals and tourist gringos, especially for lunch. The El Dorado restaurant, beach club and bar has been under new management since March 2010 and was completely remodeled-renovated in autumn 2010. Sculptor Ramiz Barquet's bronze sculpture "Sharks in Spiral" graces the attractive little square at Pulpito and Los Muertos beach between the El Dorado and La Palapa restaurants. This has been one of my favored places to take friends for lunch for over 25 years. Beach club operates 8:30am-4pm Open daily, 8:30am-11:30pm
El Mole de Jovita - South Side - 220 Basilio Badillo. Telefono: 322-223-3065 **
Enjoy dinner at this Puerto Vallarta gay-owned and operated restaurant. "Offering a variety of ancient regional dishes with a gourmet touch that your palate will definitely enjoy." Mexican dishes with the house specialty of chicken mole. Good quality food at reasonable prices, and I'm hearing good reviews and word of mouth. Inside or sidewalk seating. Menu includes sopes, tacos dorados con mole verde, the Mexican platter, chiles rellenos, enmoladas and tasty fish dipped in mole Jovita or poblana sauce. #82 of some 990 restaurants in Vallarta at TripAdvisor in August 2021. Quite often with live guitar music. Friendly service at Mole de Jovita since 2009 with owners Sergio Mucino and Roberto Gomez.. Mon-Sun, 4pm-11pm
Fajita Republic - South Side - 188 Basilio Badillo street. Tel: 322-222-3131 **
Beef, chicken, shrimp, combo and vegetarian fajitas are the specialty of the house, with BBQ ribs and traditional Mexican plates as well. Moderate portions and moderate prices make Fajita Republic popular for dining. Still one of my favorites. Recently remodeled, and also with a new location in Nuevo Vallarta, with phone 322-297-2277. Daily, 5pm-11pm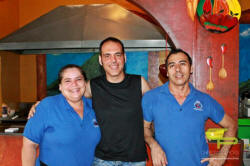 Figueroa's Burritos - Romantic Zone - 300 Carranza at Constitucion street. Phone: 322-148-5450 **
A recently established gay-owned breakfast and brunch spot, Figueroa's (photo left) is "just a fun little local hang out with fresh California style Mexican food, good service and great prices." With burritos, chicken mole, tacos dorados and many others. Vegetarian, take out and delivery available, does a good business. Ranked #38 of 601 restaurants in Vallarta. Mon-Sat, 9am-7pm

Fredy's Tucan - South Side - 245 Basilio Badillo. Tel: 322-223-0778
This restaurant and bar is popular with locals and tourists alike mainly for its breakfast (no dinner) in the open interior patio and street-side seating area. Waffles, french toast, crepes, omelettes, pancakes and some Mexican specialty dishes. Lunch/brunch available from noon. Fredy's Tucan often wins Virtual Vallarta on-line voting as the best breakfast in Puerto Vallarta. Since 1981 with the family Garcia Acevedo. Daily, 8am-2:45pm

Gaby's - el Centro / Downtown - 252 Mina at Hidalgo street. Tel: 322-222-0480, 322-223-1100
Lunch and dinner of traditional Mexican food. Located two blocks from the Our Lady of Guadalupe church, this long-time family-owned restaurant has been a favorite since Elizabeth Taylor and Richard Burton lived nearby in Gringo Gulch. Known for decades in Vallarta for the delicious food, affordable lunches and friendly service. Gaby's with chef Julio Castillon has very good to excellent ratings. Sometimes showing traditional folklore movies, video-clips and songs at dinner time on the theater-size screen. Contact them for information on their Mexican cooking classes. Daily, 1pm-11pm

Hacienda Alemana - South Side - 378 Basilio Badillo. Tel: 322-172-7205, 322-222-2071
Good German and international food prepared by chef-owner Mike Pohl from Bonn. Lunch and dinner, served in a beautiful outdoor garden restaurant area. Menu includes several varieties of schnitzel and sausage, fish filet, BBQ ribs, New York steak, sauerbraten and veal bratwurst. Beer lovers from around the world can explore a wide range of craft beers exclusively found only in their Biergarten. On Weds and Sat, 6pm-11pm, Hacienda Alemana offers a German buffet with all you can eat including draft beer; Friday it's all you can eat BBQ ribs. Mon-Sat, 12:30pm-11pm

India Gate - Downtown / el Centro - 124 Allende street. Tel: 322-223-2424
Newer downtown eatery just a short walk up from the Malecon boardwalk and La Bodeguita del Medio, India Gate Puerto Vallarta serves such dishes as butter mango and curry chicken, lamb tikka and curry, plus some vegetarian fare as well. Anna writes, "We loved it all! The food was delicious and the service was excellent too. The owner, Andrea, was super patient explaining the different options and accommodating our different requests (including vegan food), you can tell she has great passion and expertise for Indian cuisine." India Gate has good word of mouth from friends too. Tues-Sat, 5pm-10pm; Sun, 2pm-9pm

Joe Jack's Fish Shack - Romantic Zone - 212 Basilio Badillo. Tel: 322-222-2099
Fish and chips, fish tacos, burgers, seafood dishes. Joe Jack's Fish Shack serves tasty dishes and is a personal favorite, on two levels with outside seating on the rooftop terrace. Has been voted best inexpensive restaurant and best burger in town. Since 2005. Home delivery. Visit their website at Joe Jacks's Fish Shack. Daily, 11am-11pm

Kaiser Maximilian - South Side - 380-B Olas Altas. Tel: 322-223-0760
Combination of old and new world cuisine with a specialty of traditional Austrian and European dishes. Kaiser Maxilian serves delicious fare such as braised baby lamb strips, mahi-mahi, sautéed squid and San Blas shrimp. Inside dining with a/c or outside on Olas Altas street. The Maximilian Espresso cafe, open 8am-Midnight, serves 20 different coffees as well as Austrian pastries and ice cream. Restaurant open, Mon-Sat, 6pm-11pm

La Bodeguita del Medio - Downtown - 858 Paseo Diaz Ordaz. Tel: 322-223-1585
Cuban cuisine in the upstairs and downstairs dining areas with pleasant views of the malecon and Banderas Bay. La Bodeguita del Medio showcases live traditional Cuban music, salsa, boleros and rumbas with the band Candela from 9:30pm to midnight or later (see picture right). Popular for its unique ambience. Cuban cigar store too. Also in Guadalajara, Mexico City, Monterrey and Playa del Carmen. Daily, Noon-2am.

La Langosta Loca - Playa Los Muertos Beach - Francisco Madero and the malecon. Tel: 322-222-1200
One of my current favorite seafood places, on Los Muertos beach, is the relatively new and rather popular Langosta Loca (the crazy lobster). The food, friendly service and good mixed drinks are a bit above average. The views from the upper level of the palapa-roofed restaurant take in the whole of Banderas Bay and are wonderful. Inside seating or on the beach with salads, soups, Mexican specialties, shrimp, lobster and seafood dishes of all sorts. Fairly moderate prices, the good food and the location make The Crazy Lobster (instagram) popular with locals and tourists alike. Daily, 12pm-9pm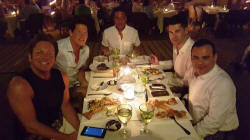 La Palapa - Los Muertos Beach - 105-3 Pulpito. Tel: 322-222-5225
One of loveliest and best beachfront restaurants in Puerto Vallarta. Mexican and international cuisine with candlelight beachfront fine dining. La Palapa (picture left) has had a great romantic setting and been a tourist favorite since 1959. A gourmet connoisseur friend of mine notes: "Hands down the best restaurant South Side and one of the best city wide. The setting may be the best....Great breakfast and good lunch and dinner". Casually elegant and rather expensive. Acoustic guitar accompaniment or light Latin jazz music daily with Alberto Perez or Raul Simetal, 8pm-11pm. Call for details or visit their website for the La Palapa restaurant. Daily, 8:30am-11:30pm
La Piazzetta - South Side - 143 Rodolfo Gomez at Olas Altas. Tel: 322-222-0650
Over 25 kinds of delicious Southern Italian style pizza, as well as pastas and traditional Italian plates by owner Mimmo. La Piazzetta has often been voted the best pizza and best Italian restaurant in the city. Excellent service and very popular year round. Since October 1995. Miguel writes, "Delicious dinner. The service is always very good, costs are fair and the taste is magnificent. I highly recommend it to dine at ease." You can visit their La Piazzetta website. Mon-Sat, 4pm-11:30pm
Langostinos - Playa Los Muertos Beach - 109 Manuel Dieguez. Tel: 322-222-0894 **
Breakfast, lunch and dinner in the same block as the Los Muertos pier. Service, food, atmosphere and the views of oftentimes spectacular sunsets are generally above average quality. Inside seating or on the beach with salads, soups, steaks, seafood and Mexican specialties. Rib eye and seafood pasta are popular choices. Reasonable prices and a great location make this dining spot popular with locals and tourists alike; ex-pats have had regular get-togethers here. With owner Collet and a friendly staff. Langostinos frequently has live music for the evening happy hour starting around 5pm. Next door to Cuates y Cuetes. Rating: B. Daily, 8am-11pm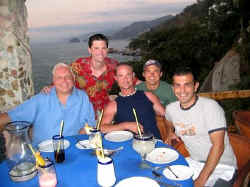 Mariscos El Coleguita - Marina Vallarta - Popa street at Condominiums Marina del Rey, Local 17. Tel: 322-108-9726
One of the most popular restaurants in the Vallarta Marina. Reasonably priced seafood, shrimp, scallop, lobster, fish and Mexican dishes. Some two dozen tables on the covered patio. Locations also in Ixtapa, Jalisco and La Cruz de Huanaclaxte in Nayarit. Weds-Mon, 1pm-8pm

Nacho Daddy - South Side - 180 Basilio Badillo street. Tel: 322-223-0838
An original concept in "Mex-Tex" cuisine with a large dining area, a popular sports bar area with 42" TVs, billiards and all with a lively atmosphere at night. Nacho Daddy is one of the newer addition to the growing number of restaurants on Puerto Vallarta's famed Restaurant Row. Live music, Thurs through Sat, featuring Joe King Carrasco or special guests. Also hosts Charity Bingo through the season every other Tues at 6:30pm. Daily, Noon to Midnight


OK Jose! - South Side - 5 de Febrero #260 at Ignacio Vallarta. Tel: 322-223-2853
Boasting a Mexican contemporary menu with tasty dishes representing every region in Mexico. OK Jose house and seafood specialties include enchiladas La Malinche, chicken in mole poblano, chiles in Nogada, mahi mahi Carlotta, Xochimilco spinach-stuffed chicken breast, and beef, chicken, shrimp or mixed fajitas. Good reviews and word of mouth, with friends telling me the filet mignon is especially excellent. OK Jose (formerly No Way Jose, photo right) was voted the best new Puerto Vallarta restaurant in 2010 and has been several times voted best moderate priced in the city. Serving on the expansive rooftop terrace for gay-friendly dining under the stars. Often with live musical entertainment. Daily, 4pm-11pm

Planeta Vegetariano - Central - 270 Iturbide. Tel: 322-222-3073
A wonderful little place with an all-you-can-eat vegetarian lunch buffet for only 85 pesos, including drink and dessert. A la carte menu for dinner, 7pm-10pm. Colorfully decorated with a tranquil atmosphere to compliment the good food. Planeta Vegetariano receives most excellent reviews. Closed Weds. Thurs-Tues, 8am-11:30am for breakfast, and 11:30am-10pm for lunch and dinner

Porto Bello - Marina Vallarta - Marina Sol Local #7. Tel: 322-221-1068, 322-221-0003
Canadian owners Mario Nunes and Maurizio Pelligrini have a fine Italian restaurant here with pleasant views of marina Vallarta and the harbor where Porto Bello's large outdoor patio overlooks the sailboats and Sierra Madre mountains. Inside seating with air conditioning. The fusilli Porto Bello with artichokes, black olives and basil is their signature pasta dish; and for lovers of veal, may I suggest the Vitello in a white cream sauce. Their restaurant menu also includes cannelloni, homemade ravioli, sauteed fresh fish fillet, roasted salmon, linguini with seafood, and tasty deserts. Popular since 1989. Also with a location in Nuevo Vallarta. Daily, Noon-11pm.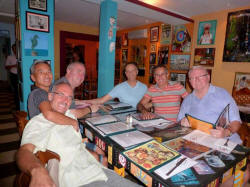 Red Cabbage Cafe - Colonia Benito Juarez - 204-A Rivera del Rio street. Tel: 322-223-0411 **
This charming out of the way place (photo left) along the Cuale River in a typical Vallarta neighborhood is filled with movie photos and posters. Regional Mexican food with specialties from all over the country including divine chiles en nogada, chicken mole from Puebla, and hearty carne en su jugo (steak in its juice). In addition, the vegetarian menu is diverse and tasty. Lola Bravo's place has been reviewed and recommended by Bon Appetit, Lonely Planet, the NY Times and the Toronto Star. Frommer's rated the Red Cabbage restaurant as "exceptional traditional Mexican cuisine". Woman owned and operated. Closed during summer July 1-Sept 30. Mon-Sat, 4pm-10pm.
Salud Super Food - Old Town - 534-A Olas Altas. Phone: 322-139-9398
A breakfast and brunch restaurant offering delicious healthy cuisine focused on great tasting food using "superfoods" such as fresh fruits, vegetables, nuts or low-fat yogurt as their core ingredients. A healthier choice for a deliciously balanced diet. Options for vegetarians, vegans and omnivores alike. Take out is available, with more info and photos at Salud Super Food (facebook). Mon-Sat, 9am-5pm
Sapphire Ocean Club - Los Muertos beach - #1 Calle Malecon. Tel: 322-223-3264 **
Located in front of the One Beach Street Vallarta condo resort on Los Muertos Beach, the Sapphire Ocean Club restaurant and bar has a menu that includes soup, burgers and sandwiches, homemade pasta, salads, ceviche, and a variety of meat and seafood dishes. This beachfront club offers chaise lounges and recliners with sun shades, plus an open-air dining area for its gay-friendly clientele. Stylish. A friend wrote some while back, "Great waiters. 80/20 gay/straight. Older, wealthier crowd....No tortilla chips, no papas fritas. But the lounge chairs, cute and super-friendly beach guys, and real wine glasses makes it all worthwhile." Sapphire (facebook) has its own pool and is practically adjacent to the traditional Blue and Green chairs of the gay beach. Since Nov 2014. Mon and Weds, 9am-7pm; Tues, Thurs-Sun, 9am-11pm
Seasons PV - South Side - 130 Ignacio Vallarta in Rivera Molino plaza. Tel: 322-178-2148 **
Canadian/American style with a a touch of Mexican, lead by Chef Laurie who has over 30 years of experience. Casual friendly dining for breakfast, lunch and dinner. The menu includes salads, sandwiches, burgers, burritos and wraps, and for dinner fish, chicken, seafood and sirloin dishes. Gluten free options. Seasons PV motto is a quote from the writer Virginia Woolf, "One cannot think well, love well, sleep well, if one has not dined well." Gay staff, mixed clientele. Sun-Thurs, 9am-9pm; Fri-Sat, 9am-10pm
Serrano's Meat House - Olas Altas/Emiliano Zapata - 155 Lazaro Cardenas. Tel: 322-209-0639
Relatively new and quite popular grill and bar across from the Lazaro Cardenas Park. "Top quality steaks, good salsas, people watching, open air, hard to complain." Menu also includes shrimp, grilled salmon, BBQ Mexican ribs and some salads. In January 2022, Serrano's ranked as #144 of 1,009 dining spots in Vallarta on TripAdvisor. Rating: B+. Daily, 8am-11pm
Siam Cocina Thai - South Side/Zona Romantica - 271 Francisco Madero. Tel: 322-223-4665 **
Serving Southeast Asian cuisine featuring traditional flavors and ingredients. A gourmet friend writes, "Best Asian-inspired food in Vallarta, they finally have the flavor "right", Michael Boufford's best restaurant". Menu includes salads, soups, pad thai, curries, as well as delicious cashew chicken, vegetable, beef broccoli and Thai chicken stir fries, Ranked as #29 of 1009 restaurants in town in January 2022 on TripAdvisor. Gay-owned and operated Siam accepts reservations and credit cards. Closed on Monday. Rated: A-. Tues-Sun, 5pm-10:30pm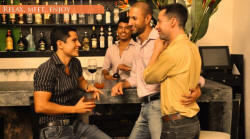 The Pancake House - Old Town / South Side - 289 Basilio Badillo. Tel: 322-222-6272
Memo's breakfast place is popular, so you may have to wait in line. Pancakes, omelets, waffles, French toast, low calorie plates, eggs and Mexican dishes. Pleasant open interior patio garden setting. In June 2003 the Pancake House was rated "the best place in the world to go for breakfast" by International Living. Memo's is one of Vallarta's landmark restaurants and it has been the most famous breakfast place in town for more than 34 years. Daily, 8am-2pm
The River Cafe - River Cuale Island, local #4, West Bridge. Tel: 322-223-0788
International cuisine such as diver scallops, rainbow shrimp, rack of lamb, soups and salads. Seating on the terraces along the banks of the Cuale River with a pleasant natural setting. "Casual but elegant dining". River Cafe has live music with Cheko Ruiz, Mon and Tues from 7:30-10:30pm and with Invitro, Weds and Thurs, also from 7:30-10:30pm. Head chefs Benjamin Sanchez and Karla Morales. Noted for its beautiful romantic atmosphere, excellent food and quality staff. Reservations recommended. Call for details on music. Daily, 8am-11:30pm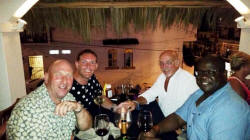 The Swedes Bar & Bistro - South Side - 154 Pulpito at Olas Altas street. Tel: 322-223-2353 **
The Swedes gay bar and bistro (photo left) serving food daily, 5pm-11pm. Their bistro menu includes Swedish meatballs, pasta tagliatelle, filet mignon, traditional Swedish hash and other North American and European cuisine. The Crow's Nest Bar is on the 2nd floor of the bistro, with nice views and serving drinks until late. Gay bar and restaurant with Rikard and Morgan. Good reports and reviews of The Swedes Bistro & Bar which has an eclectic food selection that is well-presented and prepared. Happy hour 5pm-6pm. Daily, 5pm-11pm
Tony's Please - Emiliano Zapata - 440 Lazaro Cardenas near Jacarandas. Tel: 322-109-4644
Tony has had a restaurant at various spots on the South Side since the 1970s and has faithful local and tourist customers, a testament to the good cooking and decent prices. Mexican, steaks, seafood, vegetarian friendly. Mentioned by friends, Tony's Please is always rated very good to excellent. Trip Advisor has it ranked in Nov 2021 as #86 of 999 restaurants in town. Mon-Sat, 4:30pm-10:30pm
Tre Piatti - Emiliano Zapata - 292 Lazaro Cardenas. Tel: 322-222-2773
Delightful Italian restaurant on the corner of Cardenas and Constitucion streets in Old Town, just down the street from gay nightclub CC Slaughters, so it's not hard to find. Specialties include house-made pasta and regional Italian cuisine. Tre Piatti, currently one of the most popular upscale dining spots in town, is owned by Israeli chef Chanan Kamen and his wife Natalie, a pastry chef from Guadalajara, who acts as hostess and also makes the house desserts. Full bar, decent wine selection, attractive staff. Many excellent reviews, including from a gourmand friend who says, "Fine, perfectly executed pastas. Accommodating staff. Kudos." Inside only, air-conditioned. Weds-Mon, 5:30pm-10pm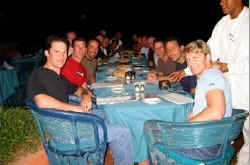 Trio - Centro/Downtown - 264 Guerrero street. Tel: 322-222-2196
"Casually elegant" featuring international gourmet food that combines Mediterranean cuisine with the traditional flavors of Mexico. Stylish decor with art work by local artists and a patio in the back that is open during the winter season. Many reports indicate that Trio restaurant (facebook) prepares one of the better meals in Puerto Vallarta though some have demurred and clearly prefer the sister-restaurant Vitea 'hands down'. Upscale and pricey. Since 1997. Further information for Trio at their website. Dinner daily, 6pm-11:30pm
Vitea - Downtown/el Centro - 2 Libertad on the New Malecon. Tel: 322-222-8703
Ocean-front bistro located along the stretch of the New Malecon extension between Los Arcos Amphitheater and the pedestrian bridge over the Cuale River. Vitea has a pleasing casual sidewalk atmosphere, modern eclectic decor and an excellent selection of wines. Menu includes quiche, salads, sandwiches, filet mignon and seafood. Voted best moderate priced Vallarta restaurant in 2010. Operated by the owners/chefs of Trio restaurant Bernhard Güth and Ulf Henriksson. Popular for the food, service and views. As of August 2021, they are #116 of 1,264 places to eat in town on TripAdvisor. Also see their website Vitea PV for more complete info on their menu, events and catering. Rating: A. Daily, 8:30am-11:30pm

Briefly, here are a few other popular/well known Puerto Vallarta restaurants that may well be worth checking out:
Andale - South Side/Zona Romantica - 425 Olas Altas. Tel: 322-222-1054
Andale's bar is on the first floor, which can be quite crowded and loud during the winter months with music and dancing. The sidewalk restaurant has seating as well upstairs on the 2nd and 3rd floors overlooking Olas Altas street, 8am-11pm. Daily, 8am until 2-3am
Cafe Roma - Downtown/Central - 287 Encino at Matamoros, upstairs 2nd floor. Tel: 322-222-7378, 322-111-8417
Italian restaurant/pizzeria and bar near the municipal flea market and across from the Cuale River so some nice views. Noted for its home-style environment and friendly service since 2006. Karaoke nights on Mon, Weds and Fri, 6:30pm-9:30pm. Rated as #47 out of some 683 restaurants in town at TripAdvisor. Visit their website at Cafe Roma. Mon-Sat, 11am-10pm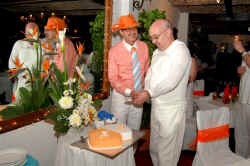 Chez Elena - Central - 520 Matamoros at Galeana. Tel: 322-222-0161
Romantic garden restaurant known for its diversity of Mexican dishes and international specialties (photo left). The rooftop terrace bar El Nido has panoramic views of Puerto Vallarta and Banderas Bay. The Chez Elena menu includes grilled catch of the day, chicken mole, several vegetarian choices and a savory Mayan pork dish. Opened in 1955 by the original "Elena" and operated since 1980 by Gloria Whiting. Caters to small and large groups and private dinner parties. Dinner, 6pm-11pm
Cuates y Cuetes - South Side - 101 Francisca Rodríguez, at pier Los Muertos. Tel: 322-223-2724
A restaurant bar on Los Muertos beach that often has good live jazz, salsa, light rock or reggae music in the evenings from around happy hour sunset time until approximately 9pm-10pm. Specialty of seafood and Mexican specialties; food is reportedly so-so. Cuates and Cuetes is especially popular for Happy Hour, 6pm-8pm. Daily, 8am-11:30pm
El Brujo - South Side - 510 Venustiano Carranza at Naranjo. Tel: 322-223-2036
Mexican, seafood and beef dishes. El Brujo became popular for its reasonable prices and ample servings of good food. Promotes itself as a family-style restaurant and was once ranked #80 of 776 restaurants in PV. Location also in Bucerias, Nayarit on the Avenida Pacifico with Tel: 329-298-0406. Tues-Sun, 1pm-10:30pm
El Coleguita - Marina Vallarta - Popa s/n Local 27 at Condominio Marina del Rey. Tel: 333-111-5040, 322-108-9726
Well-liked seafood restaurant in Marina Vallarta for over 6 years, and for over 19 years in its Ixtapa location on the La Palmas highway. Generous portions of fish and shellfish selections makes El Coleguita popular in this area. Weds-Mon, 11am-8pm
El Colera - Emiliano Zapata - 542 Lazaro Cardenas. Tel: 322-223-0769
Popular mostly with the Mexican locals for all kinds of fish, seafood coctels, ceviche, tostadas and empanadas. El Colera is noted by the locals for its good food, attentive service and reasonable prices. Daily, 8am-8pm
Frankie's Spaghetti House - South Side - 276 Venustiano Carranza. Tel: 322-223-2267
A typical old-style Italian restaurant with the red table cloths. Frankie's has become a well-liked Italian restaurant on the South Side. Mostly good reviews. The menu includes spaghetti, seafood pasta, pizza, fried zucchini, rigatoni and the special linguini with shrimp. Notable for its fresh food, reasonable prices, a quaint and comfortable atmosphere, as well as professional and attentive service. Mon-Sat, 5pm-11pm
Johnny's Diner - Old Town - 336 Basilio Badillo. Tel: 322-193-9453
Stop by for some breakfast and lunch at Johnny's Diner, with breakfast South Dakota style, starting at 59 pesos. A variety of plates with sidewalk seating and seating out back too in the patio. Thurs-Mon, 8am-2pm
La Chata - Centro / Downtown - 115 Josefa Ortiz de Domínguez at Paseo Diaz Ordaz, upstairs. Tel: 322-222-5530, 322-222-5529
Mexican restaurant on the malecon serving seafood, chicken and beef dishes. One of the more moderately priced downtown restaurants. Second level up, so good views of the boardwalk and Banderas Bay from the balcony seating. Live music with Mariachi group Nuevo Imperial every night, 9pm-10:30pm. Family owned business with locations also in Guadalajara since 1942. Daily, 8am-11pm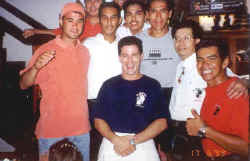 La Dolce Vita - Central - 674 Paseo Diaz Ordaz and on the South Side - 206 Basilio Badillo. Tel: 322-222-2204, 322-688-7264
Serving good northern Italian food. Located on the Malecon boardwalk with ocean views from upstairs (picture of staff at left). I'd call La Dolce Vita the most popular restaurant in downtown Puerto Vallarta. The downtown location sometimes has live light jazz music in the evenings Weds and Fri, please call for details. Also with a newer location on the South Side on Basilio Badillo street, and in Nuevo Vallarta at #2 Ave Paseo de Las Palmas. All serving traditional Italian cuisine: salad, pasta, meat, chicken or fish. Well-liked since 1992. Mon-Sat, 12pm-Midnight; Sun, 4:30pm-Midnight
La Terraza di Roma - Marina Vallarta - Condominium Puesta del Sol, Local 2. Tel: 322-221-0560
The pier of the Italian restaurant La Terraza along the Marina walkway or boardwalk has a pleasant relaxed atmosphere for dining or drinks, day or night. Daily, 8am-11pm
Makai - Old Town - 311 Lazaro Cardenas. Tel: 322-354-9878 **
Mexican, Latin ,and some vegan options at one of the South Side's newest upscale restaurants Makai. "Loved it all. Food, music, decor, cocktails, service, cleanliness. New restaurant with amazing chefs and brilliant service." Some complaints of a rather limited menu and a poor wine list, while others are more benevolent and say "Fabulous five-course meal with exceptional presentation. Definitely gourmet." Worth checking it from word of mouth and reviews. Tues-Sun, 6pm-Midnight
Marisma Fish Taco - South Side - 320 Naranjo at V. Carranza street.
Reportedly the best fish tacos in Puerto Vallarta, with hand made tortillas. Marisma has locations also in the Marina at Popa and Quilla just behind Plaza Neptune at the Condos Marina del Rey, and also in Fluvial Vallarta at Carlos Barrios and Lake Michigan street. Menu includes tacos, guisados, shrimp, smoked marlin or fish burritos, quesadillas and hamburgers. Since 1990. Tues-Sun, 10am-5pm.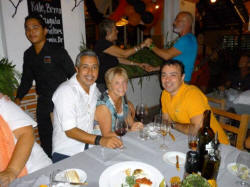 Oscar's - Cuale River Island - Local #1, West Bridge. Tel: 322-223-0789
Located at the west end of the Cuale River island, Oscar's restaurant offers dining under a large thatched palapa with views of the Cuale River as it enters Banderas Bay. Menu includes lobster bisque and traditional Mexican, American and international dishes. Daily, 10am-11pm.
Paradise Burger - Downtown - 740 Paseo Diaz Ordaz, upstairs. Tel: 322-223-2328
All American fare with some Mexican specialties to spice things up, and a good location ocean-front in the middle of the downtown Malecon boardwalk. They sometimes have live rock and roll music in the evening; call for details. Daily, 10:30am-Midnight
Pipi's - Central - 807 Guadalupe Sanchez at Pipila. Tel: 322-223-2767
Tex-Mex specialties include steak, chicken, shrimp and fish fajitas. Often crowded with tourists; serving traditional Mexican food since 1986. Pipi's is noted for its large drinks and plentiful servings. Daily, 11am-11pm
Poblanos - Olas Altas - 179 Lazaro Cardenas. Tel: 322-365-1654 **
Mexican fare, colorful setting and a good location across from the Lazaro Cardenas park. I enjoyed my mole poblano meal there. Menu includes molletes mexicana, a variety of omelettes, taco and soups, beef burritos, sopes, stuffed pepper with shrimp and cheese, grilled arrachera, fajitas, and a tasty white fish with melted cheese and poblano chili sauce with vegetables and rice. A gourmet friend notes, "Great potential and location, but mediocre food". Gay-owned and operated Poblanos accepts reservations and credit cards. Opened Dec 2019. Tues-Sun, 8am-10pm
The Blue Shrimp - Los Muertos Beach - 366 Olas Altas. Tel: 322-222-4246, 223-1840
Located on Los Muertos beach next door to Daiquiri Dick's and under the giant palapa. Shrimp prepared a dozen different ways, lobster, fish filet and rib-eye cuts. A good meal, great views and popular. Often with live music by Graham Cook. Daily, 9am-12am
Puerto Vallarta restaurant reviews and ratings
The Puerto Vallarta Restaurants & Dining Guide has a fairly comprehensive lists of restaurants, cafes and bars in the city, ranging from budget selections and hamburger stands to exquisitely delicious gourmet French food and popular Mediterranean and Asian cuisine. Much more can be found online here at TripAdvisor where there currently 610 restaurants and over 27,000 reviews by travelers; or at Virtual Vallarta with paid listings, another one of the best sources, by location, type and price; or at the All Vallarta Message Board. Gay guys might also be interested in Gary Beck's Puerto Vallarta Restaurant Guide as his book has updated reviews of over 375 eateries, and covers just about everything from taco stands to upscale dining throughout Banderas Bay. And of course there's JR's usual reliable round up and ratings of anything local, go here for his Restaurant list by type of food, and for something authentically unique and useful for those on a modest budget or who like to eat out and around at the various tacos stands, there's his Street Food - Taco Stands webpage. Gary Beck, JR and their friends certainly do get around.
Natural Foods Store
Don Fresco at Los Mercados - South Side - 265 Aquiles Serdan. Tel: 322-222-0383
Los Mercados is a newly remodeled market located in Zona Romantica which offers a variety of shops including Don Fresco which offers fresh produce including locally grown heirloom tomatoes, sweet white corn, a selection of lettuces and every sort of fruit and vegetable. Located 1/2 block from the Gutierrez Rizo supermarket.
Special Notes
Puerto Vallarta Festival Gourmet International - November 12-21, 2021
The annual Festival Gourmet or Restaurant Week in November features the culinary talents of local chefs of Puerto Vallarta and Nayarit state, as well as some guest chefs from internationally acclaimed restaurants and hotels. Highlights of the Festival include cooking classes, cheese seminars, Tequila Madness Night and the exceptional Gourmet Brunch at Cafe des Artistes. Since 1995. Participants have included Blanca Blue, Cafe des Artistes, Coco Tropical, de Santos, El Arrayan, Kaiser Maximilian, La Palapa, Porto Bello Bistro, the River Cafe, Thierry's Prime Steak House, Trio, Vista Grill and some 15-18 or so other restaurants and Puerto Vallarta hotels including Andrea at Hotel Velas Vallarta, El Patio at Dreams Villamagna, Gaviotas at Sheraton Buganvilias, Insu Sky Lounge at Marival Residences and World Spa Nayarit, La Casona at Villa Las Estancia, Las Casitas at CasaMagna Marriott, L'isola at Fiesta Americana Hotel, Luxury Resort in Riviera Nayarit. Tel: 322-222-2247
Travel note: The information on this and other pages of the Puerto Vallarta Gay Travel Guide were deemed accurate when posted, but things can change without notice. You may wish to confirm dining details directly with the restaurants in question before planning your day or night out.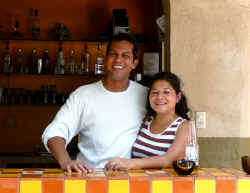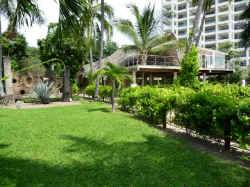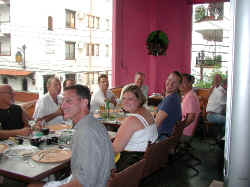 Friends; Oscar's on the Cuale River island; upstairs at Blondies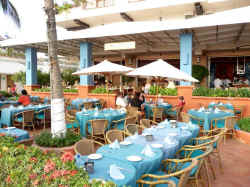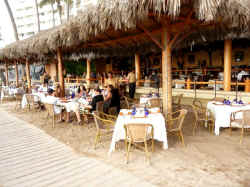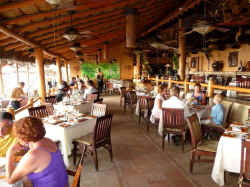 Daiquiri Dick's fine dining (left) and two photos of La Palapa restaurant Puerto Vallarta, both Los Muertos beach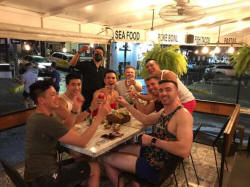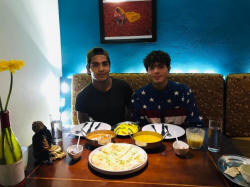 Verona seafood and bar April 2021; India Gate for Indian food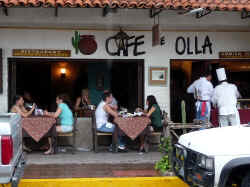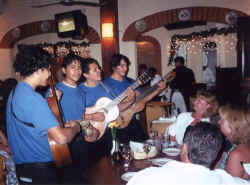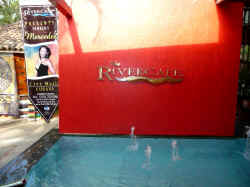 Cafe de Olla on Restaurant Row; La Piazzetta with los Bambinos; The River Cafe for dining by the Cuale River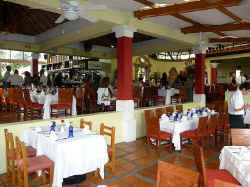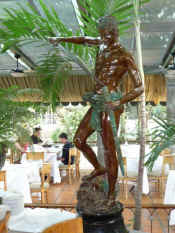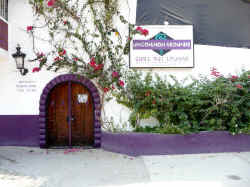 The River Cafe gourmet restaurant; Le Bistro Jazz Cafe; woman-owned Uncommon Grounds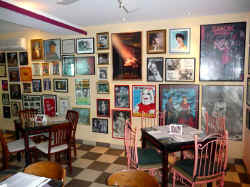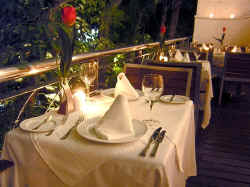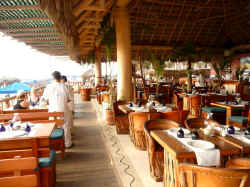 the Red Cabbage Cafe for regional Mexican cuisine; Puerto Vallarta fine dining; The Blue Shrimp on Los Muertos beach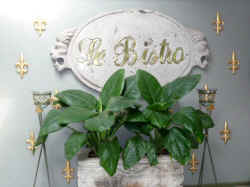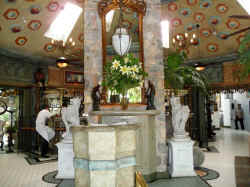 two photos of the old Le Bistro cafe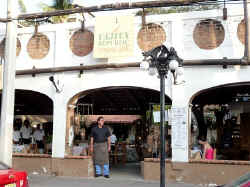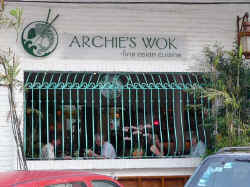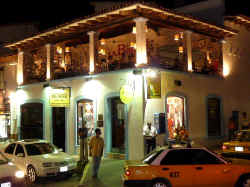 the old Fajita Republic; Archie's Wok asian restaurant; La Bodeguita del Medio on the Malecon boardwalk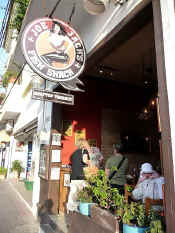 Joe Jack's Fish Shack for seafood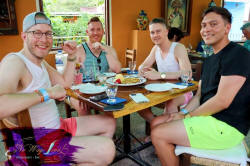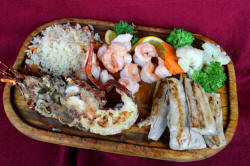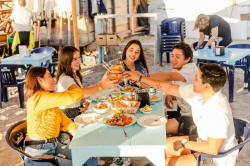 OK Jose! for Mexican cuisine 2021; dining out at Langostinos with their seafood trio; La Langosta Loca on Los Muertos beach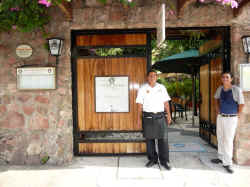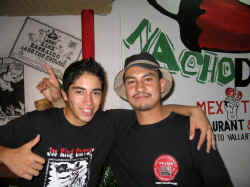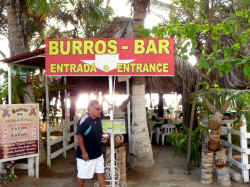 Hacienda Alemana for German food; staff at Nacho Daddy; Burros Bar on Los Muertos beach



Trio restaurant for fine Vallarta dining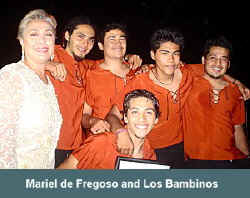 strolling minstrels Los Bambinos - Lazzaro, Giorgio, Carlos and Immer Morales
(picture thanks to Becas Vallarta)
lots of Vallarta Restaurant Photos
"When hunger comes through the door, love jumps out the window." - Mexican proverb

---
top of page | vallarta annual events | penthouse condo PB-72 | gay beach pics 3 | Gay Puerto Vallarta guide
vallarta apartments BTM | vallarta photos III | photos carnival | sayulita getaway
day of the dead | olas altas condos AND | Email contact