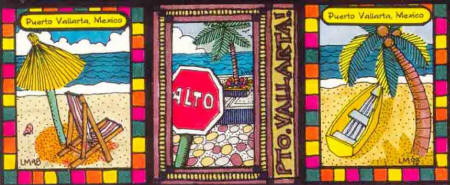 Puerto Vallarta Gyms, Health Spas, Yoga, Massage, Gymnasiums,
WorkOut, Fitness Centers, Pilates
- Gay Puerto Vallarta Travel Guide
On this Puerto Vallarta Gym and Health Spa page
Acqua | Blue Massage | Curves women | Gold's gym | Davanna yoga | Metamorfosis Day Spa | Power fitness | Pump gym
Puerto Vallarta Masseurs | Shanti Studio | Spartacus Sauna | The Fit Club | Total Fitness Gym | Vallarta fitness | Yoga Vallarta
Rentals & Lodging
Gay Vallarta Condos
Vallarta Gay Hotels
Gay Vallarta Villas

Gay Puerto Vallarta
Art Galleries
Botanical Gardens
Cafes - internet
Calendar of Events
Community-Charities
Contact Info
Fun - Activities
Gay Beach
Gay Clubs & Bars
Gay Cruises & Tours
Gay Links, etc
Gay Puerto Vallarta
Gyms & Spas
Important phone #s
Law & Custom
Lesbian
Malecon downtown
Map
Marina Vallarta
More Gay Bar photos
More Gay Beach pics
More Malecon pics
Other Beaches
PV Sunset photos
Quick Gay Travel tips
Restaurants
Services
Shopping & stores
Straight Nightlife
Tourist Info
Vallarta Annual Events
Vallarta Gay Pride
Vallarta Pictures
Weather

Puerto Vallarta Gyms and Health Spas
Only three of these gyms/spas/massage/fitness centers in Puerto Vallarta, Mexico noted here are gay-owned (**) that I am aware of, Blue Massage Spa (photo below), the Pump Gym at the luxury gay guesthouse Casa Cupula, and the established Acqua day spa and gym now under new management-ownership. Acqua, Power Fitness Gym, Pump Gym, the San Franciscan and the new The Fit Club offer gym workout facilities located in the South Side-Zona Romantica-Old Town area. Gold's Gym near the Plaza Las Glorias complex is probably the best, most popular and well equipped (as are many of its men) gym in the city. Gold's is pretty much the overall favorite for bodybuilding and has plenty of gay clientele. Several of the facilities also offer pilates and yoga which have become somewhat popular in recent years as people are now more concerned about overall lifestyle, diet and health. Please call the particular person, Vallarta gym, studio, massage therapist, day spa, yoga or workout locale for details because lessons, hours and prices do change from time to time and try as I might I can't keep it all up-to-date. In addition, now many of the Nuevo Vallarta and local hotels and luxury resorts offer their own massage facilities and spa services, so you may wish to contact them as well.

Blue Chairs Spa - Los Muertos Beach - calle Malecon and Almendro #4. Tel: 222-5040
Certified therapists offering professional massage services of deep tissue, shiatsu, swedish, facials, reflexology, stretching, lymphatic drainage and special spa treatments such as clay, chocolate, seaweed wrap. At the well-known Puerto Vallarta Blue Chairs gay resort-hotel.

Blue Massage Spa - South Side - 411 Olas Altas, upstairs. Tel: 222-6034, 223-2292 and Cell: 044-322-888-7511 **
"The premier spa in the Romantic Zone of Puerto Vallarta. Your vacation won't be complete until you are pampered by one of our professional massage therapists." (photo left) House service is available. Gay owned and operated, visit their Blue Massage Spa website for further info. Good body work, friendly service; rated among the best. Daily, 8am-8pm.

Acqua Gym and Day Spa - South Side/Zona Romantica - 450 Constitucion at F. Rodriguez. Tel: 223-5270 **
Well equipped gym, various types of massage, acupressure, facial and body treatments, manicure and pedicure. Aqua spa membership includes steam room, towel service, showers and lockers. Certified trainers are available. Fully air-conditioned. Approximately $12 US per day or $45 per week. Mon-Fri, 7am-9pm; Sat, 8am-4pm.

Curves Bucerias - 36 Agustin Melgar, Local 4, in Bucerias. Tel: 329-298-0367
Weight control spa for women only in Bucerias, Nayarit. Curves Bucerias charges approx 400 pesos monthly. Mon-Thurs, 7am-1pm and 4pm-9pm; Fri, 7am-1pm; Sat, 8am-Noon.

Curves for Women - 178 Ave. Los Tules, locals 8 & 9-D in Plaza Caracol. Tel: 225-6063
Popular Puerto Vallarta gym and weight control spa for women, with circuit machines and workout area. Approximately 400 pesos per month, but varies. Curves for Women recently moved over from the South Side to the Plaza Caracol shopping mall. Mon-Fri, 7am-12:30pm & 3:30pm-8:30pm; Sat, 8am-Noon.

DavannaYoga Studio - Centro/Downtown - 542 Matamoros at Corona. Tel: 223-0530, 044-322-147-7008
Traditional style yoga studio/school in Puerto Vallarta. Bilingual yoga shala certified by the Yoga Alliance. Classes are held in a renovated historic home with high ceilings and natural floors. Offers all levels group classes and private instruction. Featuring Vinyasa flow, Hatha, children's yoga, morning/sunset, and yogic arts classes. Events include a monthly Kirtan (chanting & singing). Further information on Davannayoga visit their Puerto Vallarta yoga studio site. Mon, Weds & Fri, 9am-9pm; Tues and Thurs, 7:30am-6:40pm; Sat, 10am-1pm.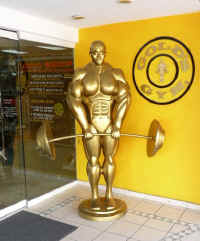 Gold's Gym - North Side/Hotel District - Pablo Picasso street, Centro Commercial Villas Vallarta. Tel: 225-6671
Offering life fitness, hammer strength, iron grip and cardiovascular equipment. This well-known Puerto Vallarta gym also with jacuzzi, lift training, sauna, classes in aerobics, muay thai, pilates, ritmo latino, spinning, tai chi, yoga and zumba. Personal trainers, wireless internet and a juice bar. Probably the most popular and best bodybuilding workout gym in town at present and very well equipped. Golds Gym is certainly a gay Puerto Vallarta favorite. It would be a short 10-15 minute taxi ride from the South Side-Zona Romantica. Located across the street from Plaza Genovesa. 850 pesos monthly. Further info visit their Golds Gym Puerto Vallarta website. Mon-Fri, 6am-11pm; Sat, 7am-7pm; Sun, 9am-4pm.
Hola/Friendly (formerly the Qualton) Spa - North Side - Francisco Medina Ascencio at 2.5 km. Tel: 224-4446
Herbal, salt and mud treatments, massages, facials, steam, jacuzzi, sauna, gym with 24 paramount machines and free weights, aerobics and yoga classes, tennis court. Mon-Fri, 7am-10:30pm; Sat, 7am-9pm.
Metamorfosis Day Spa - South Side/Zona Romantica - 159 Francisca Rodriguez at Olas Altas. Tel: 222-6162
Swedish and deep tissue massage, reflexology, body treatments, facials, beauty-hair salon. Many years of friendly service at this location, one and a half blocks up from Los Muertos beach pier. Metamorphosis Day Spa with Angie, Enzo and Hilda. Mon-Sat, 10am-5pm.
Marcelo Mico Pilates Education - Alta Vista - 122 Pulpito and Marina Vallarta - local 15 y 16 Marina las Palmas II. Tel: 209-0901, 209-0902, 044-322-127-9102 **
The instructors at Marcelo Micó Pilates Educación offer a challenging and rewarding experience at their two studios through their synthesis of the Pilates method, physiology and other leading natural therapies-health philosophies. Marcelo has lived in Puerto Vallarta since 1996 and has 20+ years of experience in pilates and can develop therapies for such conditions as chronic muscle contraction, obesity, osteoporosis, Parkinson's and also for general rehabilitation. Marcelo Mico Pilates Education
Om Massage - South Side - 108 Rodolfo Gomez. Tel: 044-322-306-0897 **
Massages, facials, body scrubs, waxing, manicures and pedicures. Located across the street from the San Marino Hotel. Out call service. Gay owned and operated. Mon-Sat, 10am-8pm; Sun 12pm-8pm.
Organic Stretching - South Side - 325 Basilio Badillo 3rd floor, near Insurgentes. Tel: 329-295-5289
Free form, multi-dimensional stretching for pain management through increased range of motion, based on the Wallace method. At the Yoga Vallarta studio with Pat Henry, Weds, 5pm-6pm in Vallarta; and in La Cruz de Huanacaxtle at 6 Las Glorias in Col. Jose Chavez, Mon and Thurs, 10am-11am. Four classes for 200 pesos; 8 classes, 350 pesos.
Power Fitness Gym - Emiliano Zapata - 420 Aquiles Serdan. Tel: 223-9817, 044-322-306-3579
Free weights, machines, stationary bikes. Classes for Muay thai, Karate do, Taebo and aerobics. Daily, weekly and monthly rates. 700 pesos per month. Mon-Fri, 7am-10pm; Sat 7am-6pm.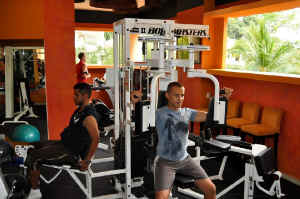 Pump Gym - Amapas/Zona Romantica - 129 Callejon de la Igualdad. Tel: 223-2484 ext. 121 **
The Puerto Vallarta Pump Gym at Casa Cupula gay hotel-resort (photo left) offers a light vacation workout: cardio equipment, free weights and multi-station machines. Basic monthly membership for local Puerto Vallarta residents and VIP memberships on a daily, weekly or monthly basis including locker, towel service and bath products. Basic membership includes access not only to the gay Pump Gym, lockers and steam room but also Casa Cupula Resort, pool, tanning deck, sundance spa and discounts at the restaurant. Mon-Fri, 8am-9pm; Sat and Sun, 9am-6pm.
PV Yoga & Pilates - Centro - 833 Morelos #3. Cell: 044-322-149-9721
Pilates with unlimited attendance: Mon, Weds and Fri, 9am-10am, Tues & Thurs, 8am-9am. Vinyasa Yoga: Mon, Weds and Fri, 10:30am-11:45am. Studio classes and private sessions. One class 200 pesos, monthly unlimited 1,200 pesos. Further info pvyoga.com and contact Nicolas.
Shanti Studio Dance & Fitness - Hotel Zone - 2485 Blvd. Francisco M. Ascencio in Plaza Peninsula, Local C-17. Tel: 224-8170
A quality combination dance studio and fitness center. Hip hop, ballet, belly dance, Cuban salsa, jazz and ballroom dance, zumba, spinning, Hatha yoga. Pilates, Mon-Fri at 6:15pm. Call for details on class times and activities. Approximately 55 pesos per class, 805 pesos per month. Info for Shanti Studio (facebook) or website at studio.gruposhanti.com Mon-Fri, 8am-10:30pm; Sat, 9am-2pm
Simon's Gym - Colonia 5 de Diciembre - 1225 Brasil.
Approximately 280 pesos per month. Near the Hotel Paloma del Mar. Mon-Fri, 7am-10pm; Sat, 8am-5pm
Spartacus Sauna & Spa - Romantic Zone - 240 Lazaro Cardenas. Tel: 178-4229
The newest and largest (4 story) sauna and spa for gay and bisexual men in the city. Services include dry sauna, jacuzzi, steam room, sun deck, a coffee & snack bar, video room, massages, pool. Lockers and private rooms. Free wireless. Directly across the street from the lively C.C. Slaughters gay nightclub and in the next block up from Paco's Ranch. Admission, 80-200+ pesos; membership is 250 pesos per month. Check out the website at spaspartacus.com for more details. Daily, 12pm-12am
Terra Noble Spa and Healing Center - 595 Tulipanes, Fracc. Lomas de Terranoble. Tel: 223-0308
The Terra Noble Spa center is located on the highest plateau in central Puerto Vallarta. Yoga, tai chi, therapeutic massages (shiatsu, reflexology and aromatherapy), Aztec steam bath/sweat lodge, and body clay treatment. This well-known day spa in Puerto Vallarta, also available for weddings and events. Email: info@terranoble.com Mon-Sat, 8am-8pm.
Tonalli Spa and Holistic Center - 367 Olas Altas, upstairs. Tel: 223-2550, Cell: 044-322-120-0949
"Reclaiming the magic of our culture and traditional rituals of our land as well as alternative medicine in various cultures, steeped in a relaxing atmosphere we have made Tonalli Spa a place to relax the mind, body and spirit." Home service available. Gay friendly, all welcome. Daily, 9am-9pm
The Fit Club - South Side/Zona Romantica - 130 Ignacio Vallarta, Rivera Molino Local #9. Tel: 223-0063
The newest Puerto Vallarta gym since Dec 2010 with a wide range of equipment, single stations, cable motion, plate-loaded, and free weight. Floor and personal trainers are available for consultation. The Fit Club Gym and Wellness Center facilities include lockers, shower room and an organic coffee and juice bar. Classes in aerobics, muay Thai, pilates, salsa, yoga and ballet for kids. Cardio equipment by LifeFitness. Approximately 800 sq. meters. Indoor parking. The Fit Club Gym Puerto Vallarta. Mon-Fri, 6am-10pm; Sat, 8am-4pm; Sun, 9am-2pm.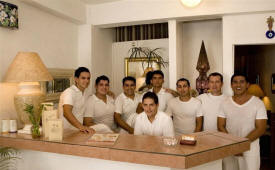 Total Gym - North Side - 75 Ave. Gonzalez Gallo, upstairs. Tel: 225-2041
Gym facilities, yoga Tues and Weds evening. Inexpensive. Mon-Fri, 6am-10pm; Sat, 7am-2pm.

Total Fitness Gym - Marina Vallarta - #1 Timon street. Tel: 221-0770
Woman-only Puerto Vallarta gym facility run by long-time physical fitness instructor Elisa Tovar, offering a wide variety of classes, including athletic circuit, body building, belly dance, Caribbean dance, pilates, spinning, meditation, yoga and 18 different types of aerobics. Total Fitness Gym Puerto Vallarta. Approx. 600 pesos per month, 990 pesos for two months. Classes at 8am, 9am, 10am; evenings at 7pm and 8pm. Call for further info. Mon-Fri, 6:30am-9:30pm; Sat, 7am-2pm.

Vallarta Fitness Gym - Hotel district/Marina - 2920 Blvd. Fco. Medina Ascencio in Galerias Vallarta, Local 103. Tel: 209-1100, 209-0126, 209-1600
One of the largest and most complete Puerto Vallarta gyms-fitness-spa centers located in the new Galerias Vallarta shopping mall. Vallarta Fitness has expert trainers, programs in group exercise, classes in cardio, hip hop, muay Thai, pilates, spinning, yoga, zumba. Gym area over 300 square meters with free weight and machines. Spa services at DíSpa with facials, massage and body treatments. A restaurant as well with baguettes, breakfast, coffee, salads, juice, smoothies. Mon-Fri, 5am-11pm; Sat, 7am-7pm; Sun, 8am-4pm

Venus Massage - South Side - 220 Aquiles Serdan. Tel: 223-2714
Massage services for many years on the South Side. Good reviews and word of mouth.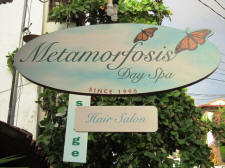 R Salon - South Side - 513-B Olas Altas. Tel: 222-7819 **
Hair and skin care - haircuts, styles, color, massage, facial treatments, manicure and pedicure, waxing. Formerly known as VIP Salon and Spa. Mon-Sat, 9am-7pm
Westin Regina Spa - Marina - at Westin Regina Hotel, 205 Paseo de la Marina Sur. Tel: 226-1143, 226-1100
One of the most complete and luxurious spas in Puerto Vallarta from the reports that I have received. Seven indoor treatment rooms, oceanfront pergola for outdoor massages, whirlpools, saunas, steam rooms, hydrotherapy facilities. Westin Regina Spa services also include aromatherapy, body wraps, facial, massage and nail services. Spinning: Mon, Weds and Fri, 7pm-8pm; Tues and Thurs, 9am-10am. Daily, 6am-10pm
Yoga - Centro/Downtown - 542 Matamoros street. Tel: 223-0530
Evening yoga: Mon and Weds, 6:20pm-7:20pm; Hatha Yoga, Tues-Thurs, 9am-10:30am.
Yoga Vallarta - South Side - 325 Basilio Badillo 2nd floor. Tel: 222-1706 Cell: 044-322-116-5809
One of the largest yoga studios in Puerto Vallarta for 10 years now. All levels welcome. Classes are taught by a team of bilingual teachers. Hatha, ashtanga, mysore, pilates, Vinyasa flow, Kundalini and mat pilates group classes. Anusara-Inspired Deep Stretch, Mon and Fri, 8am-9am and Anusara Yoga Flow, Tues and Thurs, 9am-10:30am with Mary Bolton; Astanga, Mon and Weds, 5:30pm-7pm; Gentle yoga, Mon, Weds and Fri, 11am-Noon; Balance plus Yoga, Sat, 10am-11:30am with Jeremy; Earth Spirit Healing Circle, Mon, 7pm-8pm. Also Yoga on the Beach at La Palapa restaurant 103 Pulpito street with Erika Carlin, Mon-Sat at 8am, Cell: 044-322-103-5573. Drop in: $5-10, monthly and discount cards available. Call for complete details or visit their Yoga Vallarta website.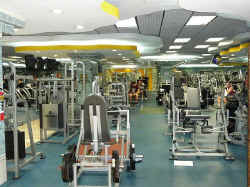 Yoga with Anya - Brisas del Mar hotel - 307 Amapas.
At the Brisas del Mar hotel, up the street from the well-known Puerto Vallarta Hotel Tropicana on Amapas street. Do not eat immediately before class, wear comfortable clothes, and bring your yoga mat or a towel. Only during the winter session, which starts around December 20. Suggested 60 pesos donation. Contact Anya at anya4yoga@yahoo.com Mon, Weds and Fri: 8:30am-9:30am
Zen Meditation - North Side - 301 Milan at Aldanaca, Col. Versailles. Tel: 044-322-123-0798
Zen meditation with Rick Spencer. Donation voluntary. Weds, 7:30pm; Sun, 10:30am-Noon.
Travel tip: You might want to check out Banderas News for their page on Puerto Vallarta Health Spas and Beauty Salons with its large number of articles on Puerto Vallarta spas, pilates, etc as well as their webpage with a good series of articles about Men's Health: clubs, gyms, medical services and other related male health issues.
Puerto Vallarta Massage-Masseurs-Body work
Gregory Soucy - Vallarta/Bucerias - Known as one of the very best massage therapists in Puerto Vallarta and Banderas Bay area. Combinations of swedish, shiatsu, acupressure, along with Neuro-muscular therapy and deep muscle connective tissue body work treatments. Also services in Panchakarma treatment and Ayurveda from India. Straight and gay friendly. House service. Visit his informative Healing Hands - Tridosha website, or see his articles on-line on Yahoo news Tel: 01-329-102-0554 and Cell: 044-322-155-2491 or in USA phone: 305-810-8534
Martin Mendoza - South Side/Romantic Zone - Shiatsu, swedish and reflexology in combo. Owns and works at the Blue Massage Spa, 411 Olas Altas, upstairs #3. Martin is gay. House calls. Daily, 8am-8pm. Tel: 222-6034 or cellular 044-322-888-7511 email is jmmenzoda_30@yahoo.com
Victor Hugo Fuentes - South Side - 185 Pilitas-A at Body Time Day Spa, across from the Vallarta Cora gay hotel. Deep tissue, swedish, lymphatic drainage, reflexology, shiatsu, facials and manicures. Tel: 222-7429, cell: 044-322-105-1045 Gay and non-sexual. bodytimespa@hotmail.com
Viktor Manuel Rosales - Romantic Zone - 338-A Francisca Rodriguez. Professional tantra massage and Reiki. Info: discoveryoursenses7.com Cell: 044-322-131-5723.
Osiel Echeverria Bercian - South Side - 221 Naranjo street. Combination of shiatsu and Swedish, deep tissue, manipulation and reflexology; also body wraps, body scrubs and facials. Gay and non-sexual; house calls. Since 1990. Phone: 222-4156, Cell phone: 044-322-110-1143, email at osielbercian@live.com.mx
Axel - Certified therapist, deep tissue, sports, holistic, with home service available. Cell: 044-322-779-2939
Paco Ruiz - Deep tissue, Reiki, shiatsu, swedish, and Paco's signature "River Rock" relaxation massage. Long-time member and leader of the gay community in Puerto Vallarta. Certified massage therapist. In or out 24 hours. Tel: 223-5392, Cellular phone: 044-322-227-2189
Victor Rodruguez - Experienced yoga teacher - available for private yoga lessons. Telephono: 044-322-127-7919
Ezekiel - Zona Romantica - 258 Francisca Rodriguez. Bodywork with classical swedish, deep tissue, whatzu and Thai. Straight, Gay-friendly and non-sexual. Phone: 223-4678, Cell: 044-322-429-6685
Angelo - Massages and private stripper shows. Cellular: 044-322-174-3077
Shanti Healing Center - Centro/Downtown - 231-7 Independencia. Aromatherapy, shiatsu, therapeutic & relaxation massage. Telephone: 222-5400, Cell: 044-322-227-1243
Stretch + Flow - Central - 833-3 Morelos. Yoga and pilates: Mon, Weds, Fri and Sat, unlimited attendance, 10:30am-11:45am. 750 pesos monthly; call Nicolas. Cellular: 044-322-149-9721


DavannaYoga studio-school in downtown Puerto Vallarta, Mexico
---
top of page | vallarta condos PB | gay carnival | 3 bedroom villas | restaurant pictures | Gay Puerto Vallarta guide
la palapa rentals | sayulita getaway | condominiums PM | gay excursions pics | condos molino de agua
guadalupe festivities | PV photos II | day of the dead | vallarta photos 5 | Email contact