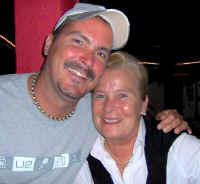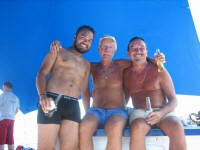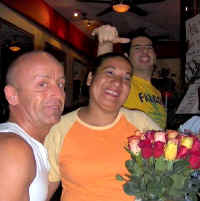 Benoit and Marianne at Apaches gay bar; Hank & Conrad and friend; street vendor with her flowers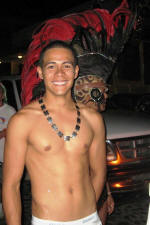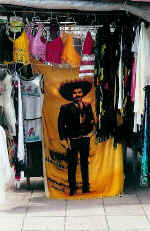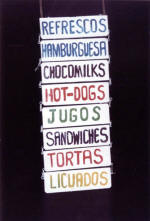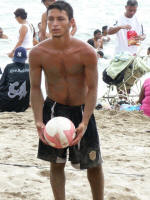 Gay guys on holiday having fun at carnival; revolutionary E. Zapata; street food menu; beach volleyball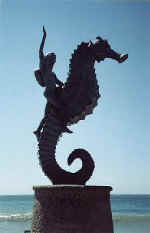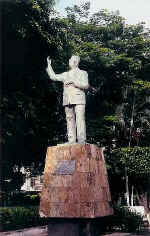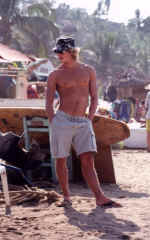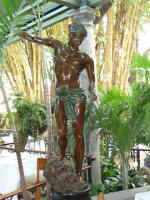 Downtown seahorse statue; President Lazaro Carenas; Sayulita Nayarit dude; the Le Bistro restaurant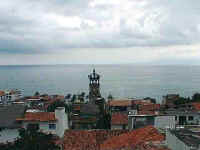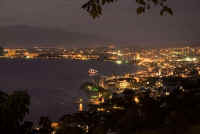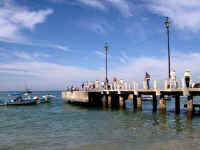 Cathedral of Our Lady of Guadalupe; downtown Puerto Vallarta at night; the old pier Los Muertos beach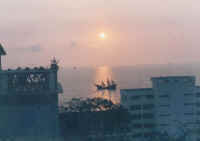 Marigalante pirate ship at sunset from my balcony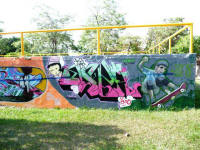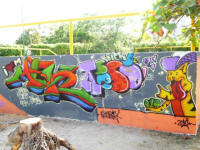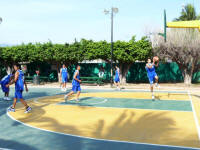 Puerto Vallarta municipal sports stadium: skate board area graffiti; basketball game
--------------------
the Day of the Dead, November 1-2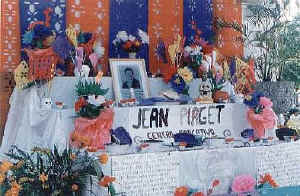 On November 1-2, the Mexicans celebrate the Day of the Dead (more pictures at link) to remember those who
have died and on this day return to visit. Altars are built on which candles, sweets, flowers (usually marigolds) and
other presents and offerings to the dead person are placed. The public altar at the Puerto Vallarta City Hall
shown in the photo above is dedicated to Donald Colosio, who was
assassinated while running for President of Mexico in 1994.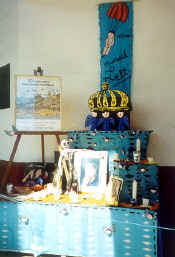 Day of the Dead altar for the local Puerto Vallarta artist Manuel Lepe at City Hall
on the November 2, 2001 holiday. He was declared a "National Painter of Mexico"
by President Luis Echeverria in the 1970s.
The Day of the Dead tradition appears rooted in pre-Hispanic beliefs that the spirits of the dead
went neither to a heaven or hell, but wandered for years before entering Mictlan, the "Land of the Dead".
More photos and information on the Puerto Vallarta Day of the Dead or Dia de Los Muertos.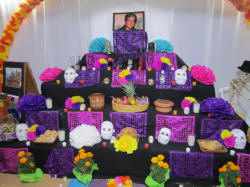 This is another good altar with candles, offerings of favorite foods,
Day of the Dead skulls and orange marigold flowers as a dominant color to welcome home the spirit of the departed
----------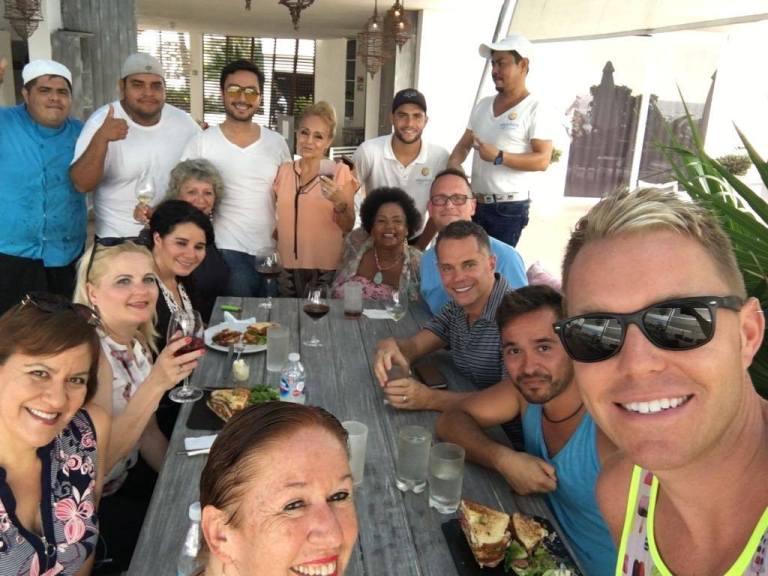 Celebrating on Los Muertos beach at the Sapphire Ocean Club with Gabriela Escandon, Colleen Mitchell, Catalina Gutierrez
Debbi Egan, David de los Rios, Luz Maria Guerrero Ochoa, Gabriela Jaggi, Randy Lee, Gabriel Romero Stefan Lokos,
Dan D'Leon and Jon Headley in August 2018. Photo thanks to Sapphire and Jon Headley.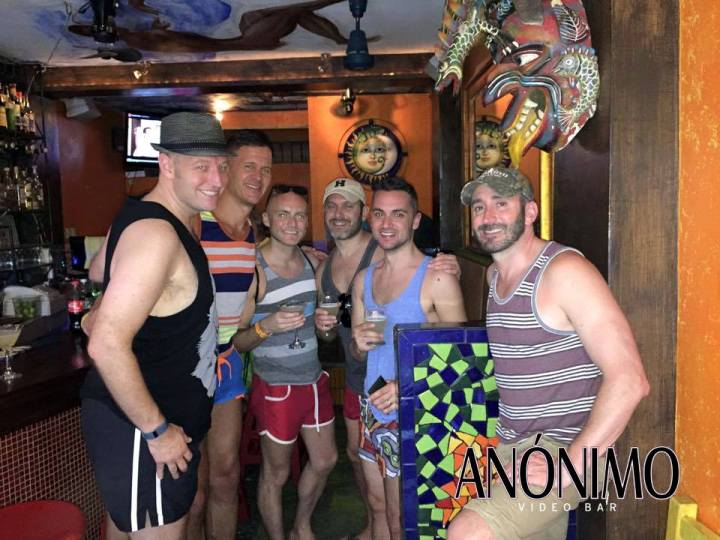 Friends out for a few drinks at Anonimo video gay bar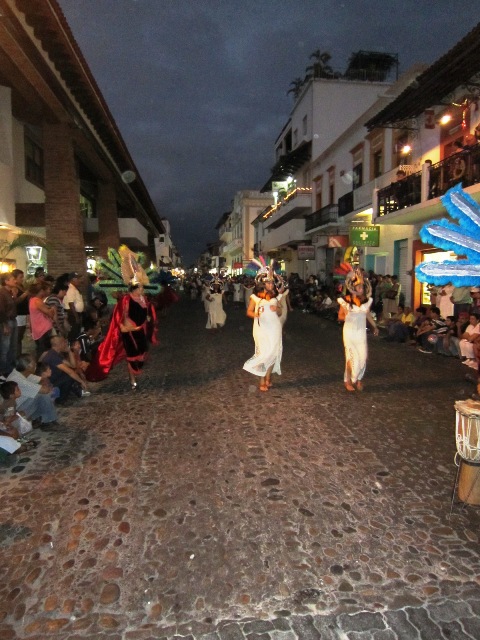 Combining traditional Aztec and Christian motifs, 'warriors' dance on Juarez street
commemorating the miraculous apparition of Our Lady of Guadalupe
to the Indian peasant Juan Diego on December 12, 1531.
The annual Guadalupe festivities (see more pics) goes from December 1-12
every year in Vallarta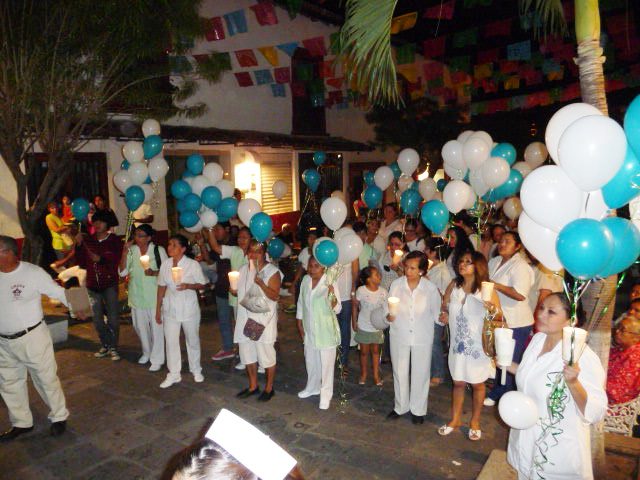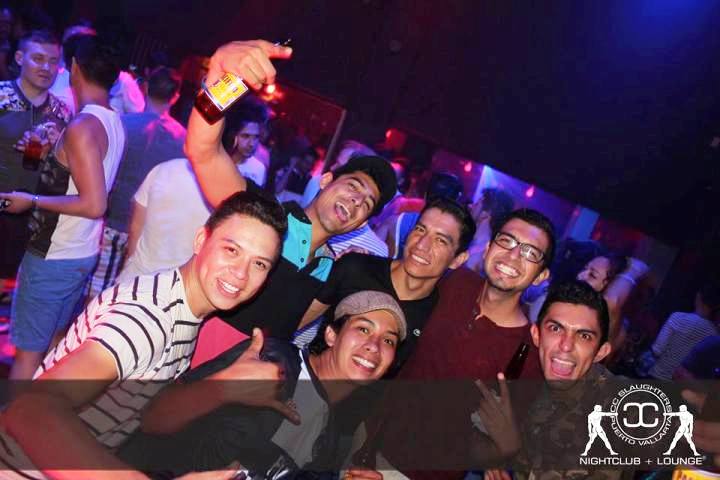 A lot of smiles here - Mexican gay boys out for drinks at CC Slaughters nightclub in the Romantic Zone
Puerto Vallarta pictures - page 1
photos - page 3
pictures - page 4
photos - page 5
pictures - page 6
---
top of page | vacation rentals PB | restaurant pictures | important phone numbers | Gay Puerto Vallarta guide
molino condo MDA-31 | gay carnival 2010 | 5-6 bedroom villas | vallarta condos | PV sunset
mr. anthropology | 7-11 bedroom villas | puerto vallarta annual events | Email contact