Puerto Vallarta Mexico - Local Charities, Community
and Service Groups, Charity and Non-Profit
Puerto Vallarta Organizations
On this Puerto Vallarta Charities & Community page
AA Alano | America-Mexico Foundation | Childrens Shelter | Ecology Group PV | Feed the Children | Gay Community Center
Gay Pride Vallarta | International Friendship Club | Mama Vallarta | Old Town Farmers Market | PEACE | Ports of Art
Private Home Tours | Public Library Los Mangos | Puerto Vallarta Gay Men's Chorus | Red Cross
Sea Turtles & Protection
Rentals & Lodging
Gay Vallarta Condos
- Beach condos LP
- Condominiums PB
- Molino de Agua
- Vacation rentals ED
Vallarta Gay Hotels
Gay Vallarta Villas
- 2 bedroom villas
- Three bedrooms
More Vallarta condos

Gay Puerto Vallarta
Art Galleries
Cafes - internet
Calendar Gay Events
Contact Info
Fun - Excursions
Gay Bars & Clubs
Gay Beach
Gay Cruises & Tours
Gay Links, etc
Gay Pride & events
Gay Tours pictures
Gyms - spas
Important phone #s
Law & Custom
Lesbian Vallarta
Map
Malecon downtown
Malecon pictures
Marina Vallarta
More Gay Bar photos
More Gay Beach pics
Other Beaches
Photos Carnival
Pics Art & Culture
Quick Gay Travel tips
Restaurants
Restaurant pictures
Services
Shopping
Straight Nightlife
Sunset pictures
Tourist Info
Vallarta Annual events
Vallarta photos
Vallarta pics 2
Weather
Whale Watching

AIDS/SIDA
Since August of 2009 the charity-support group organization SETAC or the Puerto Vallarta Gay, Lesbian, Bisexual and Transgender (GLBT) Community Center has been located in a quiet area of Old Town at 427 Constitucion street at Manuel Dieguez. The purpose of the Center is to provide essential services to the GLBT society, including support in recovery from alcoholism and other afflictions, physical and mental health treatment and referrals, education and recreation in an atmosphere of safety, free from discrimination. Programs include HIV prevention, counseling and education, HIV support groups, and a general mission that includes promoting the sexual rights and gender equality of the lesbian and gay community. See more information below, and please remember that they are in need of more support.

There are some 500+ AIDS cases in Puerto Vallarta. AIDS is now the second leading cause of death in Mexico for those 15-44 years old and there are more than 220,000 infected persons in the country, and 11% of the people living with HIV in Latin America are here in Mexico. The high prevalence of bisexual behavior among men is having a major impact on HIV infection in straight families and among women and children. You may also note that the charitable Vallarta Confronts AIDS (Vallarta Enfrenta el SIDA - V.E.S.) which was involved in education and prevention programs for several years has been inactive since 2010.

Alano Club: AA, NA, Al-Anon and CoDa
AA meetings in English plus Al-Anon, NA, SLAA and Coda. Alcoholics Anonymous (AA) general open group meetings Mon-Sat at 9am and 6:30pm and Sun at 11am; for women only Thurs at 10:30am; for men only Thurs at 8pm; Sun for gay and lesbian at 11am but call for location please. Narcotics Anonymous (NA), Daily at 5pm; Al-Anon, Mon and Fri at 6:30pm (Fri only May-Nov). N/A Step Sisters, Tues at 6:30pm. Co-Dependents (CoDa), mixed, Weds and Fri at 10:30 am. Over-Eaters Anonymous (OA), daily at 5pm. Meetings at the 329 Basilio Badillo, interior upstairs, across the street from Johnny's Diner. Further information Tel: 222-5711, 222-3906, 222-2505, or 209-0746 evenings. For current and pertinent information, locations and contacts in the Puerto Vallarta and Banderas Bay area, from Yelapa to Guayabitos and beyond, visit the website of the Alano Club of Puerto Vallarta

America-Mexico Foundation/Becas Vallarta
The AMF is a volunteer, non-profit U.S tax-deductible foundation that works in conjunction with the non-profit Becas Vallarta organization to assists qualified PV students continue their education by providing scholarships. These Puerto Vallarta charity foundations together supply scholarships to some 200-250 high student and university students. Volunteers welcome. Find further information on their Becas Vallarta site and perhaps you can lend a helping hand. Contact: Mariel Fregoso, Tel: 221-0789 or Buri Gray, 221-5285 or Polly Vicars, 223-1371

Banderas Bay Women's Shelter
The mission of non-profit charitable Compassion for the Family/Banderas Bay Women's Shelter is to provide an immediate, life-saving and temporary safe shelter for local women and their children who are victims of domestic abuse and violence. The Shelter also helps them receive ongoing emotional support with professional counseling services and prepare them to be financially independent through education, jobs and small business loans. Current info at Compassion for the Family Inc and their facebook page. To make a donation or volunteer, contact director David Zude, Cell: 044-322-103-2451

Bay and Beach Clean Up
Organizes annual beach clean ups usually in mid-November after the rainy season and in mid-May before the rains begin. Dedicated to raising awareness among the peoples of Puerto Vallarta. Contact, Craig Caughlin, Phone: 223-2542 with Email at zentiente@pvnet.com.mx

Canica Puerto Vallarta
Support Center for Children with Cancer (Canica - Centro de Atencion a Niños con Cancer), together with the Vallarta Womens' Association (Asociacion Femenil Vallartense) has as one of their main programs giving aid and attention to children and youngsters of low income with cancer in Puerto Vallarta, as well as aiding their families. Office at 107 Batallon de San Blas, Col. Niños Heroes. Tel: 224-9906, 293-2276

Casa Hogar
A Puerto Vallarta orphanage near the airport and bus terminal run by Catholic nuns. Most of the 50-55 children come from families who are unable to care adequately for them. Casa Hogar Maximo Cornejo Quiroz was founded in 1993 and provides these children with a home, education and health care; its needs include kitchen supplies, medicine, hygiene supplies such as soap and shampoo, diapers, milk and clothing. Donations to Casa Hoger are tax deductible in Mexico. Visit here or Contact Luz Aurora, Telephone: 221-1908 or 141-6974.

Charity Bingo
Nacho Daddy restaurant at 180 Basilio Badillo on the South Side hosts charity bingo every other Tuesday night during the season, starting October 11, 2011. Bingo has raised over $35,000 the last two years for local charities such as Canica for kids with cancer, Pasitos de Luz handicapped children, Seniors home for the Elderly, the Puerto Vallarta orphanage Casa Hojar for children, local Food Bank (Banco de Alimentos), and the Shelter for cats. Lots of prizes, and a variety of food and drink specials are offered by the restaurant. For further details call: 223-0838

Corazon de Nina
Heart of the Child is a registered not-for-profit organization (Mexico) that provides a nurturing family environment for at-risk girls and boys of all ages. They typically have 38-44 children and youth, aged four months to 23 years old. They have two homes in Vallarta, one for the girls and one next door for the boys, and is the only residential resource for girls over 12 in the city. Volunteers and donations at Corazon (website) are always welcome. Located at 355 calle San Luis Potosi, colonia Primero de Mayo. Contact Melissa Canez, Tel: 224-9209, Cell: 044-322-180-8086.

Discapactados de Vallarta, A.C.
An association of handicapped individuals dedicated to helping one another lead more productive lives. Contact is Ivan Applegate, Tel: 221-5153

Ecology Group of Puerto Vallarta
Believing that residents of the Banderas Bay area have the legal right and moral responsibility to participate in the conservation of the natural beauty and wildlife of the area as an essential element of our community, the Ecology Group of Vallarta (Grupo Ecologico de Puerto Vallarta) was formed several years ago. They have been involved in reforestation activities in town, protection of crocodiles and birds, recycling, and community clean up of the Pitillal River and other streams. Ecology Group office downtown at 529 Hidalgo street. Contact: Claudia Patricia Cubillos, Cell: 044-322-123-2158 or R. C. Walker, Tel: 222-0897 at his Email: grupoecologicopv@yahoo.com.mx

Feed the Children Vallarta
Formed in 1998 with the mission to help the poor children who were living in and around the city dump, Children of the Dump's main focus is on helping the children in Puerto Vallarta go to school and stay there. While there are no children now living in the dump, Feed the Children Vallarta provides food for more than 1,800 children daily in the primary and kinder schools around the dump and an additional 1,500 children each week with their hot meals program. For information contact Cell: 044-322-158-8815 or 322-223-4311

Food Bank/Banco de Alimentos
Non-governmental organization (NGO) founded in 2000 which collects and distributes perishable and non-perishable food donations to the needy in our area to combat hunger and malnutrition. They aid more than 5,000 persons, 55% of whom belong to vulnerable groups such as children and the elderly. Serving some 38 neighborhoods and rural communities in the municipalities of Puerto Vallarta, Cabo Corrientes and Banderas Bay. Volunteers needed. Food Bank office: 52 Jacarandas, colonia Aeropuerto. Mon-Sat, 8am-3pm. Tel: 113-3475, Cell: 044-322-150-6666


Gay, Lesbian, Bisexual, Transgender Community Center (SETAC) in Puerto Vallarta
After years on the South Side, the Puerto Vallarta Gay, Lesbian, Bisexual and Transgender (GLBT) Community Center has moved to a different area of town, now located at 174 Rio Santiago in the Colonia Fluvial Vallarta, a few blocks off of well-known Francisco Villa street. The purpose of the Center is to provide essential services to the GLBT community, including support in recovery from alcoholism and other afflictions, physical and mental health treatment and referrals, education and recreation in an atmosphere of safety, free from discrimination. Programs include HIV prevention, counseling and education, HIV support groups, referral networks, AA meetings and codependency groups, English as a second language classes, there is an on-site nutritionist and Movie night is every Tuesday at 7:30pm. Volunteers are needed. Further information about the valuable and charitable Puerto Vallarta Gay and Lesbian Center and also see the news article at Banderas News. AA Step study group Weds, 8:30pm; AA meetings also Weds and Sun, 10:30-12:30pm. For PV gay and lesbian community center info contact Paco Arjona at the SETAC center, Tel: 224-1974.
Gay Pride Parade & Events
The Puerto Vallarta Pride has now expanded from being a three to a seven day annual event that pays tribute to the local gay and lesbian community with artistic and cultural events, concerts, films, beach parties and a lot of fun to show to everyone the fabulous diversity of the town as a place to live and visit. Pride (see photos) was also created to showcase many of the unique elements in our lesbian, gay, bisexual and transgender communities throughout the Banderas Bay area that have made Vallarta one of the top gay travel destinations in all of Latin America. This year's festivities will be held from May 17-25, 2015 and aim to celebrate, inspire and commemorate a vibrant LGBT community that through the years has created its own unique customs and traditions.
Grupo Ecologico de la Costa Verde, A.C. (Ecology Group of the Green Coast)
Founded in 1992, the Green Coast Ecology Group was originally set up to protect nesting turtles along the San Francisco (San Pancho) beaches in the state of Nayarit which begins just north of Puerto Vallarta. In April 1993 Groupo Ecologico de la Costa Verde received official recognition by the Mexican government to become the first non-profit environmental civil organization of the Nayarit region with a special interest in the protection of the marine turtle. Through the governmental offices of SEMARNAT (Secretary of the Environment and Natural Resources) this ecology group works to help protect all other endangered species of flora and fauna along that part of the Pacific Coast of Mexico. The Grupo Ecológico de la Costa Verde/Green Coast Ecology Group sponsors environmental education programs as well.
International Friendship Club (IFC)
The International Friendship Club is a group of expatriates from the U.S. and Canada whose goals include promoting friendship between the international and the local communities. The group works to provide funds to Puerto Vallarta charities and community programs such as school construction and education supplies, reconstructive surgery for cleft palate patients, Becas Vallarta, emergency medical aid, AIDS, a local orphanage and physical rehabilitation clinic, Los Mangos library, Santa Barbara Clinic Rehab, as well as funding a large community food distribution program. The International Friendship Club (facebook) annually collects and distributes some $100,000 USD to some sixteen programs. Since 1985 with their office at Edificio Parian del Puente #13 upstairs, corner of Libertad and Miramar streets in downtown Vallarta. Mon-Fri, 9am-4pm. The phone from Canada or the United States: 1-614-300-8853, local Tel: 222-5466 or 221-5681 and email: ifcvallarta@gmail.com
Los Bambinos
A group of young Mexican brothers (and a cousin) available to sing at your gathering/celebration/party. You can catch them around town in the evenings singing at many of the restaurants and bars on the South Side. CDs also available. Email: gerardocarlos@yahoo.com Tel: 222-6412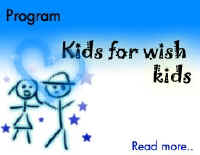 Make-a-Wish Foundation
Make-a-Wish Foundation of Mexico is a non-profit organization that grants wishes to children with life threatening illnesses who will not likely see their 18th birthday. One hundred percent of the funds are used for the wishes. Funded by corporate sponsors and private donations that are tax deductible in the U.S. and Mexico. Started up in Vallarta and active here since 2003, they work to grant wishes to children that are between 3 and 18 years old in all of Mexico. Office at 337-A San Salvador street, Colonia 5 de Diciembre, Puerto Vallarta. Contact Bob Mandel, Tel: 222-9111 and toll free: 01-800-337-3671.
Mama Vallarta
A Puerto Vallarta non-profit foundation providing free food and support to unfortunate women, men, children and elderly people. Their free kitchen, located at 306 Luis Donaldo Colosio in the Remance neighborhood is open 1pm-7pm daily, with the main emphasis on children and the elderly. Established in September 2009 by Adriana & Gabbi Paz. A wish list of needed items include: new or used kitchen items, plates, glasses, tables, chairs, napkins, toilet paper, sheets, blankets, towels, beans, rice, pasta, milk, salt, pepper, sugar, flour, consommé, oatmeal, cooking oil, tomato sauce, cleaning supplies, baby formula, diapers etc. For info and to offer assistance, contact, Tel: 221-5074 or cell: 044-322-101-6936 and email at MamaVallarta@yahoo.com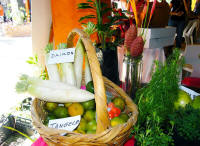 Melchor's Spanish Language School
Do you have a broken VERB? Do your PREPOSITIONS hurt? Are your CONJUNCTIONS swollen? Are you in a SUBJUNCTIVE mood? Three week courses, with all levels of instruction. Visit Melchor's Spanish Language School in PV website. The only Puerto Vallarta language school using the famous Warren Hardy school materials. Contact Senor Melchor Cortes, from US at Cellular: 011-52-322-118-0822 or local Tel: 224-8917. I have a few other Spanish language lesson options listed on the Services page of this gay travel guide.
Old Town Farmers Market/Mercado Viejo Vallarta
With close to some 80+ producers and growers offering a variety of local grown farm fresh produce (picture left), artisan foods, baked goods and fresh pastas, jewelry, locally roasted coffee, handmade crafts, clothing, pies and quiches, art and community education for locals and tourists alike who are making the Old Town Farmer's Market a Puerto Vallarta thing to do every Saturday from 9:30am-2pm. Also includes an area for non-profit organizations, free live music, and a children's crafting and face painting area. The Market is found at the Lazaro Cardenas Park, located between V. Carranza and Lazaro Cardenas streets at Pino Suarez street, in the Emiliano Zapata neighborhood or South Side area. Now in its 7th season, open from the first Saturday in November until the last Saturday of May. Further info Vallarta Old Town Farmers Market or oldtownfm.com or Cell: 044-322-205-3384
Pasitos de Luz
A Puerto Vallarta non-profit organization founded by mothers of disabled children to achieve their rehabilitation and basic needs. Pasitos de Luz supports low income families with free daycare for their disabled children, offering them a caring and loving environment with nutritional food and snacks, physical rehabilitation, medical services, orthopedic equipment, and occupational and speech therapy. Info at facebook. Located at 545 Etziquio Corona. Contact, Sra. Yolanda Sanchez Santiago, Tel: 299-3605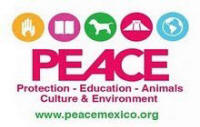 PEACE (Protection Education Animals Culture and Environment)
PEACE, established in 2005 in Punta de Mita, Nayarit works hand in hand with communities in Mexico to provide holistic education combined with community action programs that enable people to improve their quality of life as well as their financial stability. Its 4 main programs focus on education, entrepreneurship, ecology, animal well-being and community engagement. PEACE is a registered Civil Association in Mexico and has registered U.S. nonprofit status. See PEACE facebook here and PEACE Punta de Mita. Contact: 329-291-5157
Private Home Tours - International Friendship Club
Take a tour through some of Puerto Vallarta's and Banderas Bay's most beautiful homes and villas. Sponsored by the International Friendship Club (IFC) since 1987, meet at the Sea Monkey restaurant on Los Muertos beach at calle Aquilas Serdan, just in front of the Vista del Sol condominiums on the South Side, every Tues and Weds. Donation of 600 pesos. Ticket sales opens at 9am on tour day; advance reservations may be made at the IFC office or on-line at the International Friendship Club - Home Tours. Bus departs at 10:30am and returns at 2pm after viewing 4 homes. Tours run November 29-30, 2016 through March 28-29, 2017 except the weeks of Christmas and New Years. Try to wear comfortable walking shoes, and bring a camera. Donations from the tours fund a number of Puerto Vallarta charities, primarily the Cleft Palate Surgical Program and other in-house educational and community service programs, plus providing assistance to Becas Vallarta and Refugio Infantil Santa Esperanza (R.I.S.E) among others. Over 25 years assisting the Vallarta community. From the US or Canada: 514-418-2123. For further info phone: 222-5466
Ports of Art/Foundacion Aire Fresco/Fresh Air Foundation - Puerto Vallarta
Located within the Puerto Vallarta International Airport in the departure terminal, Ports of Art was created to provide opportunities for artists to display their work in an open venue, to contribute towards the visual enhancement of public spaces and to raise funds for the Fundación Aire Fresco. Since 2008, the Fresh Air Foundation has helped hundreds of youngsters and young people in attending day and summer camps with programs in the arts, language, ecology and physical education. Further details at Ports of Art
Public Library Los Mangos - 1001 Ave. Francisco Villa. Tel: 224-9966, 293-1957
The Los Mangos biblioteca or public library (in spanish) is located near Avenida Fluvial on Francisco Villa street, the main road into Pitillal, and has an English language section plus a number of newspapers and magazines. Lending books to the public in English and Spanish (it has a rather modest collection of only 30,000 volumes), the library also boasts a very wide variety of community-oriented programs, events, films, workshops and classes, making it one of Puerto Vallarta's most popular and treasured community institutions. Always in need of funds to operate and increase their book inventory, as well as to help with the cultural center. Director Ricardo Murrieta Grada. Mon-Fri, 9am-9pm; Sat, 10am-6pm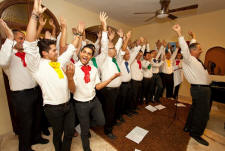 Puerto Vallarta Gay Men's Chorus/Coro Varonil
Inspired by the concerts & concept of the Seattle Men's Chorus, a group in Puerto Vallarta have formed a (gay) mens chorus, the first such one in Mexico and all of Latin America. The chorus is bi-cultural and bi-lingual, a forward-looking combination of Mexican men and North American ex-pats. With founder and director Robert Bruneau, a well known local gay community member. Their mission is to present beautiful male choral music in both Spanish and English by the local Mexican and ex-pat communities to entertain and unify the audience, and use the power of this music to recognize the value of our gay community and our relationships. Singers (there are some 50-100 members now) and volunteers are needed and welcome, as are gifts, so go to the website for further details or to make a donation at their main website with more info & photos on Facebook at El Coro Varonil Vallarta Men's Chorus. They did a Gay Pride Concert on June 17, 2012 at 7pm at the new Boutique Theatre, located at 330 Naranjo street at Basilio Badillo; and their recent performance at the Teatro Vallarta on December 19 for their Christmas holiday concert drew the largest crowd ever to the Theater, a main center of the town's culture. The chorus is now a member of GALA Choruses, a worldwide organization that represents over 8,000 singers and some 170 choruses throughout the world. Contact them at Cell: 044-322-135-1121 or USA Tel: 908-306-0765; or Bob at cellular: 044-322-779-9935 or Vonage line: 206-323-1133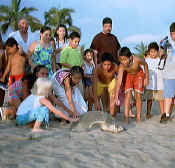 Puerto Vallarta Sea Turtles Program of Protection & Conservation
For many years Mexico has had one of the most advanced programs of protection of marine turtles in the world, where programs are implemented for the protection of this natural wonder and international resource. Puerto Vallarta has been protecting sea turtles and their egg laying since 1993. Turtle experience activities are available between June and October. Read Justin Burch's article The Olive Ridley turtle - Puerto Vallarta's favorite ocean visitor about the many sea turtles that make their way home to the beaches of Puerto Vallarta in order to lay their eggs in the sandy beaches of Banderas Bay. He writes that "with the assistance of the Puerto Vallarta Sea Turtle Protection Program, 96% of the eggs are able to hatch." Good news indeed. Sea turtle hatching occurs usually between July and December. Four of Mexico's 17 beach reserves are located in the state of Jalisco and are administered through the University of Guadalajara along with the government and private organizations. For even further info visit the Western Ecological Society Puerto Vallarta sea turtles conservation. Eco Tours of Mexico also offers a large amount of biological info on Sea Turtles including habitat and distribution, migration and nesting sites, and hatching.

Red Cross/Cruz Roja Mexicana
Handles hospital and emergency services locally, offering its services to those who are unable to afford it. In need of operating funds and equipment as well as volunteers, as you could well imagine. One of the outstanding charitable organizations in Mexico that always offers massive assistance in earthquakes, hurricanes and other natural disasters that afflict the country. Rio de la Plata street at Rio Balsas, in Colonia Lopez Mateos. Contact the Red Cross clinic, Tel: 065, 222-4973, 222-1533 or Aurea Torres, Tel: 222-2455.

Refugio Infantil Santa Esperanza - R.I.S.E. (Vallarta Children's Shelter of Hope)
Shelter for babies and children under the age of fifteen, the RISE Children Shelter-Refuge was established in 2001 and is run by the nuns from the Order of Carmelites of Jesus of Nazareth. Some of the children are orphans or come from unbearable situations having been abused, neglected or simply abandoned. Some have been transferred from other facilities because of overcrowding and many have been in institutions for most of their lives. Located at 251 Ricardo Flores Magon street, Colonia Benito Juarez. Visitors welcome 11am-1pm and 4pm-6pm. Contact Marde Mari, Tel: 222-7857; Cell phone (English spoken): 044-322-127-2401, 044-322-149-2222. Info visit Childrens Shelter Refugio Infantil Santa Esperanza

S.O.S. Animal
Dedicated to finding homes for street dogs and cats. If you want to adopt an animal, call Tel: 221-0077 or cellular Tel: 044-322-227-5519

SPCA of Puerto Vallarta
Helps fund and promote sterilization, health care and adoption of animals in the Puerto Vallarta area. They also provide private vet costs for rescued animals, foster homes for cats and dogs, and an adoption network. Email: spcapv@gmail.com & to volunteer, adopt, foster or donate to the Protective and Compassionate Society for the Animals of Puerto Vallarta, Mexico visit the Puerto Vallarta SPCA or their spcapv.blogspot.com

Toys for Tots
Raises funds to purchase toys for distribution to the neediest kids of the Bay area on Three Kings' Day, January 6. Donations of cash or toys are accepted year round. Contact: Jerry Lafferty, Tel: 221-6156; Kelly Trainor, Tel: 222-0069; or Gaby Castro at the Marriot hotel, Tel: 221-0004.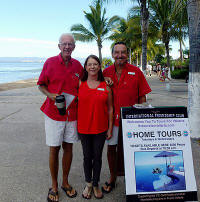 Vallarta Botanical Gardens
Opened in 2005 with over 3,000 different species of native and non-native plants such as cactus, palms, ferns, orchids and bromeliads, the non-profit Vallarta Botanical Gardens are located approximately 17 miles (at Km. 24 Highway to Barra de Navidad) south of the city in the lower Sierra Madre mountains. Situated on 20 sprawling acres of highlands, it's a lovely natural attraction to spend some quality time outdoors communing with Nature with your family and friends. Many visitors now consider this a Puerto Vallarta must thing to see and do. 60 pesos donation.
Western Ecological Society
The Western Ecological Society (Sociedad Ecologica de Occidente) is a non-profit agency in Mexico created to promote the conservation of Puerto Vallarta natural resources. The organization seeks to create simple projects, but with a clear focus that fulfills objectives with a minimum of capital. Their goals include: "To promote and to impel the protection and conservation of the Wildlife and natural resources in the region of Puerto Vallarta and the Bay of Banderas in Mexico. To foment the respect of nature through environmental education, creating conscience and willingness to contribute to the conservation of wildlife." The Western Ecological Society also works to develop and support specific projects of conservation and ecosystem restoration and thus improve the quality of life for the inhabitants of the area through learning to cohabitate with Nature in the Puerto Vallarta Bay Area with details and photos about Marine mammals as well. They have non-commercial ecological sea turtle tours (July 15-Oct 15) as well as bird watching, photo-hiking and whale watching. Email: seaturtlesvta@aol.com or seaturtlesvta@aim.com
Also helping out the children of Vallarta is the charitable organization Children's Shelter of Hope Foundation, among others. One of the most complete lists of community service groups is on-line at Banderas News here Puerto Vallarta Charities & Non-profit Organizations.
Note: The information provided in the Puerto Vallarta Gay Travel Guide was considered accurate when posted but changes do occur, so you may wish to confirm details directly with the Puerto Vallarta charities, environmental groups and PV non-profit organizations noted above.


Children's Shelter of Hope; Wendy & friends help local youth through the Fresh Air Foundation; the Red Cross/Cruz Roja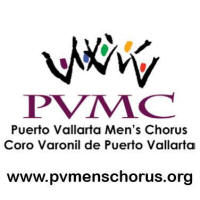 ---
top of page | old town condos AND | vallarta photos 5 | gay clubs pics 2 | day of the dead | Discovery Vallarta home
vacation rentals PDS | nightlife pictures | 7-11 bedroom villas | gay beach pics 2 | beach condos PM
our lady of guadalupe festival | gay shopping photos | Email contact