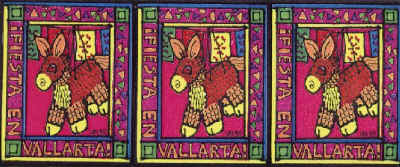 Gay Tours Puerto Vallarta Gay Cruises,
Excursions, Day Trips, Things to Do and Getaways
Rentals & Lodging
Gay Vallarta Condos
- Condominiums LP
- Beach condos PB
- Beach condos ED
- 3 bedrooms Molino
Gay Vallarta Villas
- 2 bedroom villas
- Three bedrooms

Gay Travel Guide
Art Galleries
Botanical Gardens
Cafes - internet
Calendar Gay Events
Community Groups
Contact Info
Fun - Excursions
Gay Clubs & Bars
Gay Beach
Gay Links, etc
Gyms - spas
Law and Custom
Lesbian Vallarta
Malecon downtown
Map
More Gay Bar photos
More Gay Beach pics
Other Beaches
PV Sunsets
Quick Gay Travel tips
Restaurants
Services
Shopping
Straight Bars & Clubs
Tourist Info
Vallarta Events
Vallarta Photos
Vallarta Gay Pride
Weather

As a popular gay vacation spot and international destination, Puerto Vallarta Mexico has plenty of gay excursions and activities for you to choose from. The gay-owned and gay-operated cruises and gay vacation tours in Puerto Vallarta are generally scheduled weekly during the "high season" winter months from November through March or April, with Diana's gay cruise-boat tour running once a week all year round. There are also a number of lovely getaways that might be fun to visit for day trips and which are listed below the gay tours section. Note: You may also want to check out the Puerto Vallarta Activities II page for other daylife, vacation activities and things to do such as biking, bird watching, boat tours, ecological tours, scuba diving, sightseeing, whale watching, golf and tennis that are not gay or lesbian owned or operated but may nonetheless be enjoyable and of interest to you.

Puerto Vallarta Gay Cruises and Gay Tours

Boana Horseback Riding - 9:15am or 2:15pm - any Day except Sunday
From a ranch east of town you take a leisurely ride up the Cuale River, among the tropical deciduous forest and a river where you can stop for a dip at the cascade. Further on you stop a little ranch can provide some lunch and refreshments. Gay groups of four or more people, with a gay friendly guide or mixed gay/straight, with an English speaking guide. Includes snacks, 2 drinks and transportation to the ranch; bus or taxi back not included in price. 750 pesos or $45 USD. Contact Jean Claude, Alejandro or Denis at the Torre Malibu, 325 Amapas street. Tel: 222-6695, 222-0999

Diana's Gay Vallarta Cruise - 9:30am to 5pm - every Thursday
On a 48 ft. katamaran for a good time on Banderas Bay with swimming and sunbathing. Diana's Tours cruise includes a full day at sea, continental breakfast, open national bar with unlimited beer, snacks, swimming and snorkeling, and a sit-down lunch on shore with a beer or beverage. During the winter months you''ll likely also catch sight of some whales, manta rays and dolphins! Diana DeCoste is noted for her good service. This Puerto Vallarta gay cruise is quite popular and often sold out in the autumn and winter, so advance reservations are recommended and tickets are available on-line or at the Blue Chairs Resort and at Hotel Mercurio. Boarding at Los Muertos Pier not later than 9:45am. There's also a fun post-cruise party on the rooftop at the Blue Chairs gay hotel. This well-established excursion in its 16th year is the longest running of any Puerto Vallarta gay tour, and goes out every Thursday of the year. (note: Diana sometimes take time off during the summer so please check her website for complete info). Listed as one of the top Vallarta attractions or things to do at TripAdvisor. Cost in 2015-2016 at $95 USD or Mexican peso equivalent, plus tipping. Contact Diana DeCoste at Diana Tours - at Puerto Vallarta or local Tel: 222-1510.

Gay Vallarta Bar-Hopping Tour - 8pm-1am
Promoting themselves as "the VIP nightlife experience! Meet new friends and experience the best of Gay Puerto Vallarta. We order, serve and pay for your drinks (bar staff tips included) at every venue we visit. Plus get VIP access to every club. No lines, No wait, No cover charges!" Tours are priced from $60-120 US depending on the drink package and dinner menu you choose. The classic tour includes a 3-course dinner with 2 drinks and then five (5) bar hops with 1 drink at each entertainment venue. The program is for you to have some fun, get to know the Romantic Zone area and its local hot spots and make some new buddies. Once listed as #4 out of the 94 Puerto Vallarta tours or things to do at TripAdvisor. Since 2011. Further photos, info on the various tours and dates, and to make a reservation go to the Bar Hopping website - check it out! Ticket Office, 141-A Pulpito across the street from Garbo bar. Cell: 044-322-148-4960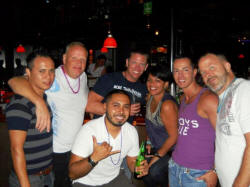 Go Gay! Adventures & Escapes
A variety of fun excursions including: Jungle Zip Line Adventure ($89-109 USD), Rio Cuale Horseback Adventure ($90 US), and the El Tuito Hacienda & Horseback ($95 USD). With the popular Zipline you can enjoy a great day of adventure followed by delicious lunch of grilled local Mexican food and tequila tasting, accompanied by your own personal GoGay! host for an exclusively private canopy zip line experience. There are 10 exhilarating zip lines to carry you above the jungle floor below and over the rushing waters of the Rio Horcones (just 15-20 minutes south of Puerto Vallarta). After racing through the trees, enjoy an informative and fun tequila tasting, Mexican grilled lunch and margarita or beer. Package also includes top of the line safety equipment & safety guides, roundtrip shuttle transportation. Leaves at 10:45am and returns 3pm or later. Winner 2012 TripAdvisor Certificate of Excellence for Go Gay! Jungle Adventure. Contact Andrew via the Activities page at Casa Cupula or Go Gay PuertoVallarta (facebook) or Phone: 223-2484, Cellular: 044-322-100-5477

GoGay! Escape: Vallarta Botanical Gardens
See the splendid and beautiful Vallarta Botanical Gardens in style! Start your day with a complimentary mimosa toast as you head off in your own private chauffeured SUV. A privately guided tour ($165 for 2 persons) of the Gardens which boasts hundreds of species of tropical plants on more than 20 acres of pristine mountain territory, followed by a 3-course lunch (not to mention a beautiful floral souvenir). Non-alcoholic beverages are included. Guests are encouraged to wear comfortable walking shoes, sunglasses, light shirt and a hat, shorts or cargo pants/jeans, sunscreen and insect repellant. Low to moderate hiking levels. Tour departs 10:30 am, returns around 4:30 pm. Bring cash for gratuities (driver, restaurant staff, guide). Contact via the Activities page at Casa Cupula or Go Gay PuertoVallarta (facebook) or Tel: 223-2484, Cell: 044-322-100-5477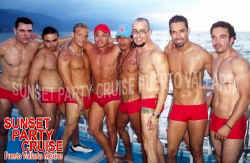 Puerto Vallarta Sunset Party Cruise - 2pm to Sunset - every Weds (Oct 20 thru March)
Party party!! This lively gay sailing cruise (photo at left) includes open national bar, snacks and lunch, the latest dance music, go-go guys, swimming & snorkeling at Los Arcos depending on weather, and then a fun time at sandy Colomitos beach. Boarding starts at Los Muertos beach pier around 1:30pm, leaving at 2pm, cruising south to see a good deal of Puerto Vallarta and the South Shores from Banderas Bay. $75 USD or 900 pesos. Pre-sale tickets for the Puerto Vallarta Sunset Party Cruise (website) are available at La Noche martini lounge, Colors store, or on-line. Some of the very attractive go-go guys from the gay cruise are also out on the Vallarta gay beach in red speedos promoting their excursion from Sat-Weds. Note: Continues through the winter tourist season probably until the end of March or April. Private charter party cruises on alternate dates may be available for groups of 10 or more. See the Gay Puerto Vallarta Sunset Party Cruise video below. Be sure to bring sunscreen, hat, swimsuit and towel, camera, sunglasses and some extra cash, as drinks are not included at the restaurant stop at Las Animas, and you'll definitely want to tip the on-board crew and go-go boys. Cellular: 044-322-150-4755
Wet and Wild Gay Cruise - 12 Noon-5:30pm - every Saturday
Half-day cruise on Saturday afternoons by the Sunset Party Cruise guys. This year-round gay cruise includes open national bar, snorkeling, light lunch and music by request. The excursion visits Los Arcos nature reserve where you can see the unique rock formations, sea birds and fish while snorkeling, then pass by the old set of the 1964 film The Night of the Iguana, touring along the beautiful coastline on the lookout for whales, dolphins and sea turtles to Colomitos beach to do some sun-tanning. Then to Las Animas beach for lunch. Check out their new Youtube video for the Gay Wet and Wild Cruise. Begins boarding from near Los Muertos Pier at 11:45am and departing at 12 noon, the Wet and Wild Gay Cruise returns at about 5:30pm. Bring along sunscreen, swimsuit, towels, camera, hat and sunglasses and some extra cash for tips to staff and the go-go guys. Pre-sale tickets at $75 USD on-line at Puerto Vallarta W&W Gay Cruise. Female and straight friends welcome as well. More information at Cell phone: 044-322-150-4755.
Whale Watching with Ocean Friendly Tours - 8:45am until 1:30-2:30pm - Dec. 8 to Mar. 23 only
Oscar Frey is an Oceanologist and whale photographer. He started his Puerto Vallarta whale watching tours in Banderas Bay in 1994, while also running a research program involving humpback whale distribution, numbers and behavior in this part of the Mexican Pacific. Oscar is also a consultant to the Department of Oceanography and Eco-Tourism. The Responsible Whale Watching Tours with Ocean Friendly includes: illustrated field guides; a meal service of homemade pannini sandwiches, condiments, snacks, fruit, bottled purified water and soft drinks; restroom facilities on the 30-foot boat; and a hydrophone system of underwater microphones to listen in on the whale songs and dolphins while on the boat. Advance reservation required. Oscar is gay but the tours are open to all, for 4-8 persons. I have received and read excellent reports of the Ocean Friendly tours, which is one of the most highly regarded and rated of any Puerto Vallarta tours-excursions. Well recommended. Note: Whale tours from approx Dec 8-Mar 23 only. $129 USD per adult person. See photos from some terrific Puerto Vallarta humpback whale tours. Meet at and return to Los Peines Pier, Marina Vallarta. Cellular phone: 044-322-294-0385; Tel: 225-3774.
Ecology Note: We ask our friends and clients to boycott the jet skis which pollute the air and water, endanger wildlife and diminish natural quiet. Reports show that at least 25% of their fuel goes directly into the water and we'd like to help with the current efforts to clean up Puerto Vallarta waters and Banderas Bay.
Puerto Vallarta Getaways - Excursions
If you want to get away, there are cruises and tours that will take you out of the city, some of which are listed above on this gay Activities page, or over at the straight-owned and operated Puerto Vallarta tours page. Here below are a few of the lovely places you can visit to further enjoy your stay on the Pacific coast. Go here for further information and photos of Banderas Bay beaches.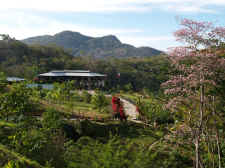 Puerto Vallarta Botanical Gardens
With agaves and other native plants, orchids, restaurant, river swimming - the Puerto Vallarta Botanical Gardens (photo left) are located approximately 12-14 miles (at km 24 Highway to Barra de Navidad) south of Puerto Vallarta in the Sierra Madre mountains. Located on 20 acres of land, the botanical collections feature over three thousand different species of plants. At 1,300 feet above sea level their gardens are in a unique tropical dry forest ecosystem. Against this lovely backdrop of soaring mountain peaks, there is much to experience: palm and agave gardens, rose garden, tree fern grotto, tropical bird watching, orchid house, jungle trails, displays of Mexican wildflowers and the carnivorous plant collection. You can bring your swimsuit and enjoy a refreshing dip in the crystal clear Rio Los Horcones." The Hacienda de Oro restaurant on the premises also offers refreshments and food at reasonable prices. For more Puerto Vallarta Botanical Garden photos. Established in 2005, admission is 50 pesos, about $4.20 US. Info at vbgardens.org Tues-Sun, 9am-6pm
Mismaloya
It was here in the village of Mismaloya, approximately 10 miles south of Puerto Vallarta, that the movie "The Night of the Iguana" was filmed by John Huston in 1963. A part of the original set is still in existence, and if one knows the movie, walking onto the set can be an experience. Nearby is a restaurant named in its honor, with food, drink and views of the bay. The small beach at Mismaloya has several restaurants and there are boats for rent for a trip to the rock formations at Los Arcos. The movie Predator was also filmed in Mismaloya in the 1980s. Horses are available for jungle rides, and a trip up the Mismaloya River to the restaurant Chino's Paradise is popular.
Quimixto
A small village on the south bay past Mismaloya, accessible only by boat. Many of the day cruises drop anchor here for several hours so that their passengers can horseback ride up to the popular waterfall in the mountains. Several palapa roofed restaurants line the cove in Quimixto. If you want a quiet and still undeveloped area for relaxing and taking in some of the natural beauty of the Bay, try this getaway for an afternoon. You can get to any of the south bay villages by water taxi from the small village of Boca de Tomatlan. Or hire your own boat in Boca or in the nearby village of Mismaloya, and then you can take a spin to some secluded beach or village!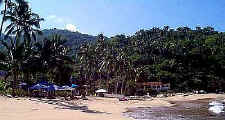 Majahuitas
Majahuitas (photo left) is a secluded, picturesque cove surrounded by verdant hills between Quimixto and Yelapa. A quaint beach resort hotel and restaurant can provide accommodations and food. The small beach is one of the loveliest in the south bay and the area is excellent for swimming and snorkeling. The Puerto Vallarta getaway of Majahuitas is famous among scuba divers for its underwater canyon just outside the cove.
Yelapa
Yelapa is the most remote fishing village on the South Shore of the bay, also accessible only by boat. It is popular because of its beauty and the slow pace of life, and is known as something of an artist retreat and hippie hangout. Several day cruises stop there for a few hours and like Quimixto there is a river and popular waterfall. Yelapa is very laid back and has real charm, with palapas and seafood restaurants on the beach and small bungalows and houses that dot the jungle hillsides. There are few telephones and no cars, gracias a Dios. Electricity has recently made its way to the village, which used to go dark around 10pm after everyone turned off their generators. One of the restaurants becomes something of a night spot/disco in the evening. Lodging is still reasonably priced. There are water taxis from Puerto Vallarta and the village of Mismaloya which go to Yelapa that run in the morning and afternoon. Here's the general schedule, but you should double check these times before making your final plans: Leaving Los Muertos pier to Yelapa: 10am, 11am, 11:30am, 12:30pm, 4pm and 5:30pm; leaving Yelapa to Vallarta's Los Muertos pier: 7:30am, 8:30am, 9am, 10:30am, 3pm, 3:30pm and 4:30pm.
Bucerias
Bucerias is a village of several thousand people located about 15 miles north of Puerto Vallarta in the state of Nayarit. Bucerias is more relaxed than Vallarta and has a small expatriate community. Many pleasant accommodations with moderate prices are on or near the water and the town has the longest stretch of beach on Banderas Bay. Now popular with many Canadian tourists because of its more economical prices for food and lodging, Bucerias' architecture is noted for cupolas (domes), and there are hundreds of them on buildings throughout the town. Open air palapa roofed restaurants serve fresh seafood and the uncrowded beaches have gentle surf. Joann Quickstad and Patricia Mendez, who lived in Puerto Vallarta for many years, now reside in Bucerias and manage Casa Tranquila with one bedroom apartments. Joann practices massage with Swedish, reflexology and aromatherapy. Tel: (329)-298-1767
Sayulita
Twenty miles or so beyond Bucerias, but on the Pacific coast, is a favorite gringo getaway, the small picturesque village of Sayulita with its two thousand inhabitants. Surfers like it because the cove there gives good waves pretty much the whole year (the best waves are Nov-Apr), and it is the favorite surf spot in the Banderas Bay area. Several of Mexico's finest (and handsomest) surfers live and surf here - long board and short board are both popular. There are pleasant beach-front restaurants, including the upscale Don Pedro's and the popular Capitan Pablo's, as well as bungalows, villas, guest houses and camp grounds.
The dusty streets of the town all converge on the small town square, which has several restaurants, an ice cream shop and grocery store, a coffee shop, the church and town billiard hall, a row of houses and a bar or two facing it. This is the look of hundreds of small villages in Mexico. As Janelle Brown reported in the NY Times in 2003 the town of Sayulita, Nayarit still "retains its traditional lifestyle: residents buy fish off the beach, chicken from the woman in the square, and everything else (mops, strainers, plastic chairs) from the trucks that occasionally drive around town." The town is being rather rapidly developed, alas,. The Sayulita beach is long and lovely and is one of my favorite getaways. Go to this page for some Sayulita photos
Following 4 pictures from Puerto Vallarta Diana's gay tours and cruises, thanks to Diana DeCoste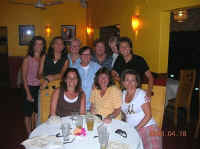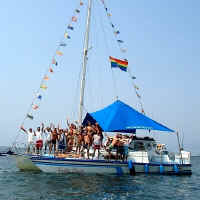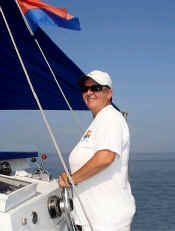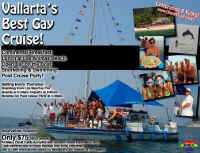 photos from Diana's year-round gay and lesbian cruise-tour boat trips,
one of the ever-popular Puerto Vallarta things to do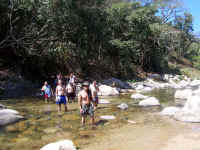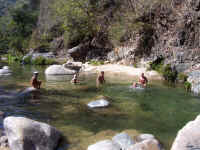 Jungle secret oasis excursion above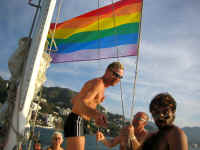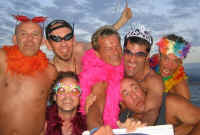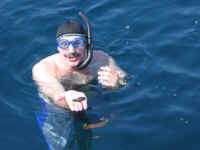 Three pictures from the Boana gay vacation boat cruises & bay tours thanks to Benoit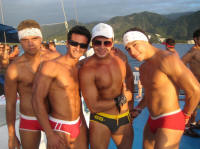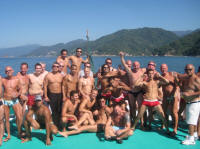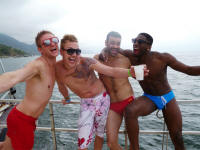 3 photos above thanks to Edgar and the fun guys at the Gay Puerto Vallarta Sunset Party Cruise
and the Puerto Vallarta Wet and Wild gay cruise
more
Puerto Vallarta Gay Cruise & Tours Photos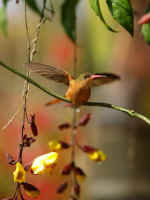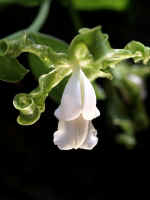 two photos from the lovely natural attraction the gay-owned PV Botanical Gardens

-----------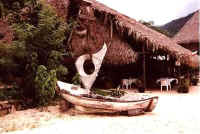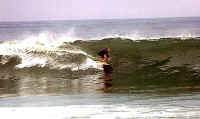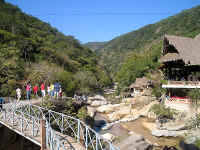 Yelapa restaurant; surfing in Sayulita (more photos) Nayarit; Chico's Paradise south of Mismaloya


"Do good and don't worry to whom." - Mexican proverb

---
Top of page | PV sunset | condominiums PM | day of the dead | malecon pictures | Discovery Vallarta home
annual events | carnival | 4 bedroom villas | puerto vallarta condos | straight nightlife pics
restaurant photos | 7-11 bedroom villas | guadalupe festivals | Email contact