Casa Cupula, Gay Puerto Vallarta Hotel Resort Guest-House - South Side/Amapas - 129 Callejon de la Igualdad. Tel: 223-2484
Casa Cupula - A newer, luxury boutique hotel for gay men, lesbians and friends in Puerto Vallarta. This upscale B&B combines the services, amenities and sophisticated decor of a fine boutique hotel with the comfortable ambience and intimacy of a guest-house resort: gourmet food, tempting cocktails, two pools, the Pump gym, in-room massages, luxurious rooms and sophisticated modern design. Casa Cupula has been rated as one of the top ten North American gay and lesbian guesthouses, so it is easily one of the most luxurious and top gay resorts in the world. Excellent and friendly service with the bilingual staff. Located within handy walking distance of the world renowned Blue & Green Chairs and the high-energy Vallarta gay nightlife with its variety of clubs, Mexican cantinas, lounges, and show and piano bars, as well as the South Side's many fine straight and gay restaurants.
Check on Casa Cupula availability now by using this handy device:
No two rooms are alike at the the Casa Cupula, Gay Boutique Hotel and Resort in Puerto Vallarta, Mexico. Each has been given a unique feel by different interior designers. Although each is different the original art work, luxurious appointments and attention to detail are the common thread. Whether it's the stark modernity of Vista Room 403 or the traditional Mexican rustic charm of our namesake the Cupula Suite, you'll hopefully be delighted at the many touches that make your room or suite charming and special.
From our fabulously comfortable dream beds to in-room home theaters and minibars, we offer every convenience. Thoughtful touches like hair dryers, coffee service, huge soft towels and L'Occitane bath products will pamper you.
Vista Rooms also include: Showers for two; double sinks in the bath; home theaters with 32" minimum screen; extra single bed; premium amenities package in the Bath (except in Saver Seasons). Suites also include: Home theaters with 37-inch+ screen; jacuzzi and/or dipping pool (not in Junior Suites); washer and dryer; extra full size pullout bed; free gourmet breakfasts for two (except in Saver Seasons); free airport transportation (except in Saver Seasons)
----------
Penthouse Suite - Casa Cupula's largest and most fabulous Penthouse is a two-story, 1,500 square foot Suite featuring modern urban design by Los Angeles interior designer Carlos Alberto. Downstairs features a cathedral ceiling for an airy feel and upstairs you can sun bathe on your private 500 sq. ft. rooftop terrace with a refreshing infinity dipping pool, gas barbeque and sink, outdoor shower, deck and lounge area.
The bedroom with California king-size bed is separated from the living area by huge sliding doors, so the whole space flows together during the day. But at night the bedroom can be closed off in complete privacy. The kitchen area features appliances including a microwave, fridge and smooth ceramic cooktop. Enjoy a DVD or cable TV movie on the Home Theater system with 42 " LCD Screen and booming surround sound; or catch up on some work at the computer desk. The sofa can serve as an extra second queen size bed. The balcony provides an splendid ocean view.
Bigger than most bedrooms, the spectacular bath includes a shower for two, plus an outdoor jacuzzi. A full custom-designed poured concrete double sink and vanity to get ready. A separate room for the toilet, plus a stand-alone modern ecological waterless urinal. You can pack light, as there is a front loading laundry center to wash whatever you need.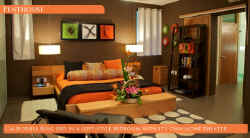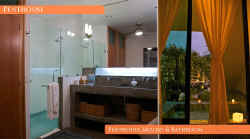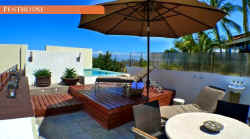 gay Puerto Vallarta hotel Casa Cupula luxury penthouse - one of the best top gay resorts in Mexico and the world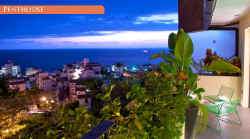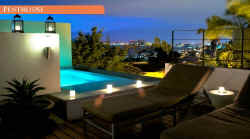 Casa Cupula guest house penthouse balcony and view of Banderas Bay

------
Milagro Suite - The Casa Cupula Milagro Suite offers the ultimate in tropical luxury with modern amenities. Enjoy a movie on the home theater with a 32-inch LCD screen and surround sound in the living room. The modern kitchen includes a stove, refrigerator and microwave and a second queen-sized bed can be added to accommodate friends, who also have their own private second bath. The 1,300 square feet of the Milagro Suite can also be rented with the adjacent king-size room 303 to form a perfect two bedroom suite, ideal for friends who travel together.
The spectacular main bath includes double rose marble sinks, tumbled marble tile, and satin Grohe fixtures. A huge open tropical garden shower for two is surrounded by tropical plants under a sunlit two story Cupula.
Folding doors open completely to bring the sunshine into the main king-size bedroom and practically double the space in the Milagro Suite with a full private wraparound terrace planted with luxurious tropical foliage. From your private jacuzzi you can enjoy most excellent views of Banderas Bay and the South Side. Listen to music while relaxing on your comfortable natural fiber furniture as you watch another lovely Puerto Vallarta sunset.
------
Cupula Suite - Tropical luxury with ultimate privacy. The 2-story Cupula Suite offers a large great room downstairs and bedroom upstairs, with a total of over 1300 square feet of private living space. Custom-built marble and dark wood furnishings bring a modern touch to the original Mexican rustic feel of the living and dining areas. Use your laptop at the computer desk, cook in the kitchenette with gas cooktop. Enjoy the marble-trimmed bathroom with shower. A private entrance is available from the street and balcony.
The living room features a powerful 500-watt Surround Sound Home Theater system with 32" LCD Screen. A niche next to the desk accomodates an extra second queen size bed on request downstairs. And pack light, because there's a laundry ensuite.
Upstairs, the Casa's namesake cupola (spelled "cupula" in Spanish) holds a king-sized bed in romantic splendor. Giant french doors open up to a huge private terrace. A large rooftop terrace for tanning offers a view of Banderas Bay. Or enjoy that view from your sensual indoor/outdoor shower and jacuzzi for two. A full custom-designed sink and vanity plus WC make for a total of 2 full baths. Enjoy a movie from your bed with a 32" LCD TV and stereo/DVD player.
-------
Sayuri Suite - Rich detailing makes it a pleasure to take in every corner of this spectacular suite, which has been featured in Costa Vallarta Luxury Living magazine. Spread out in over 1,100 sq. feet of calming luxury including a bedroom, bath with spa and great room opening to a huge private terrace with a heated dipping pool.
The loft-style bedroom with king-size bed can be closed off with huge sliding panel doors for privacy, or left open to the ocean view. It includes a comfortable desk for working at your laptop. The great room includes dining area with breakfast bar, living room with 42" LCD TV home theater, kitchenette with stainless steel appliances, smooth ceramic cooktop and a frig. Have guests over for cocktails or a private dinner served on the private ocean view terrace, or simply enjoy the tropical breezes and incredible view. Plus an available extra pullout queen bed in the living room.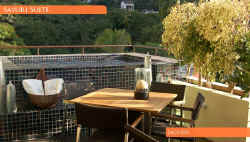 ------
Check on Casa Cupula availability now by using this handy device:
---
top of page | vallarta condo rentals | condominiums PM | vallarta villas | beach condos PB | Gay Puerto Vallarta guide
tours & excursions | PV photos | gay cruises | travel info | abbey gay hotel resort | downtown pictures
villa david gay guesthouse | important phone numbers | vallarta nightlife | Email contact