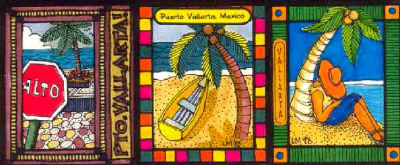 Puerto Vallarta Coffee Shops & Cafes, Internet Service,
Bookstores & Bakeries
- Gay Puerto Vallarta Travel Guide
On this Coffee Shop & Internet page:
A Page in the Sun | Cafe Catedral | Cafe Oro Verde | Cafe San Angel | Cafe Vayan | Ciber Milenium | Dee's Coffee Company | El Sofa
Los Mangos Library | Mi Internet Cafe | Noah's Cafe Bar | Paris Cafe & Bakery | Pie in the Sky | Roberto's Bistro | Starbucks
Los Chatos | Yarita Panaderia & Bakery

Lodging & Rentals
Gay Vallarta Condos
- Beach condos ED
- Condominiums LP
- Molino de Agua
- Condo rentals PB
- Condos PDS
Vallarta Gay Hotels
Gay Vallarta Villas
- Two bedroom villas
- Three bedrooms
- 4 bedroom villas
More Vallarta condos

PV Travel Guide
Art & Culture
Botanical Gardens
Cafes - internet
Calendar Gay Events
Community-Charities
Contact Info
Fun - Excursions
Gay Bars
Gay Beach
Gay Cruises & Tours
Gay Links, etc
Gay Puerto Vallarta
Gyms - Spas
Important phone #s
Law & Custom
Lesbian Vallarta
Malecon downtown
Malecon, New photos
Map
Marina Vallarta
More Gay Bar photos
More Gay Beach pics
More Malecon photos
Other Beaches
Photos Carnival
Quick Gay Travel tips
Restaurants
Restaurant pictures
Services
Shopping & stores
Straight Bars Clubs
Tourist Info
Vallarta Annual Events
Vallarta Gay Pride
Vallarta Photos
Weather
Whale Watching tours


A Page in the Sun - South Side/Romantic Zone - 179 Lazaro Cardenas. Tel: 222-3608
Long-time Vallarta coffee shop and used bookstore with delicious lattes, pastries, sandwiches, bagels, baguettes and pies. Popular among locals and tourists for decades, A Page in the Sun moved to its new more spacious location along the north side of the Lazaro Cardenas Park, with street-side seating. A relaxing place to converse, sit and read, play chess or watch the local scene pass by. Hundreds of used books in such categories as autobiography, best sellers, crime, LGBT, modern fiction, sci-fi, spirituality and westerns, and you can receive about 1/2 credit on the cover price of a book you bring in. Friendly service with Susi. A Page in the Sun has been a personal favorite for years. Daily, 7am-11pm.

Aroma - Old Town - 231-A Lazaro Cardenas in Plaza Romy. Tel: 222-3223 **
New coffee shop off of Cardenas and Ignacio Vallata streets in the quaint Plaza Romy shopping area. Offering Mexican organic coffee along with vegetable and fruit smoothies, delicious homemade soups, sandwiches, salads and pastry. Aroma is gay-owned by long time Vallarta resident and realtor Jamie Coates. Mon-Sat, 6am-6pm

the Big Kahuna - South Side - 152 Basilio Badillo at Olas Altas. Tel: 223-2273
Another one of Olas Atlas street's popular sidewalk dessert and coffee shops, the Big Kahuna serving coffee, crepes, fruit smoothies, salads, sandwiches and pastries. Daily, 8am-Midnight

Bylbos Cyber Cafe - Hotel Zone/Plaza Peninsula - 2485 Blvd. Francisco Medina Ascencio, Local B-12. Tel: 209-1779
Internet service, scanning, printing, wifi and long distance phone calls. Since 1999. Also in Mega grocery store, Tel: 222-0600 and in Aramara at 22 Tai street off Prisciliano Sanchez, Tel: 225-4329. Daily, 8am-11pm

Café Canella - North Side/Hotel Zone - 105-A Lucerna. Tel: 293-5423
Got time for a good coffee and rich pastry in the hotel zone, here's a good place. Pies, a variety of coffees, ice cream, sandwiches. Across the highway from the Home Depot near Plaza Las Glorias. Mon-Sat, 8am-11pm

Café Catedral - South Side/Zona Romantica - 315 Basilio Badillo. Tel: 223-0318
Restaurant bar cafe with salads, baguettes, desserts, expresso, cappuccino and other fun food and drinks. Organic coffee from Chiapas available. Mon-Sat, 8am-2pm, 6pm-9pm

Cafe des Artistes - Downtown - 740 Guadalupe Sanchez. Tel: 222-3228
Blending provincial Mexican with classical French cuisine under chef-owner Theirry Blouet, Café des Artistes has live piano music, original works of art, and lush gardens to enhance the tropical romantic effect. One of the most well-known Vallarta restaurants, it has won several awards for cooking and according to local polls is often voted the overall favorite in town, as well as for best service, most romantic and best atmosphere. Info at cafedesartistes.com Daily, 6pm-11:30pm

Café Madero - South Side - 106 Rodolfo Gomez. Cell: 044-322-127-5513
Deli and cafe in the middle of the Romantic Zone, conveniently located across from the Hotel Marino. Serving American coffee, paninis, salads, expresso, cappuccino and various cold drinks. Check out Cafe Madero for a quick bite. Mon-Sat, 8am-8pm

Cafe Oro Verde - Central - 1373 Columbia. Phone: 222-3159
Some people say the best coffee in town can be found at the Cafe Oro Verde, and they roast their own beans. Moved over from its long time location on Juarez street to Columbia at San Salvador. I liked the bohemian spacious atmosphere that was comfortable for reading and writing, with delish sandwiches too. With owner Wenceslas. And here's another good but shorter list from JR at Vallarta Info. Mon-Fri, 9am-3pm.

Cafe San Angel - South Side - 449 Olas Altas. Tel: 223-1273
This open sidewalk cafe serves coffee, crepes, fruit smoothies, sandwiches, salads, pastries and desserts. Breakfast and Mexican specialties such as nachos, burritos and enchiladas also available. I prefer their smoothies and desserts to their coffee. Cafe San Angel (image left) is another good choice on Olas Altas street for people watching, with its outside tables and couches and chairs inside. Often with loud live guitar music on the weekends. Daily, 8:30am-2am.

Café Vayan - South Side/Old Town - 350 Olas Altas. Tel: 222-0092
Combination coffee shop, restaurant and internet service provider it has appetizers, pasta, salads, bagels, sandwiches, coffees and frappes. Long distance calling to the US and Canada. At 30 pesos per hour for internet service on the nine computers. Recently remodeled during the summer of 2017, the Vayan Cafe, after more than 10 years in this location, is popular for its fun street-side seating and people watching. Fax: 222-0092. Daily, 8am-10pm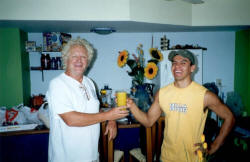 Caffe del Mar - Romantic Zone - 146 Basilio Badillo. Phone: 113-0504
Newest coffee shop in the area, with many types of hot coffees and cold drinks including smoothies, as well as bagels, sandwiches and other light fare. Featuring the Galeria Rodo Padilla, recently moved over from downtown (with its original workshop and art gallery in Tlaquepaque, Jalisco), with artisan-sculptures in bronze, stoneware and high-temperature ceramic. Located just off Los Muertos beach, and with inside and sidewalk seating. Gay-friendly, pet friendly, wireless. Mon-Sat, 8am-11pm
Ciber Milenium - South Side - 374 Francisco Madero. Tel: 222-1770
One of the cheapest internet access rates in Puerto Vallarta, 5 pesos for 1-30 minutes and 10 pesos per hour, with some fifteen computers, public fax, scanner, games. Air-conditioned. When my computer is in the shop, I go here. Mon-Sat, 9am-10:30pm; Sun, 10am-10pm
Cyber Lany - Colonia V. Gomez Farias - 211Paseo de la Vena.
Eleven computers at 10 pesos per hour for those living on that side of town near Conalep or in La Vena neighborhood. Copies, scanner, color printing. Daily, 9am-11pm
Coexist Bistro Cafe - Downtown - 175 Agustin Rodriguez. Tel: 222-0366
Restaurant, cafe and bar at the Hotel Rio. An extensive menu for breakfast, lunch and dinner including many types of cold and hot coffee, lattes, Mexican cappuccino, espresso, mocha & frappes. Daily, 8am-11pm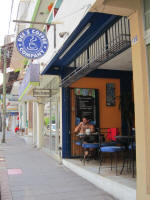 the Coffee Cup - South Side - 146 Rodolfo Gomez, Tel: 222-8584 and Marina - Puesta del Sol Condominiums, locale #14, Tel: 221-2517 **
Coffee in the morning, afternoon and evening. Coffee, smoothies, fresh baked goods, breakfast and sandwiches in a pleasant atmosphere, with wireless internet access. Featuring contemporary Mexican art from Galeria Flores. Friendly service at this popular gay owned meeting place and friendly staff at the Rodolfo Gomez coffee shop, since 2002. Daily, 7am-11pm on South Side; in the Marina it's Daily, 5am-10pm
Dee's Coffee Company - South Side - 111 Francisca Rodriguez. Tel: 222-1197
In a new location, 1/2 block up from the Los Muertos pier. Coffee, lattes, sandwiches, homemade pastries, brownies, pies, carrot cake, muffins and more sweet goodies, with seating outside or inside (old location photo left). Wireless internet access and a standard computer for access by clients; books, exchange only. Popular in town for Dee Rindt's home-baked pastries. Virtual Vallarta readers' choice for best Puerto Vallarta coffee shop 5 years in a row. Facebook for Puerto Vallarta Dee's Coffee Company. Daily, 7am-10pm
El Sofa - South Side - 306 Venustiano Carranza. Telefono: 223-8446
Pleasant seating on several comfy couches in a nicely done up small venue with some interesting art. El Sofa menu includes varieties of coffee (some locally grown), everything from espresso and caramel macciato to smoothies and chai soy latte. Wireless internet; book exchange. For eats there's vegetarian, tuna and turkey baguettes and salads, pita pizzas, fruit plate and soups. Now 10 years+ for El Sofa cafe. Mon-Fri, 8:30am-4pm; Sun, 9:30am-3pm; Sat closed.
Internet BC Technologia - El Caloso - 132 Atmosfera. Tel: 178-5425
Scanner, copies, repairs of PC and laptops, accessories, and 10 computers at 10 pesos per hour, for those who live across the Cuale River in the El Caloso or Las Canoas neighborhoods. Daily, 10am-10pm
K' rico :) - Emiliano Zapata/Romantic Zone - 326 Aquiles Serdan. Phone: 222-3076
Check out k' rico in the Los Mercados market space where you'll be tantalized by the scents of fresh baked pastries, fresh ground gourmet coffee, teas, and the tangy zest of just juiced fruits. Their air-conditioned café houses made-from-scratch baked goods, croissants, pastries, cakes and tarts. Mon-Sat, 9am-8pm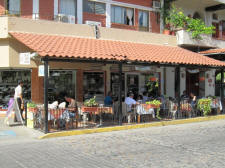 Kaiser Maximilian Espresso Cafe - South Side - 380 Olas Altas. Tel: 222-5058, 223-0760
Serving breakfast and lunch as well as Austrian pastries, ice cream combinations and 20 different types of coffees. The Kaiser Maximilian cafe and restaurant, located at the well-known Los Arcos Hotel, has sidewalk tables and air-conditioned rooms inside. Mon-Sat, 8am-11pm
LogIn Internet - South Side - 329 V. Carranza and Downtown - 336 Libertad street.
With 12 computers and internet access at 10 pesos an hour, 15 pesos for 2 hours. DVD and CD copied and sales. Mon-Sat, 8am-10:30pm
Los Mangos Library - 1001 Francisco Villa. Tel: 224-9966, 293-1957
The Los Mangos public library or biblioteca is located near Avenida Fluvial on Francisco Villa street, the main road into Pitillal, and has an English language section plus a number of newspapers and magazines. Lending books to the public in English and Spanish (it has a small collection of only some 30,000 volumes), the facility also boasts a variety of community programs, workshops, classes and events, making it one of Vallarta's more popular and valued community institutions. Mon-Fri, 9am-9pm; Sat, 10am-6pm
MAF Cafe Internet - South Side - 594 Lazaro Cardenas. Tel: 222-8377
Internet on 10 flat screens, long distance calls, copies, technical support, video games, design and installation, fax. Standard local price at 10 pesos an hour. Also smoothies, coffee, crepes, sandwiches and desserts. Daily, 8am-11pm
Mi Internet Cafe - Romantic Zone/Old Town - 345 Venustiano Carranza. Tel: 222-1442
Twelve flat screen computers at 5 pesos for 30 minutes/10 pesos per hour, the standard local price these days outside the tourist zones. Copies, DVD, fax, long distance calling, scanner, WiFi, sale of memory, CD and DVD burning, color printing. Mi Internet Cafe is air conditioned. Daily, 8am-11pm
Nativo Cafe - Downtown - 235 Guerrero. Telefono: 222-1167
Coffees, smoothies, breakfast and lunch, omelettes, frappes, bagels, desserts, dinner. Nativo has street-side seating. Daily, 8am-10pm
Noah's Cafe Bar - Colonia Versalles - 176 Aldanaca. Tel: 222-2015
Special mix of neighborhood coffee shop, juice bar and corner bistro serving breakfast, panini and deli-style sandwiches, crepes and fresh salads. Located on a breezy corner in the Versalles colonia where locals can get together for good food at good prices. Perfect spot for early morning breakfast meetings and lazy afternoon happy hour. Noah's Cafe has wifi, vegetarian options and is dog friendly. Opened in April 2012, with general manager Valerie Robles. Join them for a cup of locally roasted coffee, lunch or glass of wine. Mon-Sat, 8am-6pm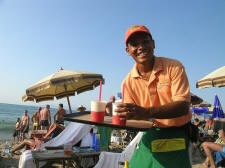 NV Bookstore - Marina Vallarta at Popa s/n Local 31-B. Tel: 221-2752
Three locations in the Banderas Bay area including in Nuevo Vta at the Paradise Village shopping mall, upstairs, L-1, Tel: 297-2274 and in Bucerias, Nayarit at 37-A Avenida las Palmas, Tel: 329-298-3125. A selection of books in Spanish and English, they tell me they can also order any book for you. Mon-Fri, 9am-5pm; Sat, 9am-2pm
Paris Cafe & Bakery - Old Town - 158 Pino Suarez and 156-B Basilio Badillo. Tel: 222-8472
A small shop you might not even notice except for the delightful smells emanating from within. Freshly baked pastries and breads, croissants, great sandwiches and soups to go. Authentic French pastry at Paris Cafe by Eric Lenoir, with 45 years in France, EU and Mexico. New larger location at 156 Basilio Badillo street on Restaurant Row, next door to the gay-owned Tops and Bottoms clothing store. Mon-Sat, 8am-8pm; Sun 8am-4pm
Pie in the Sky Vallarta - South Side - 242 Aquiles Serdan, Local 3. Tel: 223-8183
Known in the Banderas Bay area for their fine pastries, cakes and chocolates. Also serving a full range of hot and cold coffees: cappuccino, latte, espresso and mocha. Delicious cheese, chicken empanadas, scones and muffins; their Belgian chocolate cakes and the famous triple chocolate Beso are to salivate over. Wireless internet service. Pie in the Sky is on calle Aquiles Serdan after years on Lazaro Cardenas street. They deliver. Voted best bakery in Vallarta 2003-2012, except for 2009. Daily, 8am-10pm.
River Café - Cuale River Island #4, at the West Bridge. Tel: 223-0788
International cuisine and seating on the terraces along the banks of the Cuale River with a pleasant natural setting at one of Vallarta's most well-known restuaurants. Casual but elegant dining, the River Cafe has live music Mon-Sun, with all musicians performing at 7:30pm-10:30pm. Head chefs Karla Morales and Benjamin Sanchez. Reservations are recommended. Info at rivercafe.com.mx Daily, 8am-11:30pm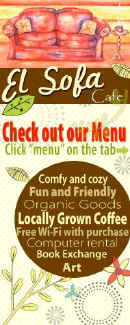 Roberto's Cafe Bistro Gelato - Downtown - 123 Guerrero on the New Malecon. Tel: 222-8057
Cafe-bar-deli on the New Malecon extension at Guerrero street, with some 12-15 tables outside for conversation and eating the delicious bagels, smoothies, cafe latte and frappuccino, gelato, crepes, homemade pies, pastries and sandwiches. Liquor and beer also available. Pet friendly. Roberto's Bistro is a good spot to relax and people watch as the crowds pass by on the ocean-front New Malecon boardwalk, especially on weekends. Daily, 8:30am-11:30pm
Starbucks - Central - Main downtown plaza and North Side - 2485 Blvd. Frco Medina Ascencio, Plaza Peninsula, Local B-1 and 2920 Blvd. Francisco Medina and Avenida Paseo de Los Cocoteros, Local 85. Tel: 221-3387
Yes they're here in PV too in at least four or five locations: at the main downtown plaza on Paseo Diaz Ordaz street; in the Plaza Peninsula; the Galerias Vallarta shopping mall; in Paradise Plaza; and at the Puerto Vallarta International Airport. You know the story: coffee and more caffeine; wireless internet access. Not inexpensive. Starbucks coffee shop hours vary but usually daily, 7am-11pm
Uncommon Grounds Chill Out Lounge - South Side - 625 Lazaro Cardenas. Tel: 223-3834 **
Now closed. Restaurant, lounge, aromatherapy bar, cafe & boutique. Uncommon Grounds is unique in town - a multi-sensory experience. Reservations recommended for Friday and Saturday evenings. Menu includes shrimp nirvana salad, Bleeker street BLT, Mediterranean wrap and other delectable offerings. Lesbian owned by Anne and Lidia. Oct to Jun: Weds-Sun, 5pm to closing; food until 11:30pm.

Bakeries & Pastry Shops - Panaderias y Pastelerias
Artisan Bakery - Colonia Versailles - 178 Aldananca, Local 9. Tel: 223-8233, 223-8283
With a specialty in baking in the old world style of naturally fermented European breads, including sourdough, sour rye wheat, ciabatta, rustic grain and whole wheat among others. Artisan bakery run by Lorene Rivera and Jaime Martinez, who was trained as a pastry chef in San Francisco, has been serving in Puerto Vallarta from 2008-2015; now under new ownership. Mon-Fri, 8am-6pm; Sat, 8am-2pm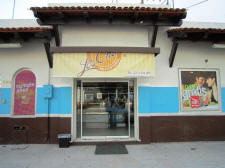 Los Chatos - North Side - 359 Ave. Francisco Villa. Telephone: 223-0485
The Los Chatos bakery (photo left) has its specialty in cakes. Most clients request the blackberry cheesecake or the mouth-watering "tres leches", a Mexican delightful favorite. Single slices at 30 pesos. Locations also in front of the international airport at 7390 Francisco Medina Ascencio; in the Puerto Vallarta Marina at #6 Calle Popa in Condominios Marina del Rey; and in downtown Bucerias at 112 Ave. Heroes de Nacozari, Nayarit. Home delivery. Daily, 7am-10pm
Pie in the Sky Bakery - South Side - 242 Aquiles Serdan. Tel: 223-8183
Famous in the Banderas Bay area for their fine cakes, chocolates and pastries. Also serving hot & cold coffees: cappuccino, mocha, café latte and expresso. Best bakery and best desserts awards for many years. Home delivery. The main store has been in Bucerias, Nayarit since 1987 along the Coastal Highway 200 to Punta de Mita at 202 Heroe de Nacozari street, which offers a 15% discount to local residents with an ID, Tel: 329-298-0838. Daily, 9am-10pm
Suspiros Pastries & Coffee Shop - North Side - 1505 Ave. Francisco Villa in Fluvial Vallarta. Tel: 293-4058
Chain-store cafe pastry shop located in 10 Mexican states with a variety of coffees, pies, cakes and salads. Also with a new outlet downtown at 1202 Avenida Mexico at Phone: 222-2740. Mon-Sat, 9am-9pm; Sun, 10am-8pm
Yarita Bakery, Panaderia y Pasteleria - South Side - 244 Basilio Badillo. Tel: 223-2987
The Romantic Zone's main bakery and pastry shop with fresh breads, pies, muffins, tarts, turnovers (empanadas), sweet rolls, pastries and other delicious treats. Some of the best in the city is baked before your eyes. Panaderia Yarita (facebook) offers reasonable prices and always plenty to choose from - my personal favorite for fresh pastries for years. Mon-Sat, 8am-6pm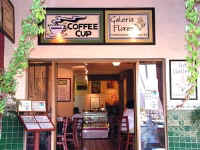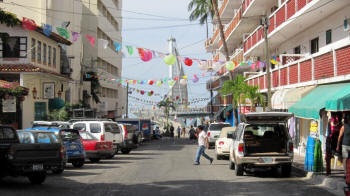 The view down Francisca Rodriguez street
to the new Los Muertos pier on the South Side or Romantic Zone.
Taken across the street from new gay restaurant-bar JB's on Olas Altas

"Water you are not going to drink, let it run." - Mexican proverb
---
top of page | cuale river island | gay bar photos 2 | straight nightlife pics 2 | 5-6 bedroom villas | Gay Puerto Vallarta travel
gay cruises & photos | condos AND | apartments BTM | new malecon boardwalk | gay shopping & pictures
guadalupe festivals | condominiums PM | beach photos 3 | Email contact