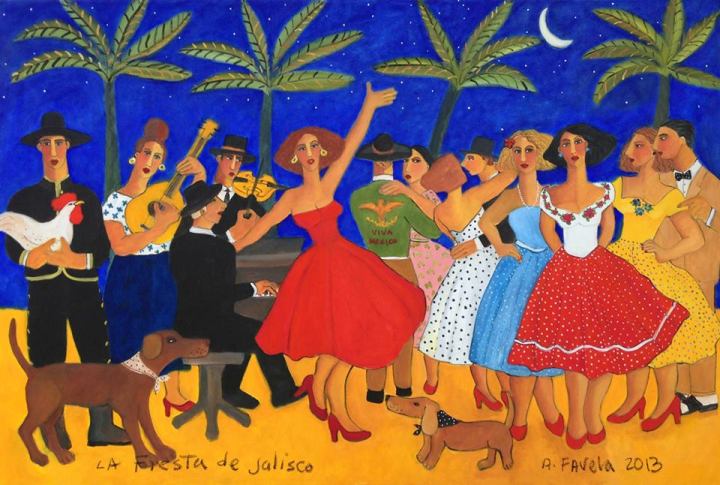 La fiesta de Jalisco / The party of Jalisco by artist Abelardo Favela from Mexico City
Mexican art work on display in Puerto Vallarta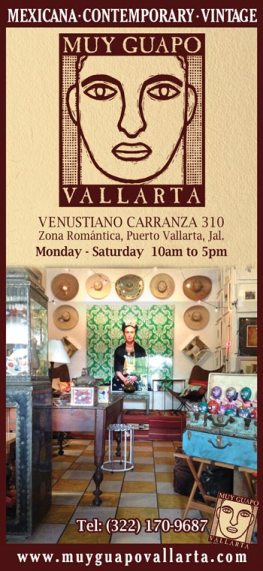 Gay-owned art gallery Muy Guapo Vallarta (see their facebook) showcases old and new art from Mexico and
Latin America. Vintage textiles of varied sizes and periods, antique Mexican folk handcrafts,
contemporary pottery and wood crafts, as well as 19th century devotional art and more.
Owners Richard Parkman and Enrique Zepeda, located at 310 Venustiano Carranza.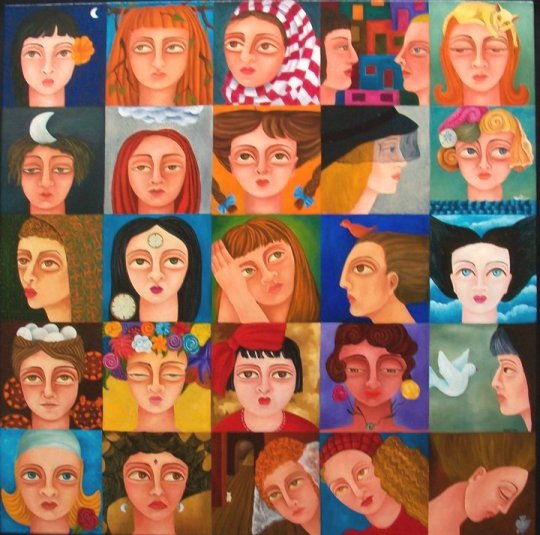 Painting by local artist Marenal from the old Galeria A.L. Arte Latinoamericano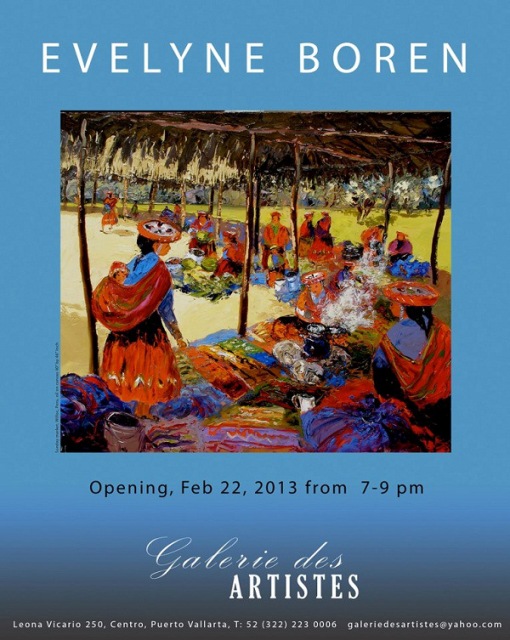 From the Evelyne Boren opening at the prestigious Galerie des Artistes at 250 Leono Vicario street
downtown on February 22, 2013.
She arrived in Vallarta in 1972 on holiday to paint, and as the story goes, within 24 hours
she had met her husband-to-be and essentially never left -
hence she is the oldest living original artist in town.
Visit her website evelyneboren.com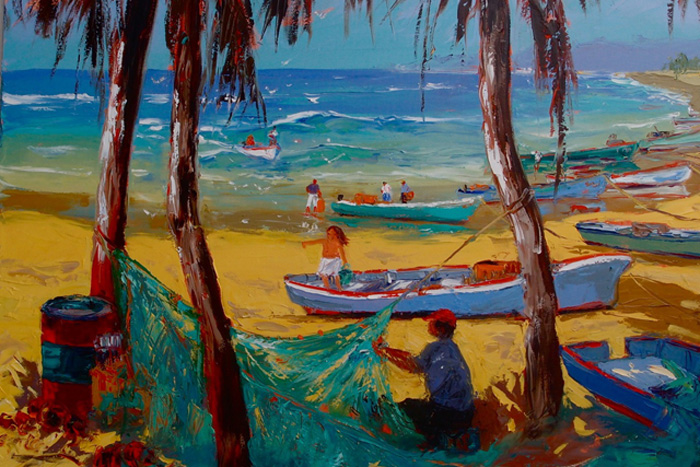 Boren today maintains a permanent studio in Santa Fe, New Mexico and also one in Sayulita, Nayarit
(just north of Puerto Vallarta along the Pacific coast) where she resides and paints during the winter.
I like the scene, the vibrant colors and perspective of the painting above.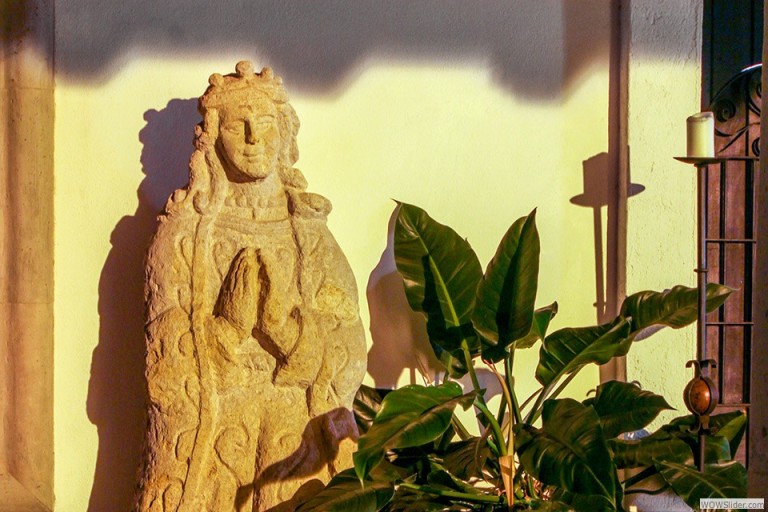 Santa Rosa of Lima - was sculpted in the early 1700s for a Queretaro church and
greets guests in the open-air courtyard of upper Conchas Chinas villa Casa del Quetzal
Saint Rose became the first person of the Americas to be canonized in 1671.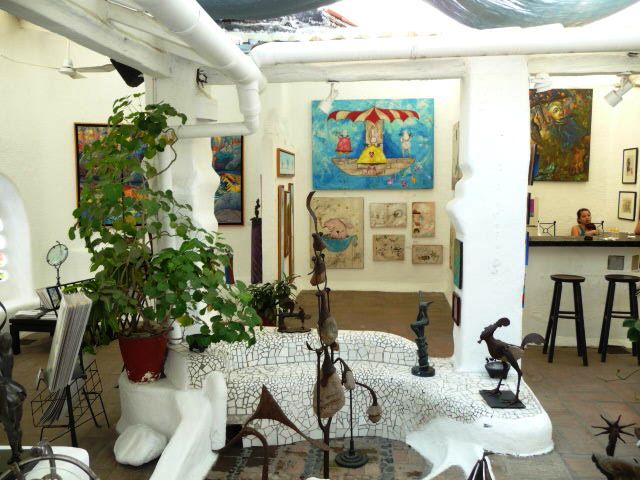 Galeria Uno the oldest Puerto Vallarta art gallery since 1971. Showcasing art work by over
40 Mexican and international artists such as Alejandro Colunga, Alberto Fregoso, Stefan Lokos,
Luz Elena Moreno and Jesus Lopez Vega just to name a few. A fine and eclectic collection of graphics,
paintings and sculptures. Galeria Uno is one of the more interesting galleries in town,
and is located just off the downtown malecon at 561 Morelos street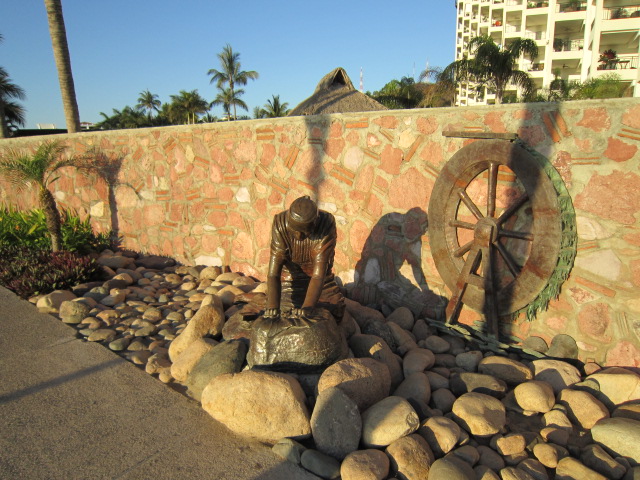 The Washer Woman bronze statue by Jim Demetro, placed in 2008 near the Cuale River bridge
and in front of the Molino de Agua condos along the malecon boardwalk
which now stretches from downtown into Old Town up to the new Los Muertos pier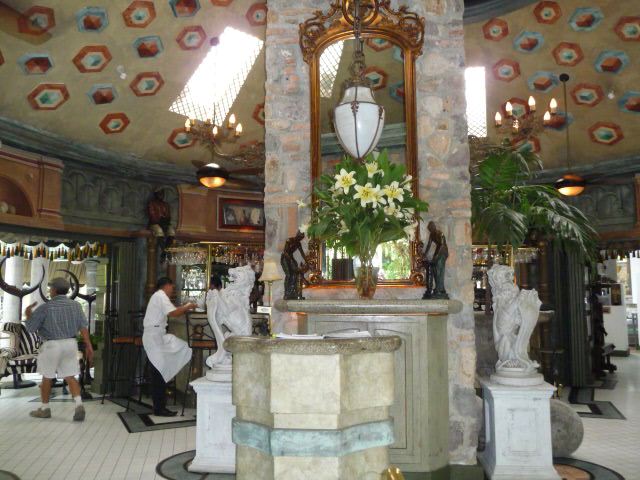 The artistic and rather extravagant and beautiful foyer of the old Le Bistro restaurant on the
Cual River Island, once one of the top gay-owned dining spots in town.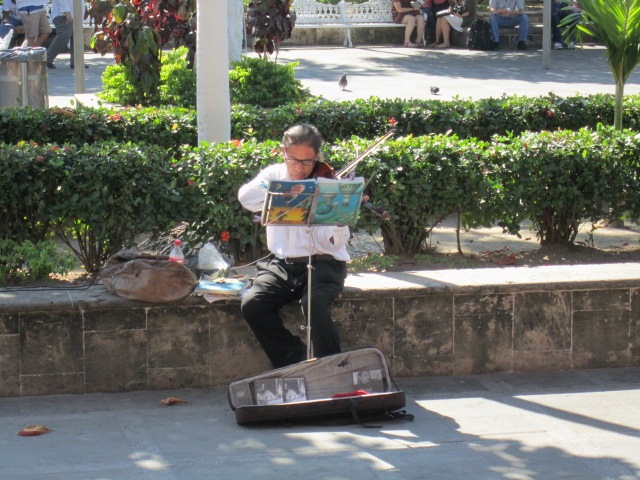 Solitary musician in the downtown Zocalo or public square
playing his violin one afternoon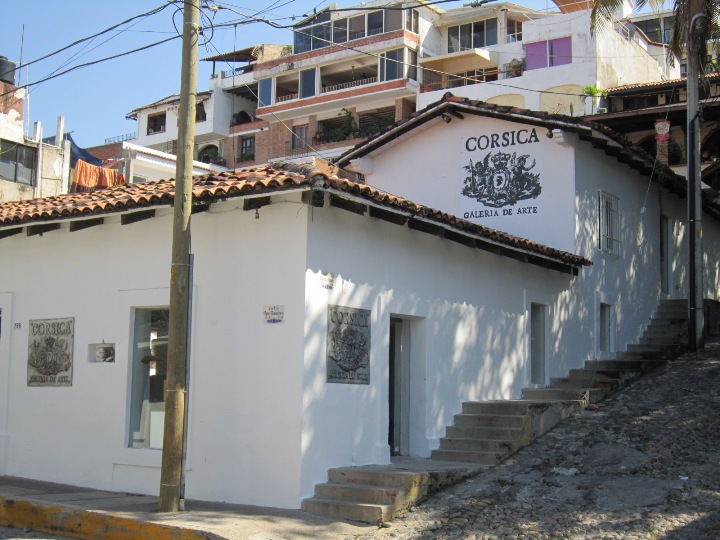 Gay-owned Galeria Corsica at 756 Guadalupe Sanchez at Leona Vicario street
Contemporary fine Mexican art, with one of the larger and more impressive
collections of sculptures, paintings and art objects in town.
Located across the street from the famed Cafe Des Artistes restaurant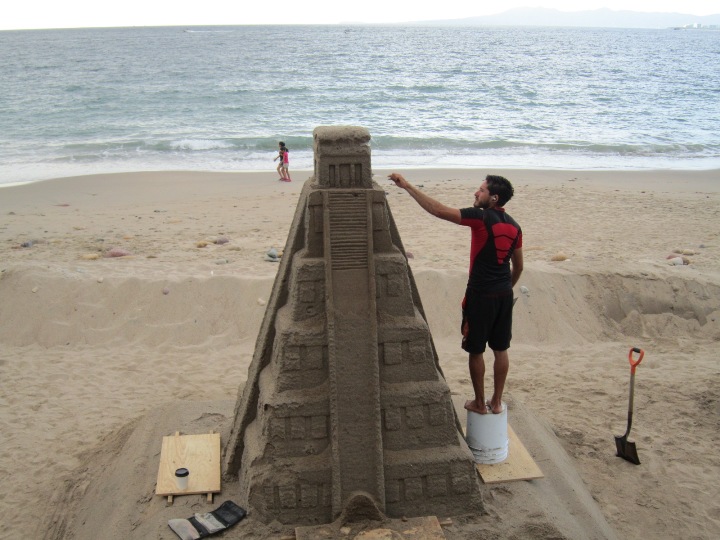 Artist at work on the downtown beach right off the Malecon boardwalk putting finishing touches
on his newest Vallarta sand sculpture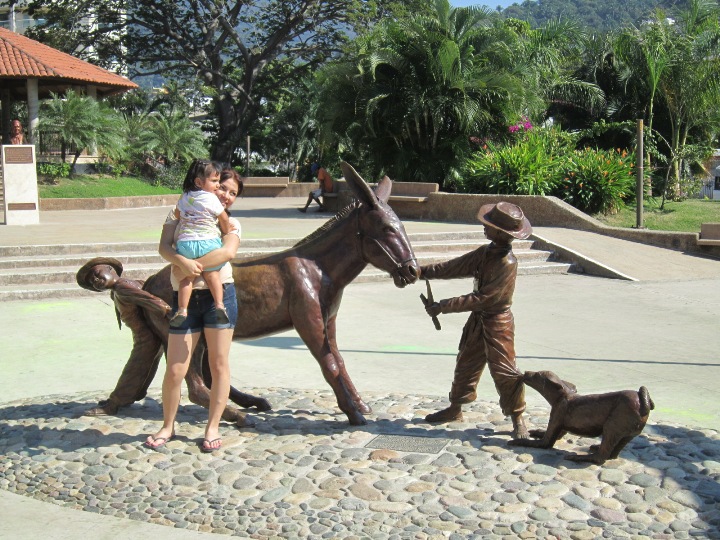 Jim Demetro's latest public artwork, the bronze sculpture known as Andale Bernardo,
unveiled in February 2014 and located in the west end of the Lazaro Cardenas park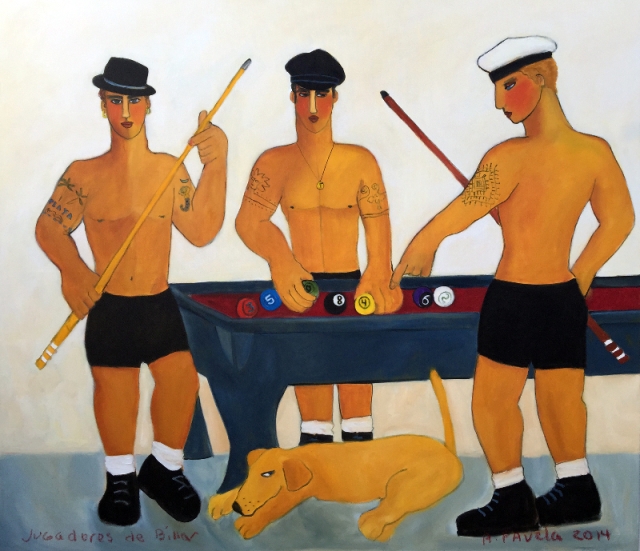 from the gay-owned Vallarta Galeria Contempo at 252 Basilio Badillo street in Old Town -
Pool Players/Jugadores del Billar, a recent painting by well-known Mexican artist Abelardo Favela, 2014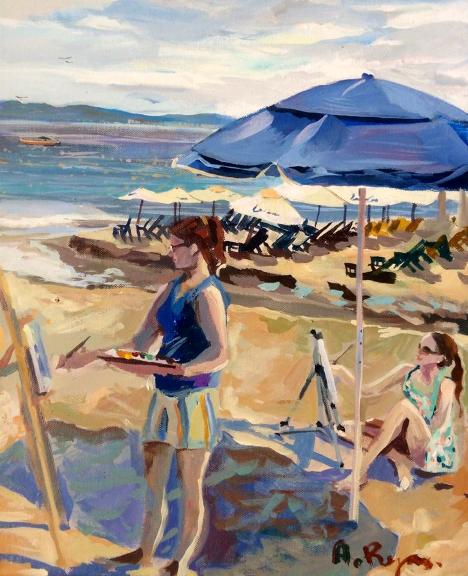 ART VallARTa offers plein air painting on the Playa Los Muertos beach
every Tuesday morning at 9am-Noon from December to April with
instructor Adrian Rojas, who painted the piece above.
Photo thanks to the folks at the art vallarta studio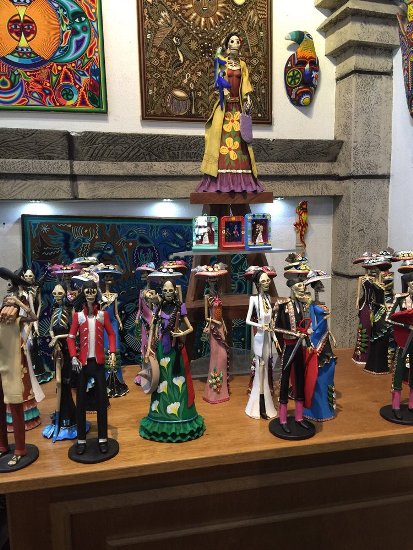 Some of the huichol yarn paintings and fine Catrina dolls at one of the two
Tierra Huichol stores, located downtown along the Malecon and also
at 246 Olas Altas street next to the Banorte bank.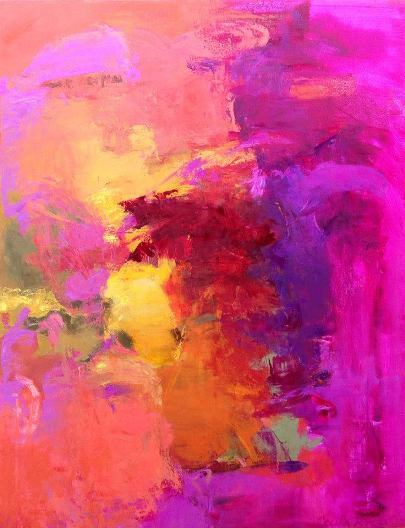 Cecilia Rivera's painting 'untitled' from
the La Pulga gallery downtown at 230 Leona Vicario street. Phone: 222-2996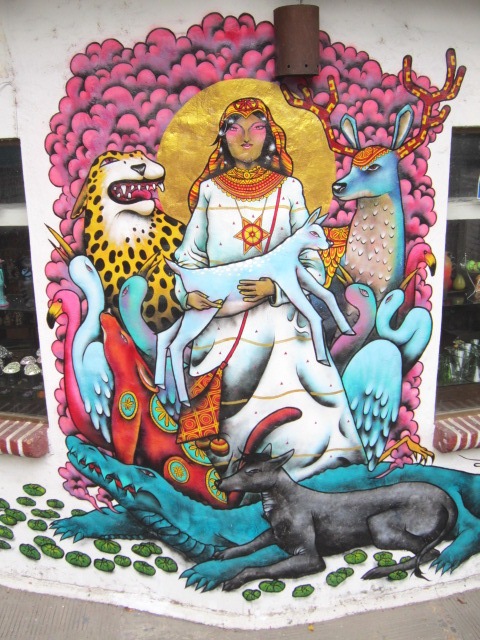 some beaufitul public native art painted on the artesania store
on the Cuale River Island at Insurgentes street, with many of the traditional
Huichol figures such as the sacred deer, cayman, swan and mountain cat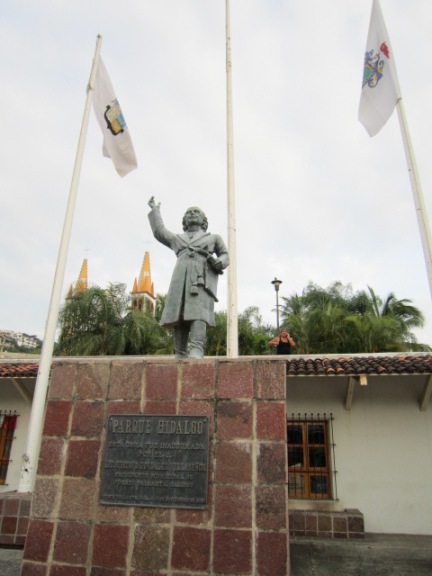 Statue of Miguel Hidalgo y Costilla, Mexican priest and a leader of the War of Independence
from Spain of 1810, in the park which bears his name, Hidalgo Park
located just north of the downtown Malecon boardwalk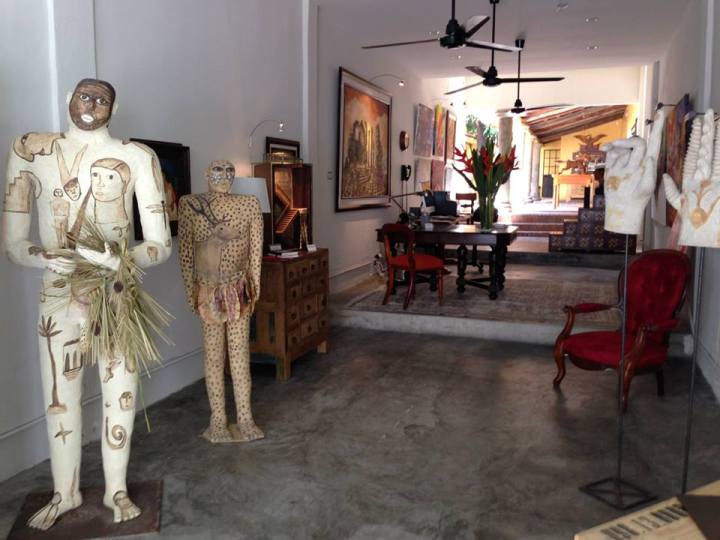 Inside the La Pulga gallery downtown (now closed)


Puerto Vallarta Art & Culture
Vallarta Art & Culture photos 1


We are all made of the same clay, but not from the same mold. - Mexican proverb