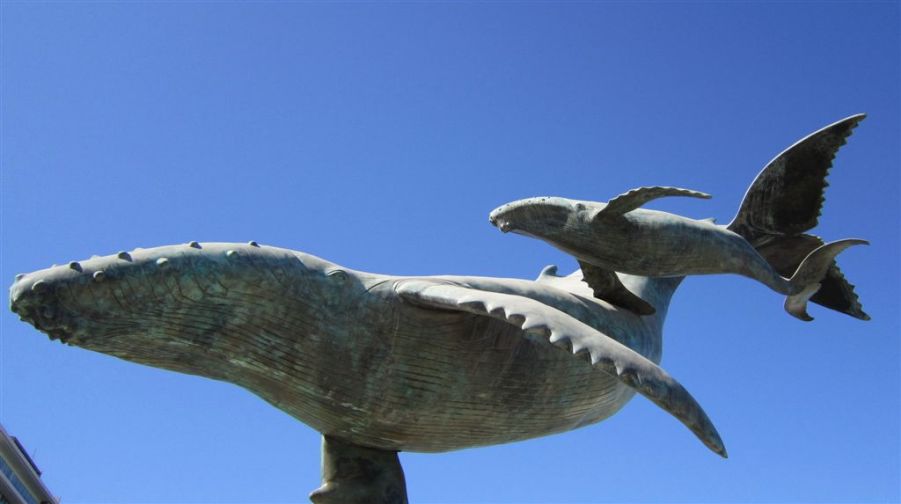 A fine shot by Benoit of the bronze Humpback Whale sculpture at the entrance to Marina Vallarta
by Puerto Vallarta artist Octavio Gonzalez
Four years in the making, it was placed here in 2001
The biggest sculpture in the city, "Vallarta Whale" weighs in at some 12 tons, is 13 meters long and 9 meters high
There are 2 smaller replicas of this sculpture in Mission, Texas and in
Highland Park, Illinois, two of the town's sister cities


Puerto Vallarta Marina and the Plaza Neptune shopping center at its entrance
(statue of Neptune - Roman god of the sea, and of fresh and salt water)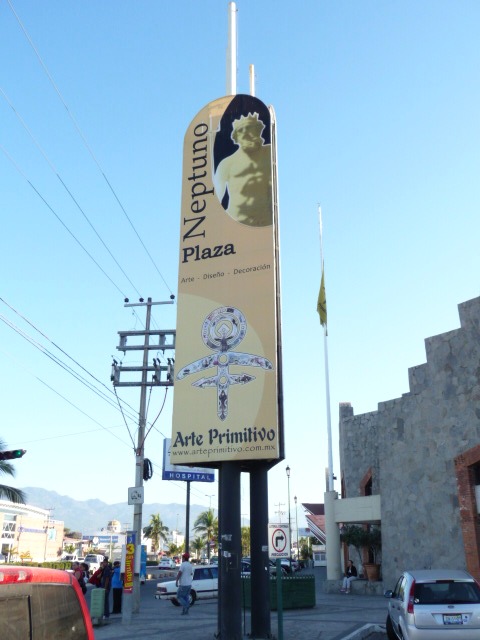 La Estancia restaurant along the Marina walkway boardwalk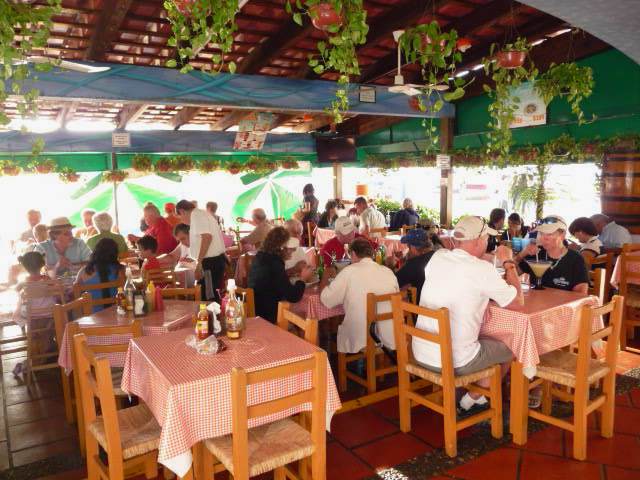 Crowd-pleasing Mariscos El Coleguita (Seafood Buddy) known for its cordial service,
on Popa Street local 17 at the Condos Marina del Rey, Weds-Mon, 1pm-8pm, Tel: 108-9726
One of the most popular restaurants in the Marina with reasonably priced seafood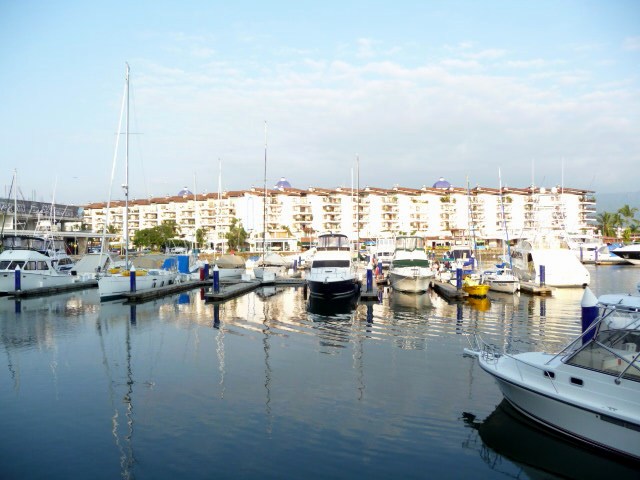 the Marina in Puerto Vallarta, Mexico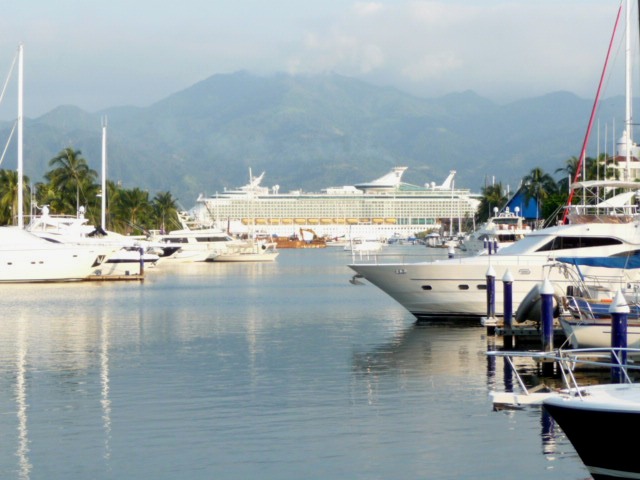 Marinor of the Seas cruise ship, in port every week, as seen from the Marina
with the beautiful Sierra Madre mountains in the background surrounding the city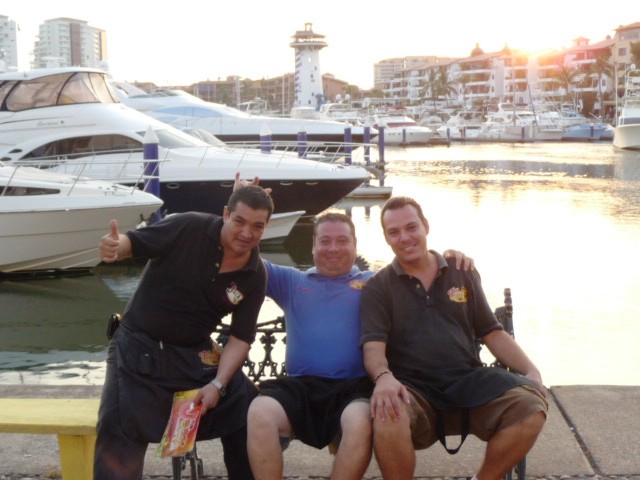 Friendly waiters from the restaurant El Fogon
located in front of the Condominiums Marina del Rey Local 14A, daily 10am-10pm, Tel: 221-3636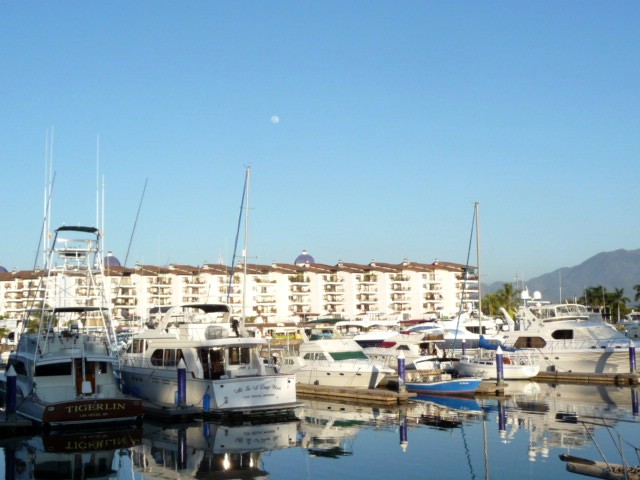 Near full moon rising in January 2011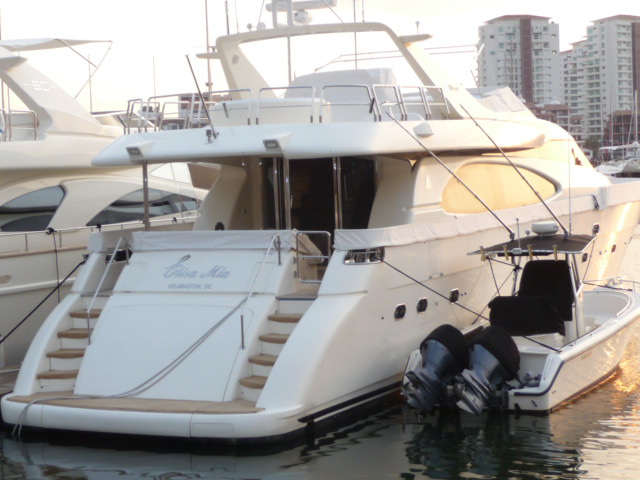 Elisa Mia boat from Wilmington, DE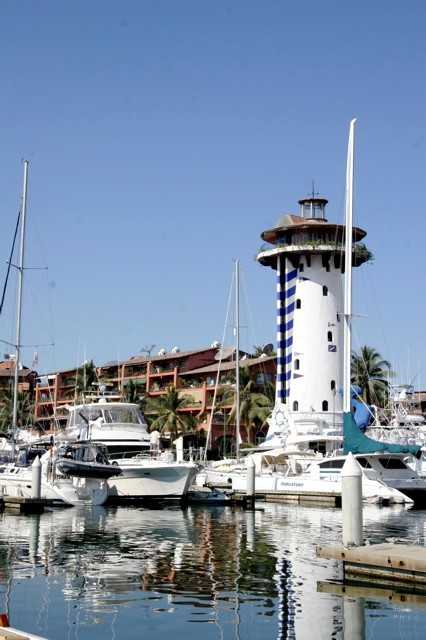 El Faro Lighthouse bar, 245 Paseo de la Marina, Telephone: 221-0541, 221-0542
Lighthouse cocktail lounge with guitar/easy listening music, open seating and panoramic views
overlooking the Puerto Vallarta Marina from the 110 foot tower. Pretty crowded for sunset. Daily, 5pm-1am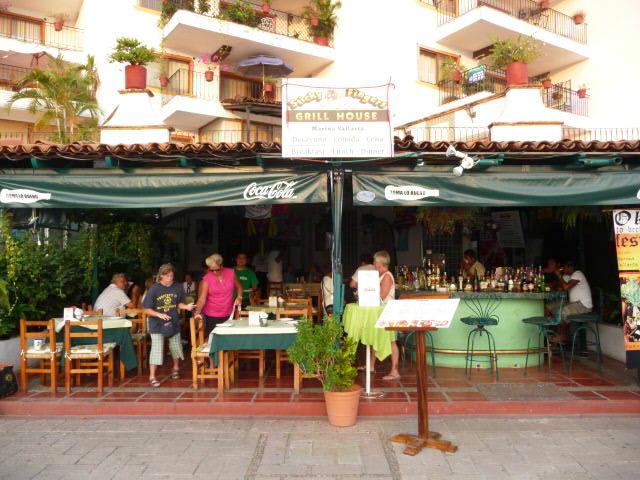 Sticky Fingers Grill House and Bar
112 Quilla, local 9, Marina del Rey, Tel: 221-0359
Fresh sea food daily, Mexican and BBQ
Restaurant 7:30am-11pm with bar service until 2am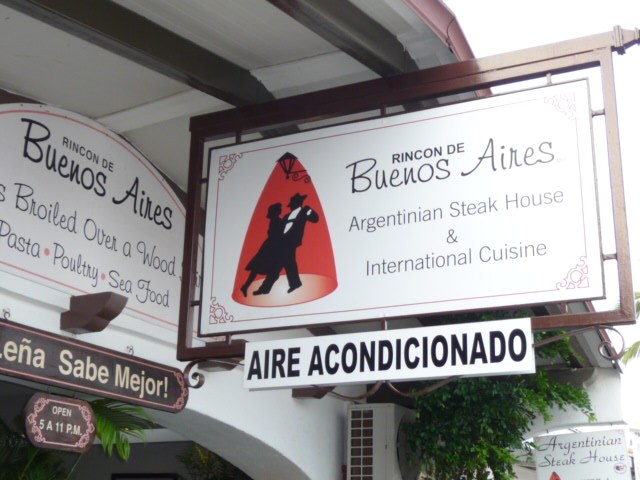 Rincon de Buenos Aires open air restaurant, Royal Pacific Yacht Club, local 126
Marina Vallarta, Phone: 221-2260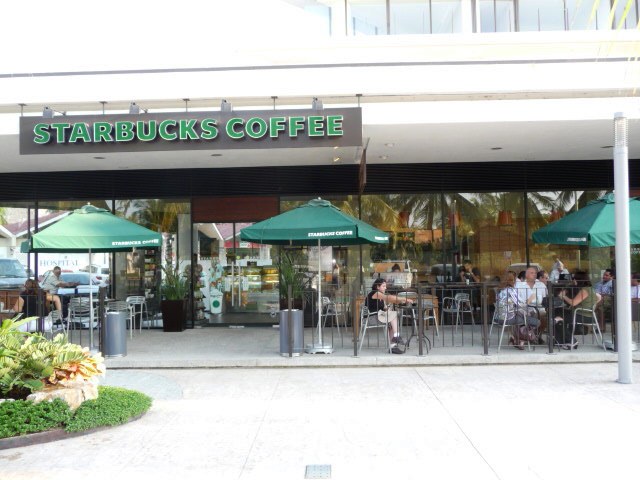 the ubiquitous Starbucks Coffee now has at least 5 or 6 cafe locations in Vallarta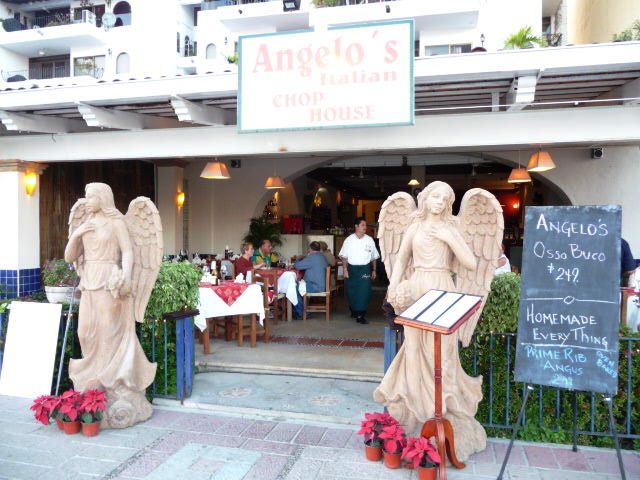 Angelo's Italian restaurant along the Marina boardwalk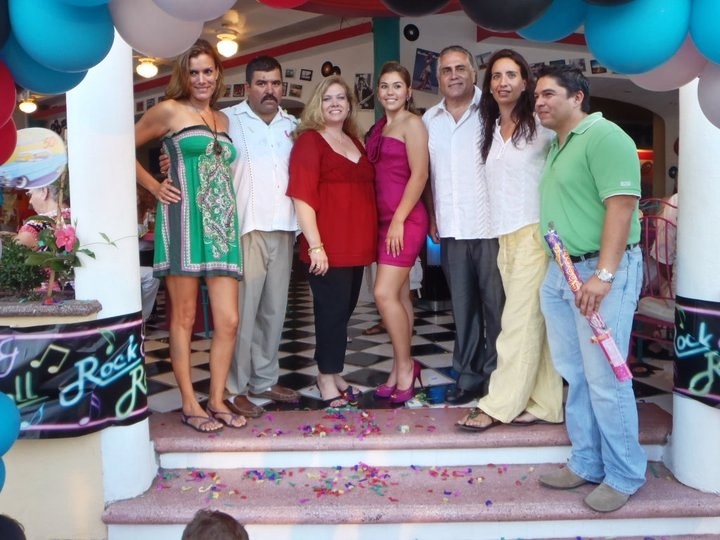 Grand opening in November 2010 of the D'Z Route 66 Rock N Roll Diner
Paseo de la Marina 3 Marina Golf Condos Local #6 - Tel: 209-0760, Daily 8am-10pm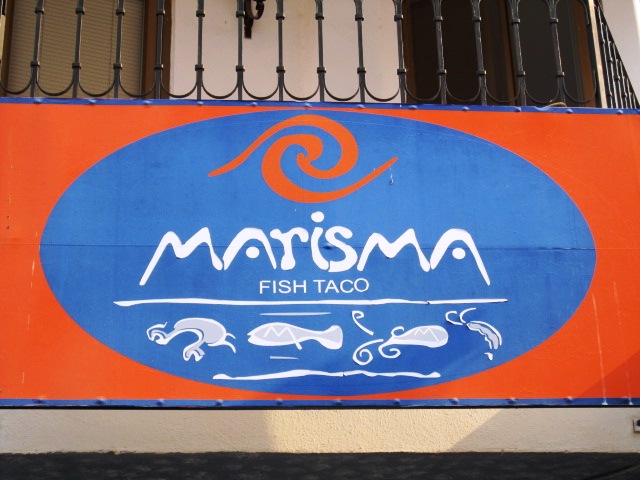 Reportedly just about the best fish tacos in Puerto Vallarta can be eaten at one of Marisma Fish Taco stands/restaurants.
Three locations in town: in the Marina at Popa and Quilla just behind Plaza Neptune at the Condos Marina del Rey;
in Fluvial Vallarta at Carlos Barrios and Lake Michigan street; and on the South Side at 320 Naranjo.
Menu includes smoked marlin tacos, ceviche on tostadas, shrimp, crab and fish tacos.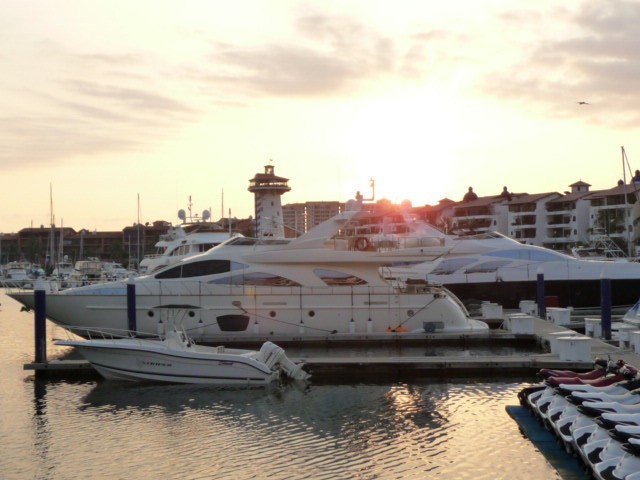 A pretty glorious sunset in the Marina Vallarta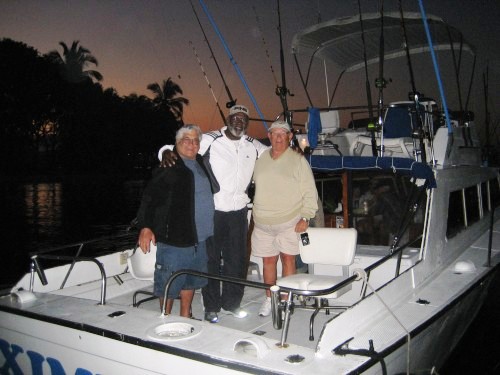 Fishing Charters PV, Office at 553 Venero street in Colonia Ojo de Agua
offering Puerto Vallarta fishing charters out of the Marina on some 40 different boats
Photo thanks to Mauricio Fuentes
Cell: 044-322-185-0147 from US and Canada: 1-888-933-5567
Information at Fishing Charters PV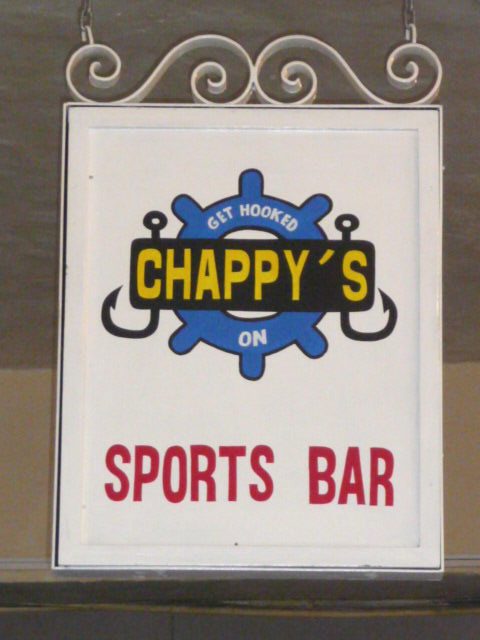 Chappy's Sports bar, Daily 10am-Midnight
with fifteen-twenty tables outside and 4 or 5 televisions on with sports
plus the inside seating and viewing area.
Ancla and Malecon at the Condo Club de Tenis Puesta Sol. Tel: 209-0837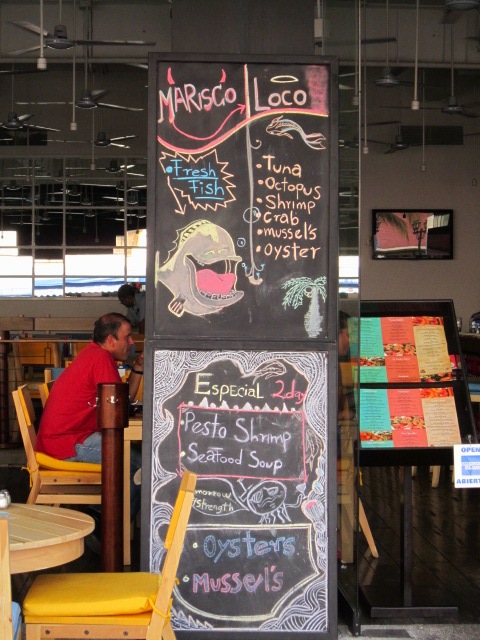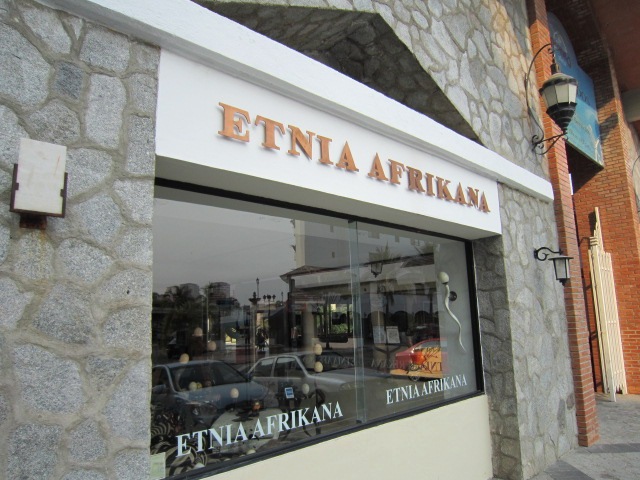 the Etnia Africana/African Ethnic shop in the Plaza Neptune Commercial Center, Local 14E-15E
Mon-Sat, 9:30am-7pm and Sun, 9:30am-1pm with Phone: 221-2920
Lamps and furniture as well as wood and semi-precious stone sculputres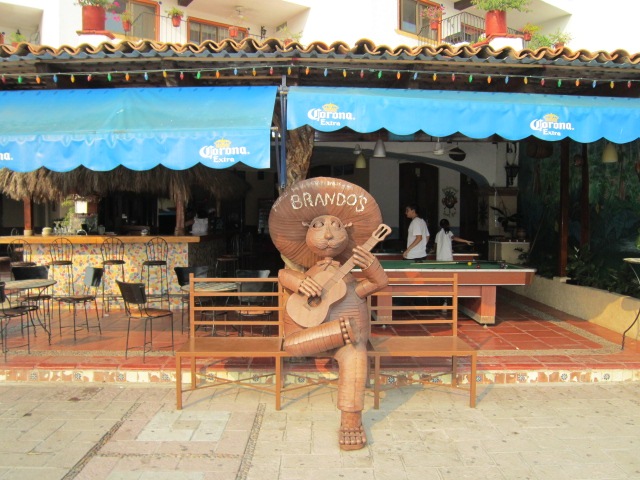 Brando's sports bar and restaurant with mexican and american food
Marina del Rey locale #11, Telephone: 221-2721. Daily, 2pm-2am

-------
next three pictures thanks to Benoit Gagnon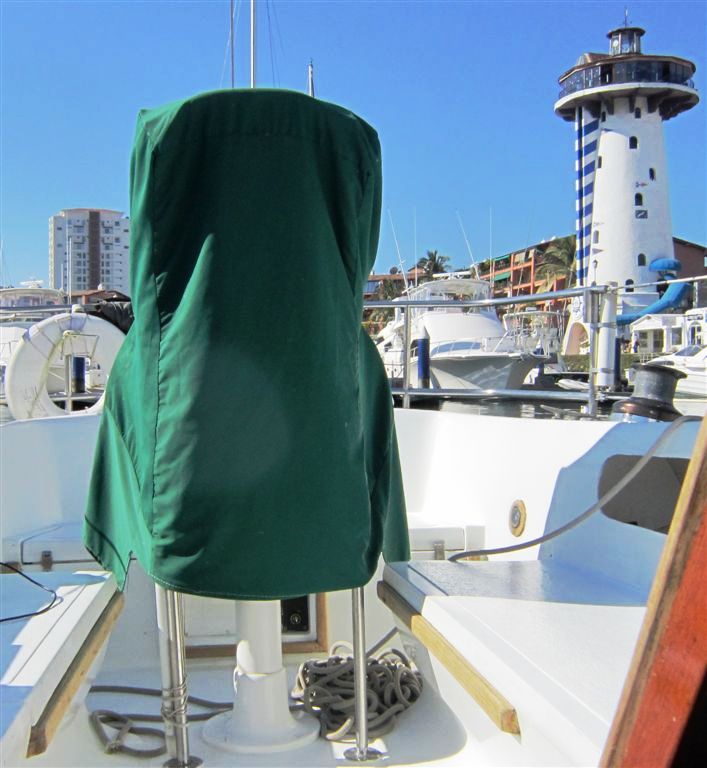 Marina Vallarta with the El Faro lighthouse in background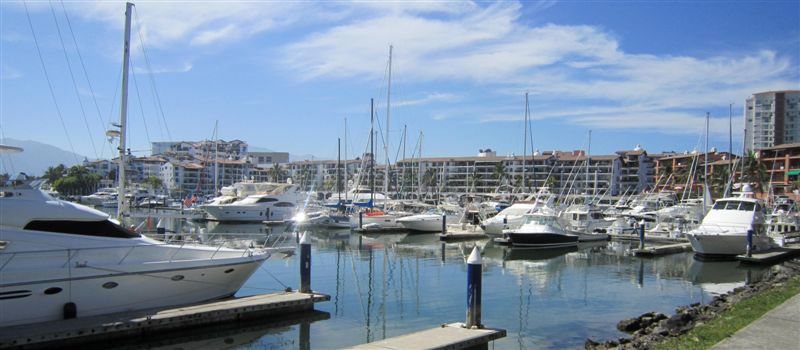 La Marina Puerto Vallarta, Mexico with its many boats in March 2011



some of the hotels and resorts as seen from Banderas Bay - Puerto Vallarta panoramic views

-----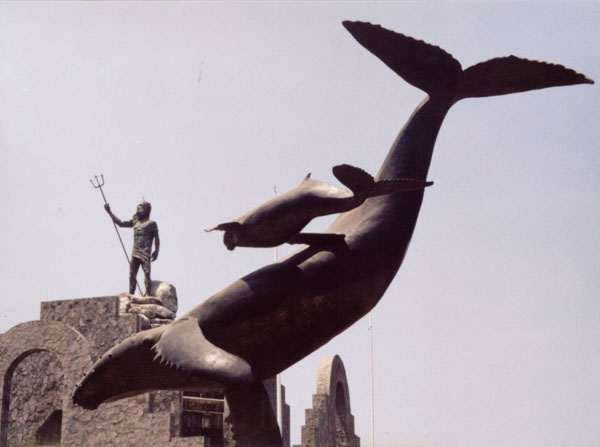 Two views of the terrific bronze Humpback Whale sculptures by Puerto Vallarta artist Octavio Gonzalez,
with the sea god Neptune in background, at the entrance to Marina Vallarta.
Other local statues and sculptures can be viewed on the Puerto Vallarta art photos page.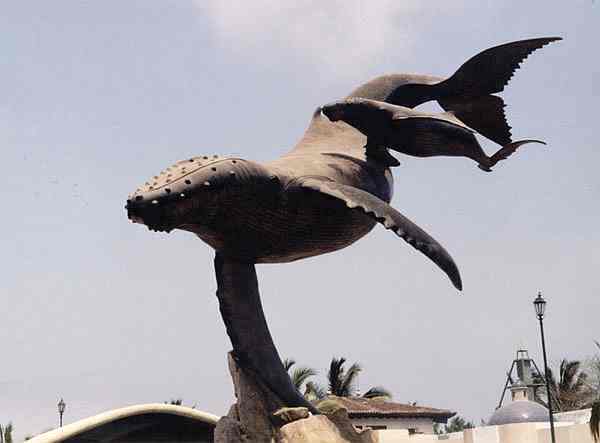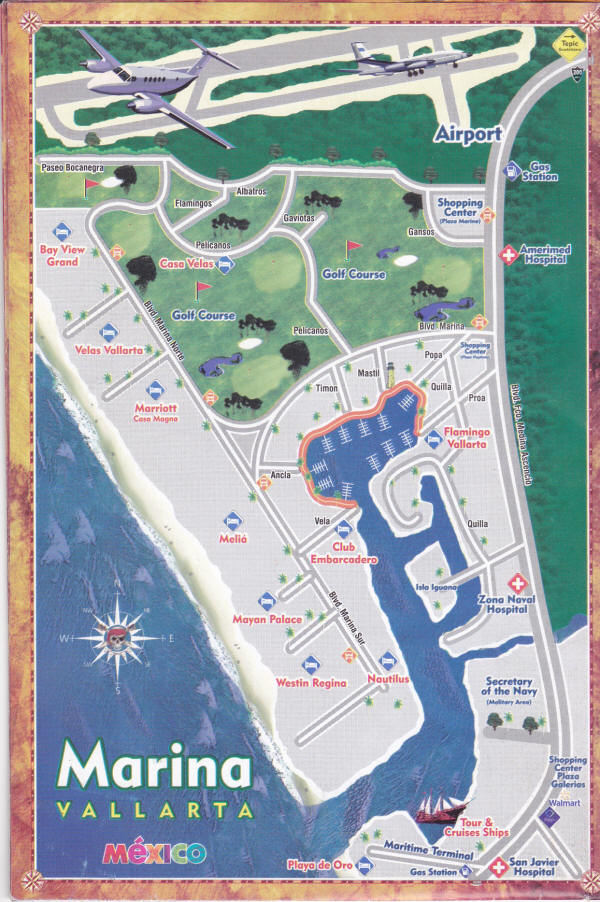 Handy map of Marina Vallarta (click for a larger size)
Showing points of interests such as the Maritime Terminal, Plaza Neptune shopping center,
Amerimed hospital, Plaza Marina, and the Golf course
As well as the location of hotels such as the Bay View Grand, Velas Vallarta, Marriott Casa Magna,
Melia, Mayan Palace, Westin Regina, Club Embarcadero and Flamingo Vallarta

---
top of page | 5-6 bedroom villas | gay club images | 4 bedroom villas | straight nightlife pics | Gay Puerto Vallarta travel
gay beach photos 2 | puerto vallarta annual events | vallarta photos 2 | carnival | gay beach pictures 3
7-12 bedroom villas | Email contact