Starting at the west end, by the ocean and the pedestrian bridge, on the walking tour and heading east.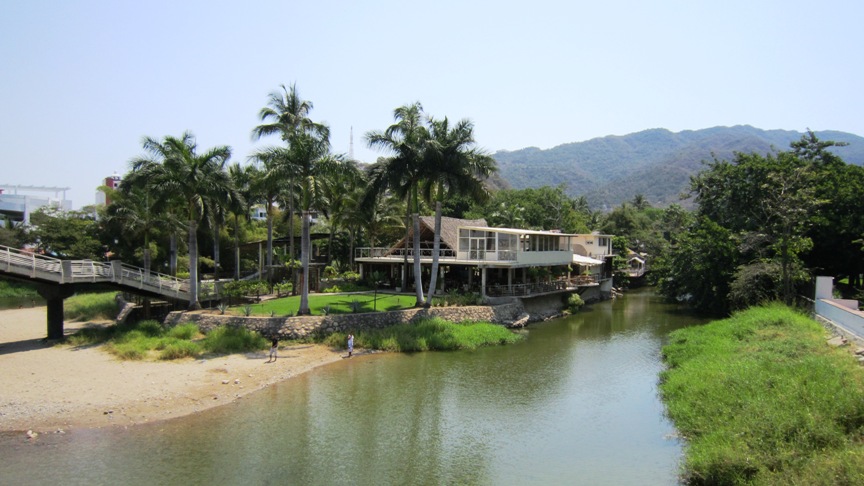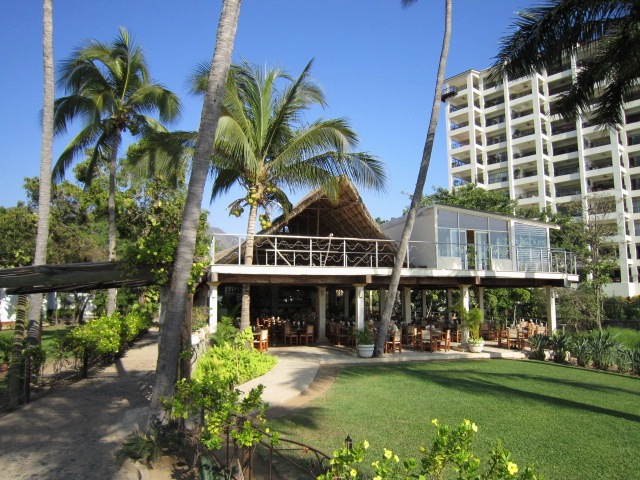 Oscar's restaurant and the central walkway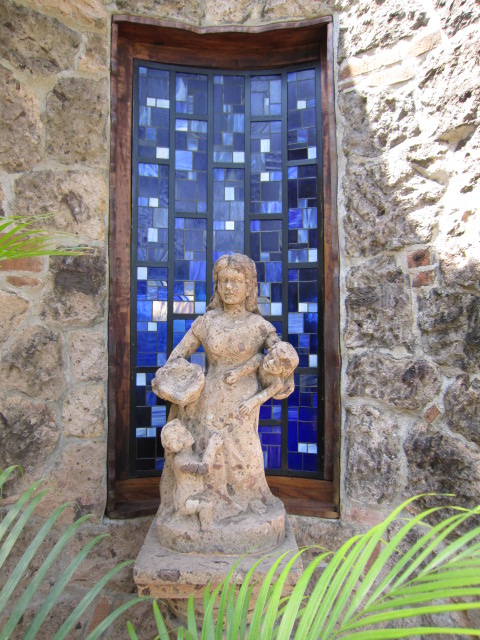 Alongside Oscar's gay-friendly dining place on the Cuale River Island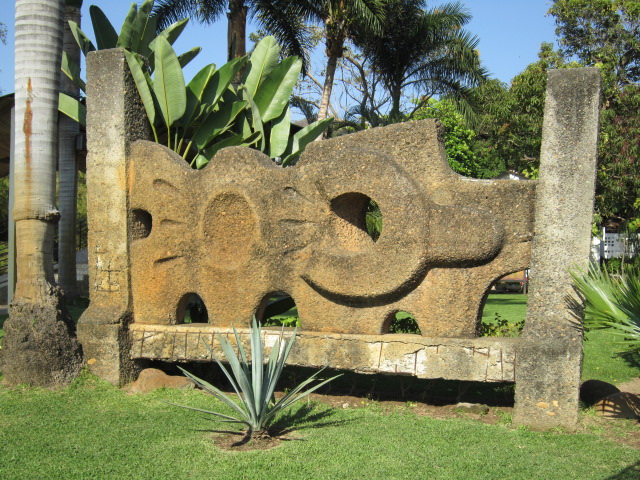 "Solar framework" a sculpture project by Antonio Nava done in July 1987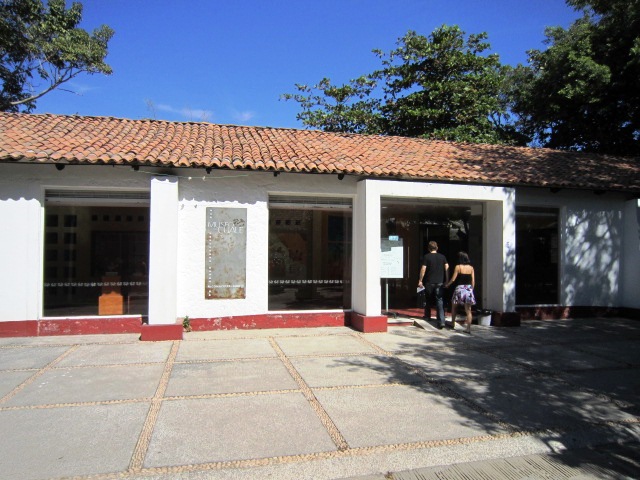 Cuale River Museum on the Rio Cuale Island at the West end.
Tuesday-Saturday, 9am-2pm and 3pm-6pm. Telephone: 222-1007
This small museum traces the pre-Hispanic cultural history and art of this part
of western Mexico from as far back as 5000 B.C. and showcases
some of the pottery and other objects found at the Ixtapa Archeological Zone along the Ameca River.
Check out Eduardo Rincon-Gallardo's article on the Puerto Vallarta Museum del Cuale.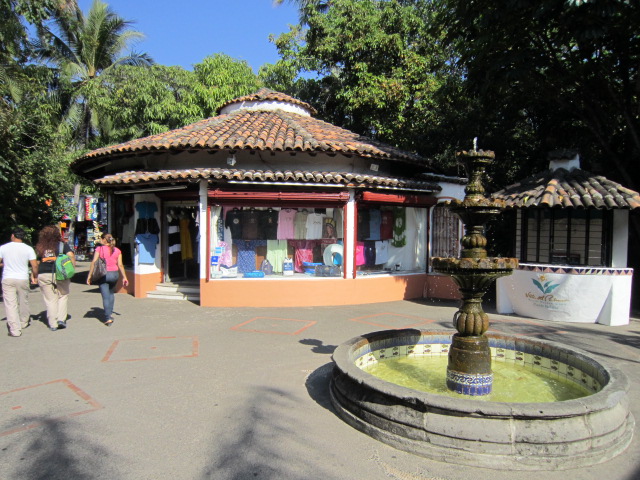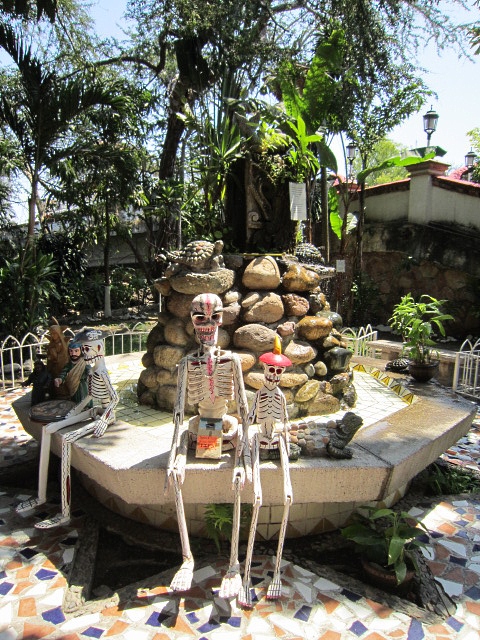 These skeletons seem to come right out of the Day of the Dead celebrations that
take place annually in Mexico on November 1-2.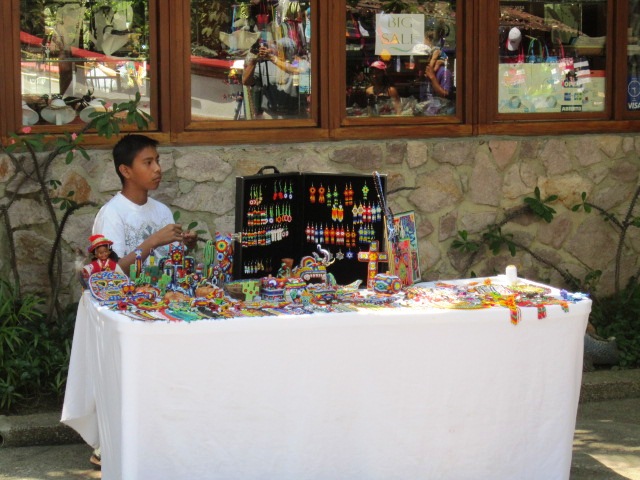 Making and selling Huichol/Cora beaded and yarn art outside popular gay-managed The River Cafe restaurant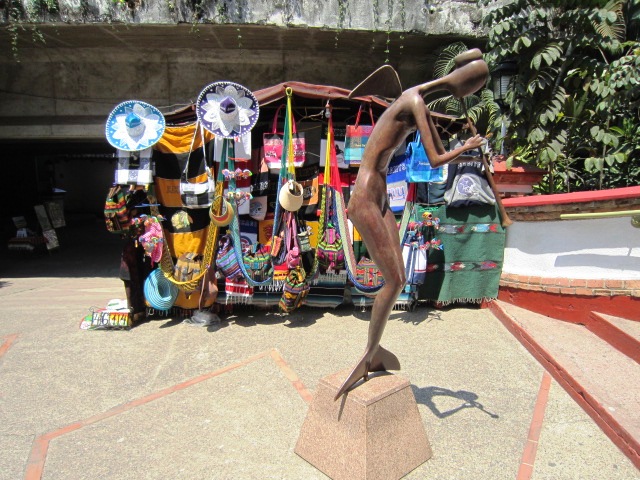 At the foot of the stairway that heads up to the bridge over Ignacio Vallarta street,
one of the main ways to get onto the Rio Cuale island.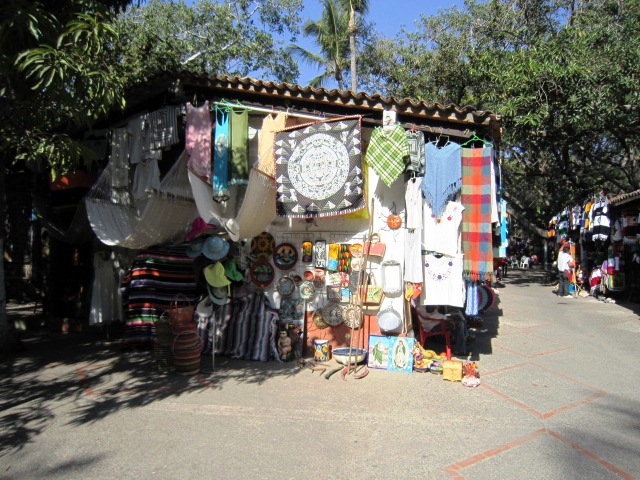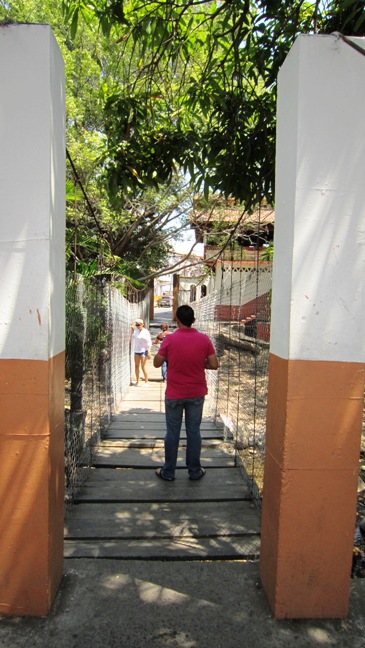 One of the swinging pedestrian bridges over the Río Cuale, & this one
heads over to the old Gutierrez Rizo supermarket area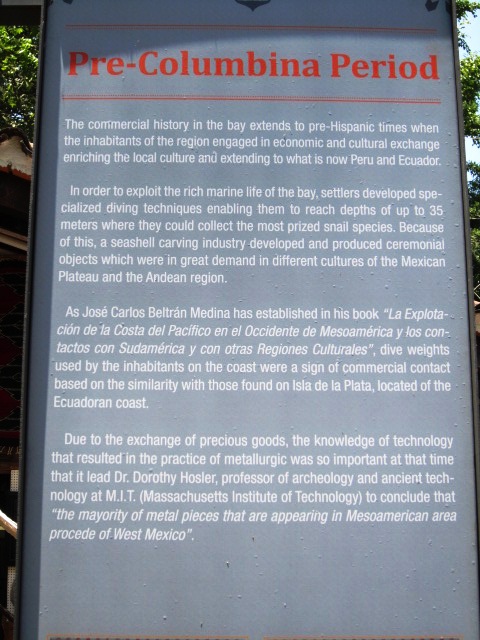 Some info on the pre-Columbian period in Banderas Bay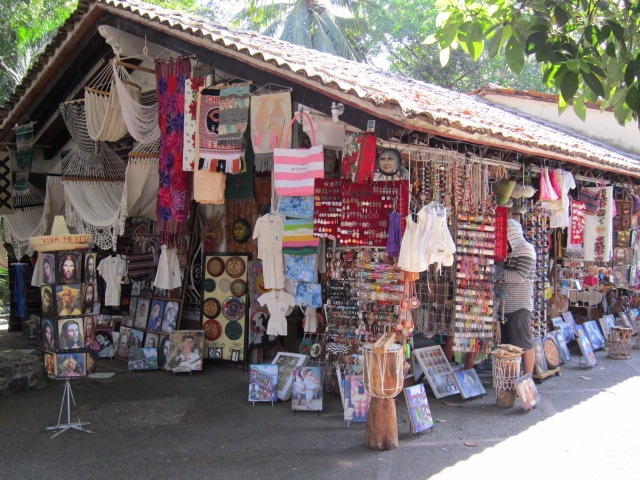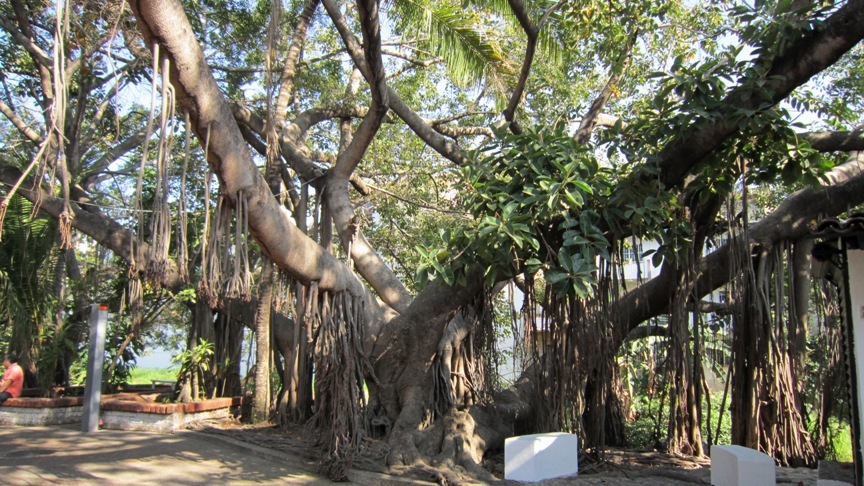 Some of the old and tranquil natural beauty of Puerto Vallarta remains in this part of the city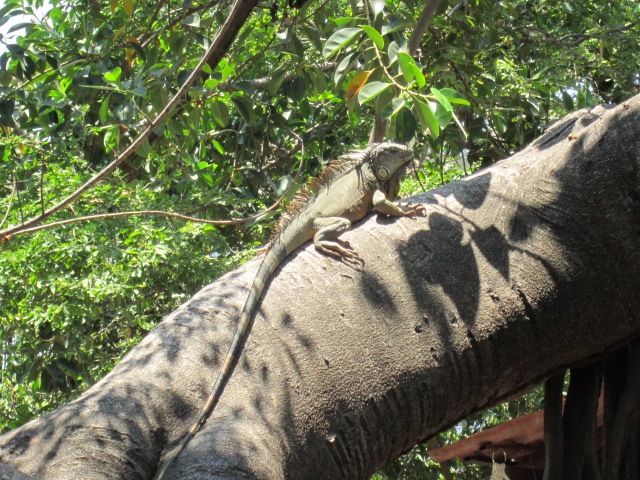 We spotted a large iguana that lives on the island near this huge strangler fig tree
Everyone was taking photos as it's a rather rare sight to be able to get so close
and it was not frightened by the small crowd or the attention.
Iguanas have been a protected species in Mexico for years.
FYI: In March 2010 at the Doha, Qatar meeting of the Convention on International Trade in Endangered Species
of Wild Fauna and Flora (CITES), 3 species of iguanas native to central and south-eastern Mexico,
the Yucatan Peninsula and Central America were added to the endangered species
trade list overseen by the UN Environment Programme (UNEP).
Iguanas are in demand in an international exotic pet trade, destined mostly for the U.S. and Europe.
Governments can now regulate their trade.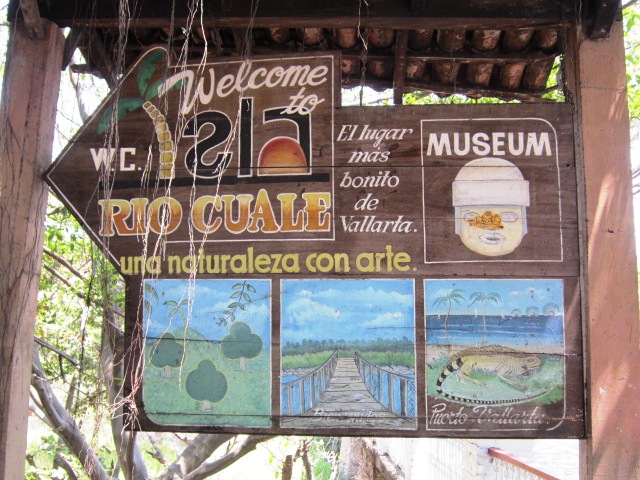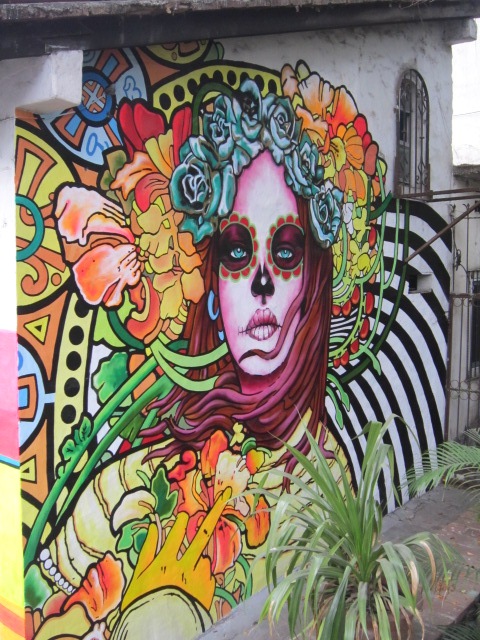 some public street art on the Artesania store on the Cuale Island
at Insurgentes street next door to Le Bistro jazz cafe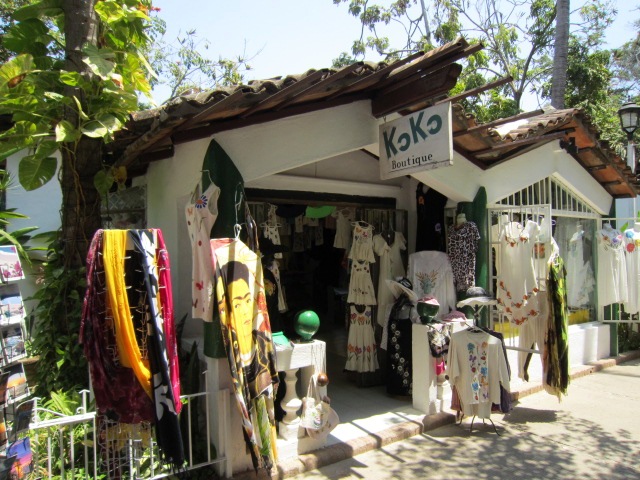 Koko Boutique with some unique items and women's clothing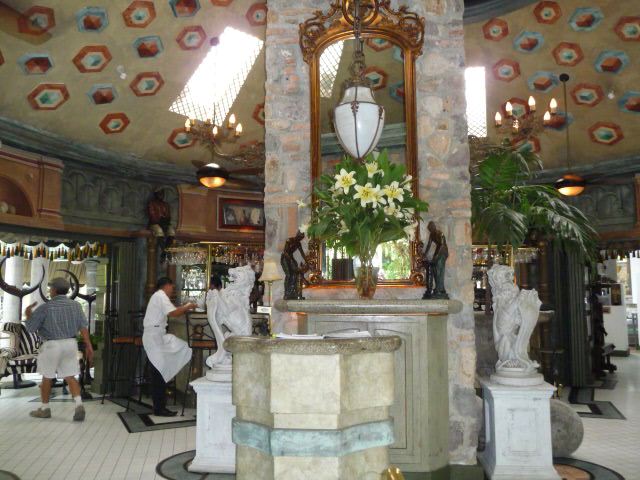 The unique and rather extravagant foyer into the old Le Bistro restaurant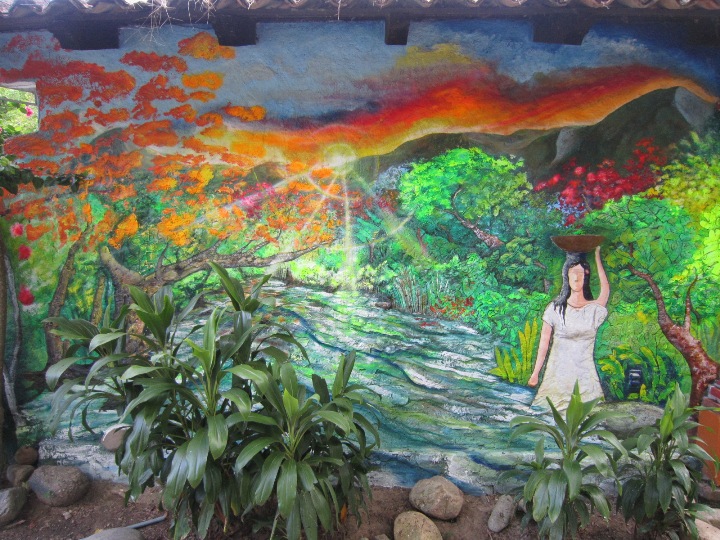 Idyllic and brightly colored student painting on a Cuale Cultural Center wall on the Island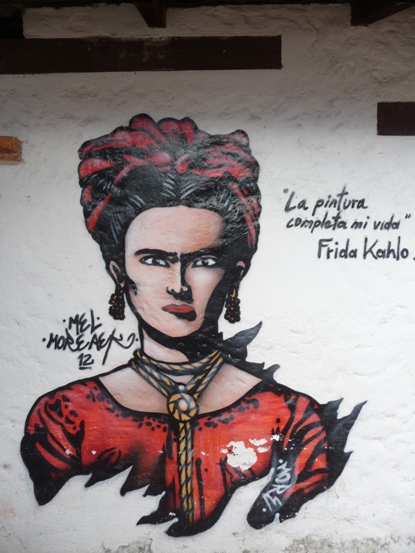 Spray graffiti image of Frida Kahlo on one of the walls at the
Cuale Cultural Center. They quote her as saying "Painting completes my life."

The seagull thinks it is an act of kindness to give the fish a lift in the air. - Mexican proverb