Que Pasa Sports Bar & Grill


Emiliano Zapata - 625 Aguiles Serdan at Lazaro Cardenas
Phone: 223-4006

Gringo neighborhood townie bar and grill and sports bar in Puerto Vallarta since 2004
with daily food specials, satellite TV for sports events, wifi, and pool tournaments on Weds at 7:30pm.
Que Pasa has open mike night on Fri at 5pm; live country and/or rock music, Thurs-Sat at 8pm.
Bands that play here include Hoochie Coochie Men, Brittany Kingery, Beverly and Willow,
Pacific Rock Company, Texas Embassy Blues Band, and Joe King Carrasco.

Street parking, Good for groups, Outdoor seating, Casual attire.
Serves breakfast, lunch, dinner, coffee and drinks.
Happy hour, weekdays, 5pm-7pm; Sunday, 10am-2pm.
Kitchen, 11am-10pm

Perhaps best described as casual & colorful, with good food and drink

The bands currently playing at Que Pasa include:
Ernesto and his Hoochie Coochie Men, a fabulous band that will wow you with their fantastic
Classic Rock and Blues repertoire. They rock the stage every Friday night starting at 7:30 pm
Troubadour extraordinaire, incredible One-Man-Show and Vallarta favorite James Morgan
takes the Que?Pasa stage every Tuesday night at 7:30 pm
Chris Kenny is a talented songwriter and singer who performs her own original songs on Weds at 7:30
Rebecca "Stolie" Stoelingaa is a singer and musician from Chicago, Illinois.
She has been making music for some 30 years, ever since she started playing the piano at 6 years old
Her repertoire encompasses everything from jazz to folk to country and rock.
She appears every Thursday at 7:30pm
Open microphone on Friday evening around 6:00pm
Tequila Rush appears every Saturday night at 7:30
For more detailed info visit Que Pasa (on Facebook) or check out their website
Daily: 11am - 1am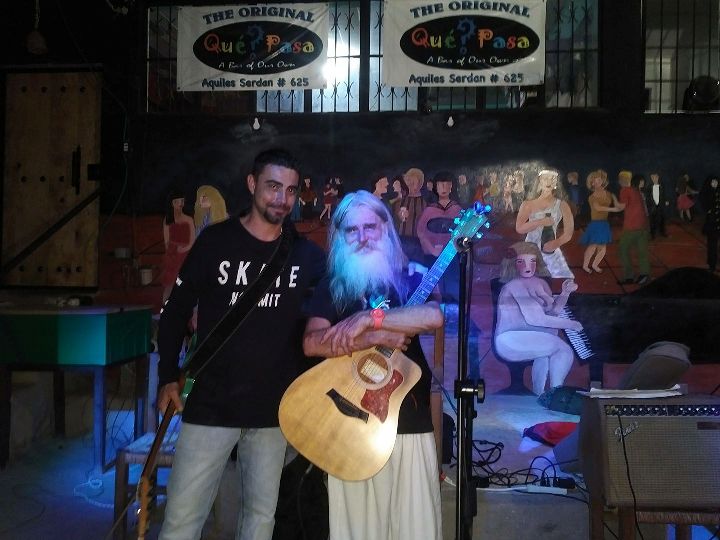 Photo above showing Bob Tansen and son who perform live music every Weds night