---
Romantic & Tropical Gay Puerto Vallarta Mexico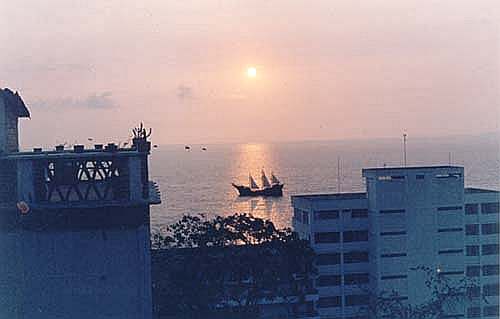 ---
Puerto Vallarta Gay Accommodations
and Great Vacation Rentals
Looking for gay or friendly accommodations in Puerto Vallarta, Mexico? I know where because I live here.
- Puerto Vallarta gay hotels, bed and breakfasts and guest houses, with information and links to websites.
- Beachfront Vallarta condo rentals and luxury ocean-view villa rentals
with private pools and staff.
- Information about gay cruises & tours.
- Personal and professional service.

Hello, hola. My name is Michael Mayo. Perhaps you already know me as the guy who promoted and ran the Amadeus and Paco Paco gay cruises here in Vallarta for several years in the 1990s. I now offer my services through my reservation service, Discovery Vallarta, in locating accommodations for visitors who want to stay in a gay-owned or gay-friendly location.
The town now boasts at least a a number of gay hotels, bed and breakfasts and guesthouses, more than 15 gay clubs cantinas, and nightclubs, a variety of gay and lesbian cruises and tours, an evening hot springs trips, lots of nightlife entertainment, a large gay beach area, and two local gay guides-directories.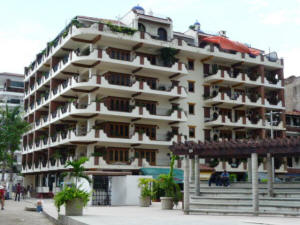 PV is probably the most gay-friendly destination in Mexico. In the nearly twenty years that I've lived here, gay tourism has more than quadrupled, and with that the demand for quality villa and condo rentals, accommodations and services.
A laid-back city now of some 225,000 inhabitants, Vallarta has a large hotel zone to the north, which is usually filled with heterosexual couples and their children. Many airlines include these hotels in their package deals. These often all-inclusive hotels are not really for us and there are now plenty of alternatives. I'm sure that you would like to gain the comfort and security of a gay-friendly lodging in a more central part of town.
The South Side of Vallarta is particularly friendly, and it is here that you find the majority of gay-owned establishments, the Puerto Vallarta gay beach at the world-famous Blue and Green Chairs, and an exciting high-spirited nightlife of gay night-clubs, bars, Mexican cantinas, lounges and fun spots to hang out, drink and eat. I can find just about anything from a fully furnished studio or one bedroom, one bath condo on or near the beach, to a luxurious gay bed and breakfast with pool, courtyard and old world mexican hacienda style decor (the Villa David). Or perhaps you're traveling with group of 6-18 friends. No problem, as a good number of select private luxury villas with breathtaking ocean and mountain views are available in the inventory to browse through and choose from.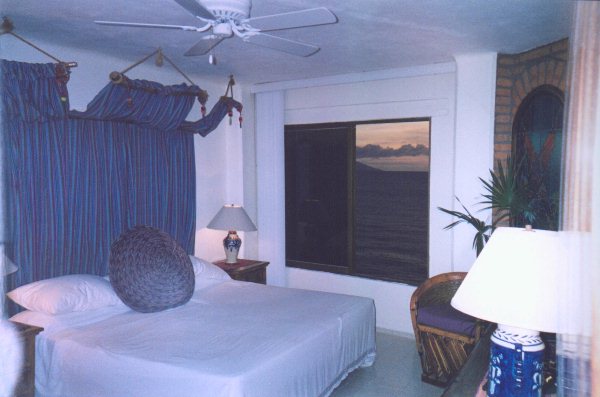 Between the three general areas that I book in and would recommend for gay men and women: South Side, Alta Vista/Amapas and Conchas Chinas, I can locate something to suit your taste and budget. Just about everything that I book is within a short walk or taxi ride to the beautiful beaches and downtown & malecon, the exciting nightclubs, the many world-class restaurants and unique stores & shops. Check out the calendar too for many gay and straight exciting Vallarta annual events & festivities.
Because I live here I can answer your questions, help with problems, and tell you what's happening in town. I can also reserve gay day trips, horseback riding, gay cruises and city and beach tours.
So whether you're on a budget or wanting to splurge, travelling alone or in a group, a pleasant hotel, condo, bed & breakfast or private villa could be your next vacation destination.
Make it easy on yourself and let Discovery Vallarta find the right gay-friendly lodging for you in enchanting Puerto Vallarta.
---
Please visit the travel guide at the following links if you would like further information on or to make a reservation at one of Vallarta's terrific beachfront and ocean-view condominiums such as the La Palapa, El Dorado, Playa Bonita, Vista del Sol or the Molino de Agua condos or a luxurious 2-12 bedroom villa for rent, many of which have stunning sunset and Banderas Bay views.
---
For more on gay Puerto Vallarta, including information on
local Coffee shops, stores and shopping malls, Services,
the great Art gallery, culture & crafts scene, fabulous Restaurants,
Lesbian activities, useful local Tourist info and gay travel ideas about
where to go and things to see and do.
Visit the
Puerto Vallarta Gay Travel & Rental Guide

Some recent Discovery Vallarta additions:
Pictures 6
Vallarta Gay Pride - info & pictures
Puerto Vallarta new Malecon & photos
Important Phone Numbers
Carnival
Marina Vallarta
Gay Tours photos
Molino de Agua Condos
Cuale Island tour & pictures
Vallarta getaways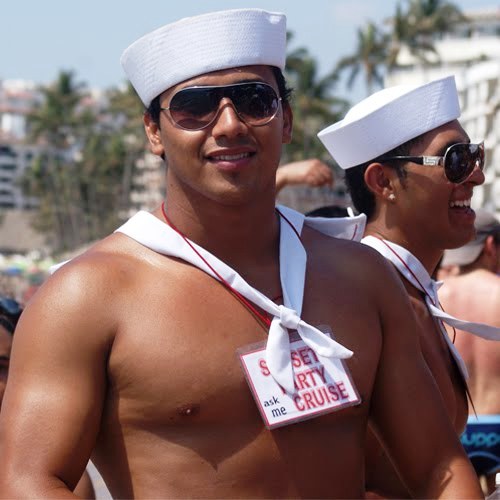 popular Puerto Vallarta gay beach destination on Los Muertos beach -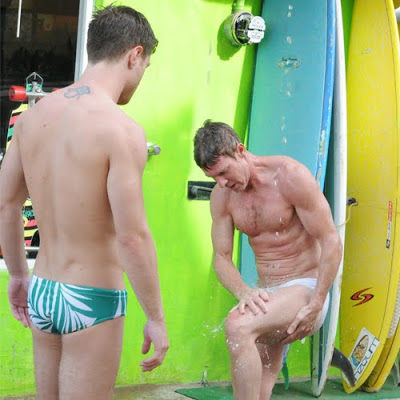 Two photos above, thanks Victor Irigoyen at Vicorp Portraits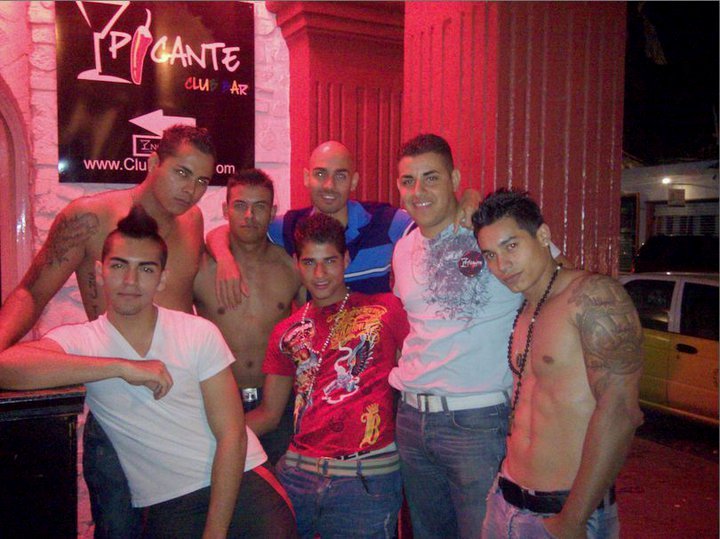 Gay Puerto Vallarta nightlife: the Club Picante staff (now Spartacus Spa and formerly known as Freedom PV)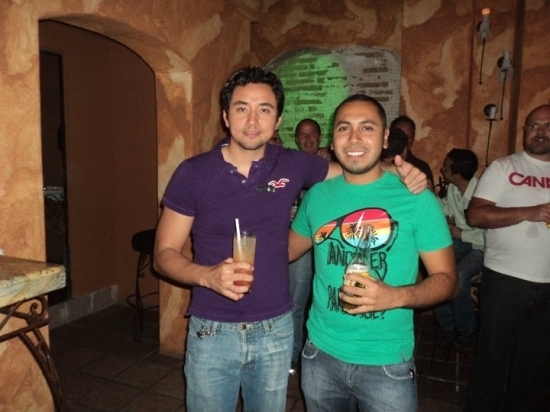 the old Vallarta gay bar hopping tour with hosts Luis Luviano & Christian Gutierrez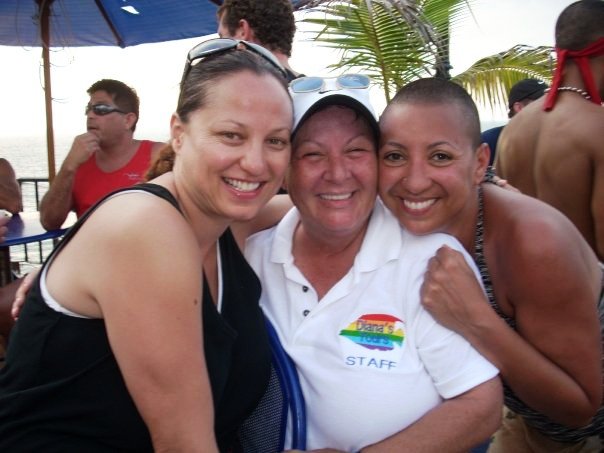 Nicole Matos and Marisa Lohmeyer with Diana DeCoste of Puerto Vallarta Diana's Tours October 2009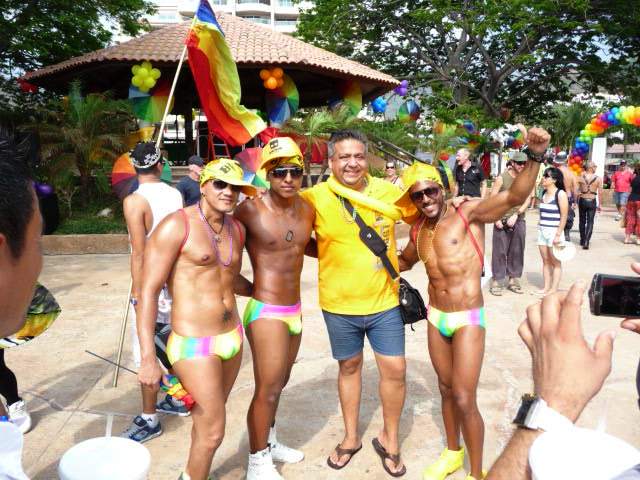 Some of the guys at the 1st annual Vallarta Gay Pride in May 2013 where many hundreds of local
men and women marched, watched and attended the parade and other 3 day-long activities & celebrations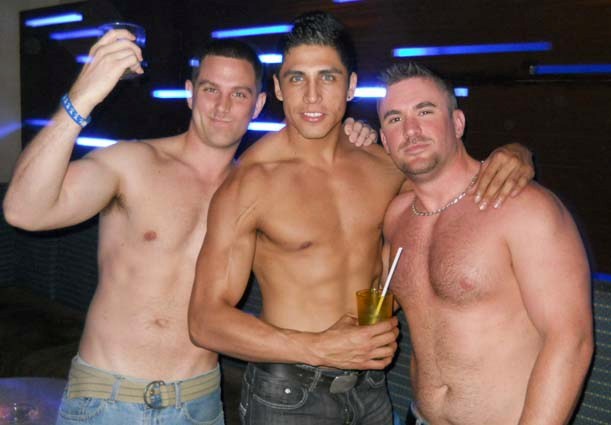 Some of the hunky guys from Wet bar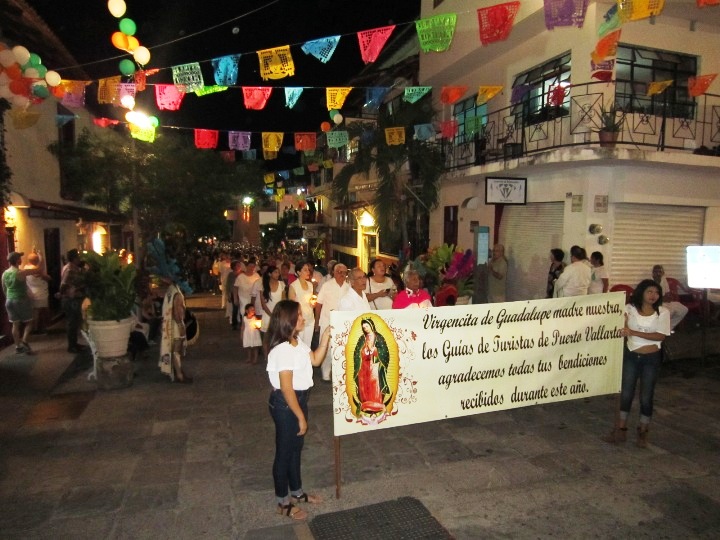 Guadalupe festivities and processions or peregrinacions go from December 1-12 every year -
One of the many interesting things to see around town. Shown here are the Tourist Guides of Puerto Vallarta
as they make their way to the downtown Cathedral
---
top of page | condominium plazamar | malecon photos | 2 bedroom villas | gay beach pics 2 | Gay Vallarta travel guide
other Vallarta condos | our lady of guadalupe festival | city images 5 | la palapa beach condos
Puerto Vallarta sunset | Email contact