Casa Septiembre Puerto Vallarta Beachfront 5-9 Bedroom Vacation Rental, in Conchas Chinas - Ref. SEP-8

SEP-8 Conchas Chinas villa - Formerly owned by a famed Hollywood director and producer, Casa Septiembre is one of our most favored Vallarta beach houses. The ambience is exotic, the beautiful lush gardens create a private enclave, and the white sand beaches of famed and exclusive Conchas Chinas are just steps below the pool area.
The Casa Septiembre has an artsy, bohemian atmosphere: polished concrete floors, vintage photographs, collector's items and Moroccan antiques are fused with industrial design details. There is a distinctive Art Deco element in the architecture but with organic nuances like flowing muslin curtains, a thatched palapa roof bar by the pool and meandering garden paths leading to semi-private and romantic bedrooms. Turkish rugs, period pieces, religious artifacts and imported furnishings add both style and character to the living areas. Approximately 8,000 square feet.
The fabulous pool area is perhaps the best feature of this luxurious rental property. The heated pool has steps at both ends and gradually gets deeper form 4.2 to 5.2 feet. Located on one of the prettiest beaches on the Bay of Banderas due to its unique rock formations, the tropical style pool cabana is the perfect setting for entertaining, featuring outdoor living area, bar and a grill.
One of the few large beachfront villas in Conchas Chinas, the Casa Septiembre is conveniently located close to Old Town in Puerto Vallarta. A beach path to the town's principal beach, Los Muertos, makes for a lovely 15-20 minute walk along the breathtaking shoreline.
The experienced staff is a plus, too. A charming waiter can serves drinks poolside all afternoon. In-house spa treatments and private yoga classes may be available at your request, or perhaps mariachis serenading after dinner? This is the part of the villa experience that makes Casa Septiembre so wonderful.
Floor Plan and Bedroom Configuration
- All bedrooms have private ensuite bath, zoned air conditioning and some ocean-view. Six of the nine bedrooms have private terraces, and three (3) open onto the pool area.
- Main level: Living room with TV, terrace, dining and kitchen; Bedroom 1 - 2 twin beds (can be converted to one king bed), terrace
- Upper level - A: BR 2 - orange with 2 twin beds (twin beds can be converted to one king bed), terrace; BR 3 - Master suite king size bed (lavender), terrace; Bedroom 4 – King bed, large terrace
- Upper level - B (access from pool area only): Bedroom 5 - Master suite king (orange), terrace
- Upper level - C (with access from entrance of villa and pool area: BR 6 - larger double suite with 2 queen beds and one bath
- Lower level: Pool, cabana with bar and grill, gardens, stairs to beach; BR 7 king bed, more secluded, behind pool gardens; Bedroom 8 king, next to pool cabana
Bedroom configuration is: six bedrooms with king size bed; two bedrooms with 2 twin beds (can be converted to king), and one bedroom with 2 queen beds. Bathroom supplies include: hair dryer, two robes, hand-made organic body wash and shampoo with essential oils, conditioner.
Stunning beachfront location less than 2 miles (3 km) south of Old Town in Puerto Vallarta with easy access to bus and taxi, 20+ minute hike into town along the beach. Short 5-6 minute taxi ride to the Blue Chairs gay beach on Los Muertos beach or into the main gay-friendly Old Town area with its many enjoyable restaurants, enjoyable shops and fine art galleries.
Villa features: Now with nine bedrooms with a/c, private bath, terraces and ocean views, a large heated pool (approximately 32' by 14' and 5¼ feet deep) with its palapa pool cabana with bar and grill, and lush gardens not far up from gorgeous Conchas Chinas beach. Other features include a fully equipped kitchen, cable TV in living area and the local service includes various movie channels and US news and sports networks, stereo system wired for sound in living and pool areas, wireless internet; a water filtration system so tap water is purified, washer and dryer, linens, beach towels, chairs and umbrellas. There's also a phone with free local calls - Please add international service to your mobile phone before traveling. One safe/lockbox is provided for guest valuables and is located in the living area. Smoking in outside areas only, please. Access to the public beach is just steps below the pool.
Staff and Services: Full staff includes housemen and pool waiter. Cook - for up to two (2) meals per day, usually breakfast and dinner. Talk to us about exchanging dinner service for lunch service if you are planning to dine out. Houseman - the villa includes two bi-lingual housemen who act as your main contact while at the villa Septiembre, and they will also assist with sit-down meal service. Arrival service: welcome appetizers and drinks served courtesy of the villa; pre-stocking of food and beverages is also available. Housekeeping service daily, except for Sunday and Mexican holidays (unless agreed upon and paid for).
Extra Costs, there would be extra costs for: Any service on Sunday or Holidays, for example if your arrival or departure falls on a Sunday, etc; Shopping fee - a small fee will be added to grocery receipts to cover transportation costs for staff to do the shopping for daily menus; and for Airport transfers. Also not included in the villa price are the tips to staff and cost of food and beverages for the cook service. Please be generous with tipping as you will likely receive excellent service during your stay.
Wedding and social events accepted for 50 persons or less, and extra fees apply. Please inquire about any events or gatherings, and our policies.
Inquiries: For further info or to make a reservation, contact by email: michaelmayo72@prodigy.net.mx or via telephone from the US or Canada: 011-52-322-222-6918
Priced per bedroom starting at five (5) bedroom rates, two persons per bedroom. Infants and toddlers are free (allowed in bedroom with parents at no extra charge). May sleeps from ten up to eighteen (10-18) guests maximum; up to 20 if children are included. Babies and toddlers allowed to sleep in parent's room for free. Portable cribs and high chairs are available.
Please note that the Casa Septiembre villa is for the use of registered guests only. There is a $1500 USD refundable security deposit, which I hold for my clients in case of damages or breakage and send back within 7-10 days of departure.
Villa rates: Winter: Nov 1-Apr 30, 5/6/7/8/9 bedrooms: $2000/$2400/$2800/$3200/$3600 per night; Summer, May 1-Oct 31, 5/6/7/8/9 bedrooms: $1500/$1800/$2100/$2400/$2700 per night; Holidays, Christmas and New Years weeks: $4500 per night. Generally minimum rental of five (5) nights, except for seven (7) night for holiday weeks. Check the availability calendar for the Casa Septiembre here. (Prices as of February 2018, in US dollars and include Mexican taxes. All details and tariffs on this website are all subject to change without notice, and until your reservation is confirmed.)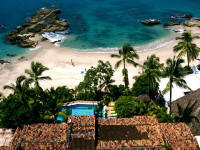 ---
top of page | playa bonita condos PB | gay bars and nightclubs | 3 bedroom villas | gay pride & events | Discovery Vallarta home
7-11 bedroom villas | galleries and art walk | gay activities and cruises | 5-6 bedroom villas | yearly events
vallarta pictures | gay dining and restaurants | Email contact