Puerto Vallarta Vacation Villa for Rent 6-12 Bedrooms, the Casa Yvonneka - Ref. CYV-8

CYV-8 Alta Vista villa - Spectacular and contemporary Puerto Vallarta villa with breathtaking views of Banderas Bay and the town. Now available as a 6-12 bedroom villa vacation rental that sleeps up to twenty-four (24) persons.
This recently constructed luxurious ocean-view villa has a fabulous living/entertaining area on the main level that opens onto an expansive terrace and pool area featuring heated infinity pool and jacuzzi. The villa is beautifully decorated with custom made furniture and antiques, original artwork and hand woven textiles along with luxury architectural details such as natural stone countertops and sumptuous baths. Each of the nine bedrooms with custom furniture, marble bathrooms, 21" and larger TVs with cable/satellite, individual mini-split air conditioning, and ceiling fans. Seven bedrooms with king bed, plus two bedrooms with two single beds each that can be made into a king bed. Security safe in master bedroom. Seven bedrooms have their own dazzling ocean views of Banderas bay, and two bedrooms look onto Casa Yvonneka's private tropical garden area. Cantera stone stairway connects the main villa to the lower guest suites, in addition to the modern elevator down to street level.
Staff of four at this luxury Puerto Vallarta, Mexico villa rental includes a gourmet cook and insures a high level of service for your holiday experience. Hillside location in the Alta Vista neighborhood on the South Side ensures easy access to the best in dining, shopping and the exciting Vallarta gay nightlife. Los Muertos and the gay beach await, approximately seven-ten blocks from the villa, or a short 10-15 minute walk.
Villa property includes: Multi-level with over 17,000 sq. ft.; nine bedrooms all with private baths, views, mini-split air conditioning and TV, with jacuzzi tubs in four bedrooms; heated infinity pool and jacuzzi on pool terrace; gourmet kitchen with indoor professional GE grill; elevator; TV in all bedrooms plus giant flat screen in living area satellite & cable service; wireless high speed internet; free long distance service to US & Canada (vonage); two separate living areas each with giant HIDEF flat screen TV with satellite (includes all premium movie & sports channels); BBQ grill on terrace; gym with flat screen TV and ocean view; purified water throughout; night watchman; walking distance to Los Muertos beach which is approximately 7-8 blocks; secure indoor parking. Full staff with cook: meal service is breakfast and one other meal of your choice daily, except Sunday, when there is breakfast service only if desired and a 'partial housekeeping' of common areas (cost of food, beverages and staff tips/gratuities not included in meal service); staff is off on holidays. Absolutely no smoking indoors in this vacation rental, allowed on terraces only.
Features include but are not limited to:
20,000 square feet of living space
Rents as 5 to 12 bedrooms (5 bedrooms only during the summer months)
Up to twelve (12) bedrooms with ensuite bath, cable/smart television & air conditioning (Seven bedrooms now have jacuzzi tubs)
Heated infinity pool, a jacuzzi and professional BBQ grill on the villa terrace
State of the art gourmet kitchen
Villa staff of eight (8) includes two housekeepers, chef & two assistants, two waiters, bartender, and a night watchman
Meal service daily plus snacks - two meals per day of your choice (cost of food, beverages and tipping of staff is not included - Please be generous and tipping is much appreciated)
Purified water throughout
Gymnasium with ocean view, full bathroom and a flat screen television
Elevator (5 person state of art)
High-speed wireless internet throughout this luxurious Puerto Vallarta villa
Free long distance phone calling to the US and Canada
Laundry service available
Two separate living areas each with satellite TV
Covered terrace facing jungle for rainy days
Los Muertos beach approximately 10-15 minute walk; probably taxi ride home as it's uphill coming back
Welcome snack margaritas, guacamole, salsa and chips upon arrival
Some of the Villa policies:
- Maximum two (2) persons/bedroom, maximum full 24 guests – Two small children sleeping with parents at no charge. Space for 2 more adults at a cost of $75 USD/person/Night
- Children welcome
- Extra beds available upon request; additional fees may apply
- No smoking indoors. Smoking at designated outdoor areas only, please
- Pets not permitted without permission
Generally a minimum seven (7) night rental in February, March, Christmas and New Years weeks. Prefers Saturday to Saturday rentals.
Note: This Puerto Vallarta vacation rental is exclusively for the use of renters, no overnight guests and no parties involving additional persons, weddings, receptions, etc. are permitted without the written consent of the local manager and owner. For any event or gathering where the number of additional unregistered guests exceeds 50% or the total registered guests, written permission from the agent/owner is required and a fee applies, usually equal to one night's rental, plus an security deposit of $3000 USD.
Floor Plan, some details:
4th Floor: Main entrance & main common areas
Open concept Living, dining, kitchen & guest bath
Pool infinity style with 8 person jacuzzi & terrace
Bedroom #4 La Rosa - King size bed, ensuite bathroom with shower, safe, TV, ceiling fan, a/c. Opens to shared main terrace with pool & views
6th Floor - Penthouse level
PH1 Tiffany suite - King bed, ocean view, ensuite bath with jacuzzi tub, walk in closet, TV, a/c
PH2 Frida Kahlo suite - King bed, ensuite bathroom with jacuzzi tub & shower, walk-in closet, TV, bay view, a/c
5th Floor
Bedroom #1 Master Las Orchidias - King bed, ensuite bath w/jacuzzi tub & shower, walk in closet, TV, a/c, private terrace, view of town & Bay
Bedroom #2 Las Palomas - King size bed, ensuite bath with shower, TV, a/c, safe, terrace shared with #3, views of ocean and town
Bedroom#3 The Jungla - King bed ensuite bath w/jacuzzi tub & shower, safe, terrace shared with #2, a/c, TV, view of city and Banderas Bay
Common area with office, desk with long distance telephone & modem for internet
3rd Floor: One floor below Main
Library: sitting area with books, office desk with modem overlooks Sala II
Bedroom #5 Tuscan - King bed, ensuite bath w/jacuzzi tub & shower, TV, a/c, safe, ceiling fan, private terrace with views
Bedroom#6 El Vitral - King bed (can be made into two singles), ensuite bathroom with shower, a/c, TV, opens onto shared garden terrace
Bedroom#7 Los Platanos - King size bed (can be two singles), ensuite bathroom with shower, a/c, TV, shared garden terrace with #6
Bedroom#8 La Primavera - King bed (or two singles), ensuite bath w/jacuzzi tub, shower, a/c, TV, safe, ocean views. Opens to inner courtyard
2nd Floor: two levels below Main.
Sala II Lower Living: Pool table, big screen TV, guest bath & full kitchen
Covered terrace and gym
Bedroom #9 La Romantica - King bed, sitting area, TV, ensuite bath, shower, views of city and Bay, terrace connects to Sala 2
PB 2 PRIVATE
PB 1/Ground floor 1 (Four levels below main) Bedroom #10 Las Palmas - Queen size bed, 2 single futons, full bath, a/c, TV, partial ocean view
PB - Lower Entrance to Pulpito Street
Villa prices: Winter, Nov 1-Apr 30: 6 bedrooms, $2200 per night; 7 bedrooms, $2500; 8 bedrooms, $2760 per night; 9 bedrooms, $3105; 10 bedrooms, $3450 per night; 11 bedrooms, $3795; 12 bedrooms, $4140 per night. Summer, May 1-Oct 31: $265 per night per bedroom, with a four (4) night minimum. Holidays: Christmas, $4800 per night, and New Year week, $5800 per night, seven (7) night minimum. Five-seven (5-7) nights minimum during the winter, and four (4) night minimum during summer months. Rates in USD and include taxes. Note: there is a $1,200 USD refundable security deposit due with final payment. No refunds for full or partial cancellations, and for this reason trip cancellation insurance is recommended. (All details and tariffs for all villas and condominiums on this website are subject to change without notice or until confirmation of your reservation.)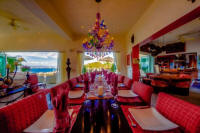 --------
Some older photos from before recent renovations and additions of the two penthouse bedrooms

-----------------

Photos of the Casa Yvonneka from several years ago, around 2008, before remodel and the pictures of the Villa above
---
top of page | vallarta condos PB | gay bar photos | 4 bedroom villas | carnival 2010 | Discovery Vallarta home
PV photos | 7-11 bedroom villas | PV annual events | vallarta gay women | downtown & boardwalk
vallarta beach condos LP | important phone #s | straight nightlife | Email contact